EUR/USD managed to hold onto the upper part of the 1.12-1.15 range as 2018 draws to its end. What do the first days of 2019 have in store? The inflation report and PMI's stand out. Here is an outlook for the highlights of this week and an updated technical analysis for EUR/USD.
US President Donald Trump helped improve the mood by tweeting about a successful meeting with Chinese President Xi Jinping. Also in the euro-zone, things are looking better as Italy passed its budget at the dying days of the year. Will this optimism continue?
EUR/USD daily chart with support and resistance lines on it. Click to enlarge: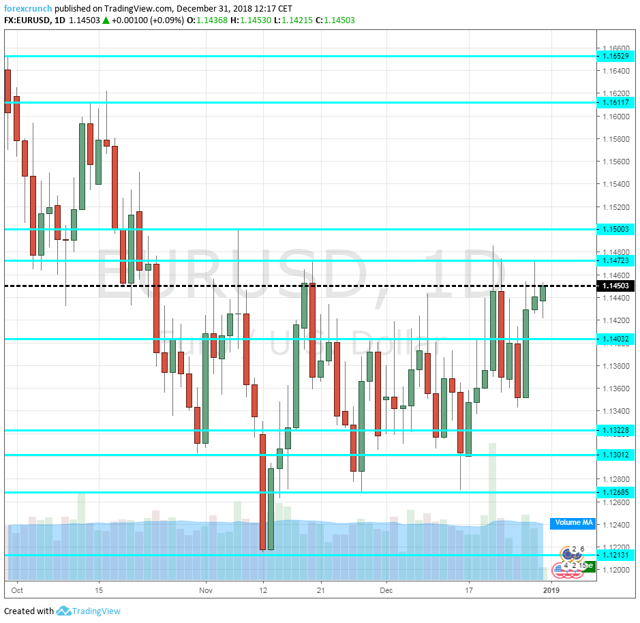 Manufacturing PMI's: Wednesday morning: 8:15 for Spain, 8:45 for Italy, final French figure at 8:50, final German data at 8:55, and the final euro-zone number for December at 9:00. Markit's forward-looking purchasing managers' indices have shown a contraction in Italy in November and for France in December. Spain is expected to have a score of 52.4 and Italy 48.4, lower than in November. The preliminary read for France was 49.7, for Germany 51.5, and 51.4 for the euro-zone. The final figures will likely confirm them.
Spanish Unemployment Change: Thursday, 8:00. The fourth-largest economy in the euro-zone still suffers from high unemployment. A surprising drop of 1.8K was recorded in November. The figure for December may show another drop.
Monetary data: Thursday, 9:00. The European Central Bank's M3 Money Supply has shown an annual growth rate of 3.9% in October. A slowdown to 3.8% is projected for December. Private Loans are predicted to accelerate from 3.2% to 3.3%.
French CPI: Friday, 7:45. The last hint before the all-European figure is forecast to show an increase of 0.1% in monthly CPI in December after a drop of 0.2% in November.
Services PMI: Friday morning: 8:15 for Spain, 8:45 for Italy, final French figure at 8:50, final German data at 8:55. Spain is expected to see a slide to 53.8 in December and Italy to 50.1 points from marginally higher numbers in November. The initial read for France showed 49.6, for Germany it stood at 52.5 and for the whole euro-zone at 51.4 points. The final measure is likely to confirm the preliminary data.
German Unemployment Change: Friday, 8:55. Germany continues enjoying a robust labor market. A slide of 13K is expected in the number of the jobless, similar to 16K seen beforehand.
Inflation: Friday, 10:00. The headline increase in the Consumer Price Index stood at 2% in November, bang on the ECB's target. However, core CPI stuck to 1%. Core CPI is projected to remain at 1% while the fall in fuel prices is set to slow the headline CPI to 1.8%.
* All times are GMT
EUR/USD Technical Analysis
Euro/dollar held onto familiar ranges and was capped under 1.1475 (mentioned last week).
Technical lines from top to bottom:
1.1650 was a swing low in late August and is very closely followed by 1.1615 which played a pivotal role.
1.1500 is a very round level and also capped the pair's advance in early November. 1.1475 was a high point in mid-November. 1.1415 capped EUR/USD in early December.
1.1325 was a low point in mid-November. 1.1300 is a round number that held the pair in mid-August and late October |double-bottom) and also held the pair down in June 2017. 1.1270 served as support late in November and is now a double bottom.
1.1215 is the low point it reached in November. Lower, we are back to levels last seen in 2017. 1.1110 was a low point back in June. 1.1025 was a stubborn cap back in May 2017.
I am bearish on EUR/USD
Falling inflation in the euro-zone is set to serve as a reminder that the ECB is in no rush to raise rates.
Our latest podcast is titled What to expect from the Fed, trade, and the Brexit saga
Follow us on Sticher or iTunes
Further reading:
Safe trading!
Disclosure: I/we have no positions in any stocks mentioned, and no plans to initiate any positions within the next 72 hours.