European Term Structure - a limited risk unlimited reward opportunity
Investment Vehicle: V2TX December Futures and V2TX January Futures spread trades at 2.05.
Trade length: 2 months.
Purpose: Hedge, Speculation.
What this trade do last year? Spread went from 2 to 0, a 200% gain.
Why this opportunity exists? December is historically the least volatile month in the year, futures are priced accordingly.
Where is the big gain? If markets start falling or volatility stay unchanged.
Max Reward - Theoretically unlimited.
What is the risk - Very limited.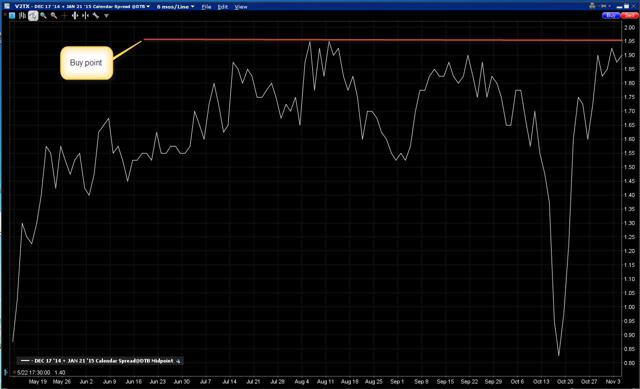 The logic:
VIX or in this case the European VIX December contract is trading at a price of 17.8, January contract trades at 19.8 and the European volatility index trades at 21.43. December contract will converge with the index at expiration, the gap between December and January is very big and represents an excellent risk/reward opportunity as can be seen by the chart above, the gap is at the high-end of the range and thus the spread represents and excellent hedge going into year end.
This hedge will make you A LOT of money if the market crashes and has very limited, if any downside risk.
Disclosure: The author is short VXX.
Additional disclosure: I am long December futures and short January futures as a hedge to my portfolio