Key Points:
* VIX April-May spread seems very attractive at 1.85.
* High likelihood of profit in every market scenario.
* Great and free hedge for a short market correction.
Confession: The writer of this article does not pertain to know where the market is heading next as the crystal ball he received for his 13th birthday seem to work well only 50% of the time.
When volatility enters the market violently, it always results with the front month VIX future spiking well beyond the second month VIX future as investors are willing to pay a large premium for protection now rather than for protection two or three months down the road. This occurrence is seen in 98.3% of VIX spikes going all the way back to 2007, so a trader that is holding a spread by purchasing the 1st month contract of the VIX and simultaneously selling the 2nd month contract of the VIX will have limited risk and unlimited reward trade on his hands.
By buying VIX April futures and selling the VIX May futures the trader will basically be holding a spread worth 1.85 points or dollars.
Why is this appealing? With the spread trading at the high end of the range it is compelling to buy this spread as it will have a hard time expanding further with the May futures trading costly in comparison to the recent 3 year VIX average and the April futures trading at a reasonable price relative to the 3 year VIX average.
The spread is already large, and there is a high likelihood that the spread will get smaller with every possible market scenario. However, it's important to mention that the spread should be closed before the VIX settlement on Wednesday, April 15th.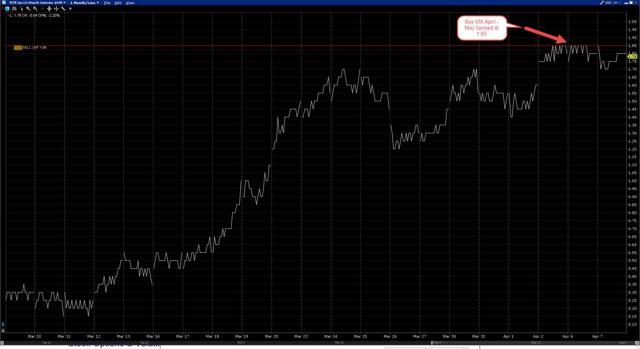 I will go further by recommending traders buy the spread for 1.85 and at the same time sell the VIX April 17 Call for 0.3 cents.
This trade should make money on every possible scenario besides a catastrophic market crash in the next 5 trading days.
Its important to mention I hold this spread against other short Vol positions in the VXX and VIX.
I am a true believer of the distribution of wealth, I write this posts to share my views but to also help people make money. I am adding my P&L here to let readers see that I don't just write hypothetical trades like most brokers do but I also make great returns by "walk the walk and not talk the talk".