Hey everyone, I will be expressing my opinion about Chipotle in this article. I don't have any forecasted growth numbers for the company, this will be my first blog. Please feel free to critique, so I can improve myself in the future. Enjoy!!
Company Overview
Chipotle Mexican Grill, Inc. (Chipotle) operates Chipotle Mexican Grill restaurants. Chipotle serve a limited menu of high quality burritos, tacos, burrito bowls and salads. Since December 31, 2012 the Company operated 1,410 restaurants, including Chipotle restaurants throughout the United States, as well as five in Canada, five in London, England, and one in Paris, France, and also one ShopHouse Southeast Asian Kitchen, a restaurant in Washington, D.C. focusing on serving inspired Asian foods. Steve Ells is the Founder/Co-CEO of Chipotle and he opened the first restaurant in 1993 in Denver, CO. In 1998, McDonald's joins purely as an investor and leaves when Chipotle goes public in 2006. Since then Chipotle has gone towards the organic approach to capture more market share. The company's objective is to serve 100% naturally raised animal meat and dairy products at all Chipotle stores, the demand for pasture-raised animals has increased, thus the supply has also seen an increase. The company has grown substantially over the past five years, and expect to open between 165 and 180 additional stores in 2013.
Porter Analysis
This model below covers all five components of Porter analysis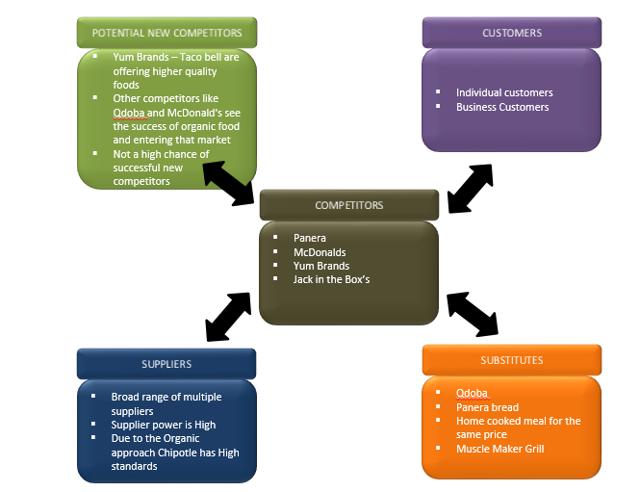 Chipotle's Green Strategy: Chipotle is currently working closely with framers and ranchers to ensure their operations create as small of an impact as possible, on the environment; thus they realize the importance of ensuring that all chipotle restaurants are as green as possible. The operating restaurants in Gurnee, IL and in Minnetonka, MN are registered with the United States Green Building Council, which is the nation's first ever platinum LEED certified restaurant. This move comes with concerns from many buyers who understand the value of environmentally friendly businesses.
Suppliers: Chipotle has a very close relationship with its supplies, evaluating them based on high quality standards. With such emphasis placed on high quality, the company expects its suppliers to deliver fresh ingredients and other supplies necessary to operate. The buyers in the distribution centers are procuring from multiple suppliers based on quality and their understanding of the company's mission/vision. Chipotle uses a mix of forward, fixed and formula pricing protocols; they have tried to increase the amount of suppliers based on inventory levels, this approach can help the company reduce pricing volatility and avoid any shortages. The company does not directly purchase raw materials from the farmers or random suppliers, but have handpicked the approved suppliers that meet their purchasing criteria. Since Chipotle has placed high standards on quality, the suppliers have an eminent bargaining power, mainly because finding high quality food products are not offered by everyone.
Buyers: The consumers for Chipotle are the everyday people like you and I, they pay a little more than the competing companies, but they are paying for a premium product. Most consumers like myself love the fact that the company is going greener and excluding GMO from their meats. This explains the long lines at every store, just about every hour of the day, consumers are getting educated about the importance of healthy food and they are willing to pay premium for healthy fast-food. Consumers nowadays are sharing their thoughts and opinions on the social networks about their dining experiences. Chipotle has a team, entirely dedicated to listening to their consumer's opinions, this team helps create a stronger brand and even helps in building closer relationships with their consumers. The director of initiatives Eric Wilson said, "As social media becomes the primary platform for customers to share their experiences and feedback, we are constantly evolving our communication model so we can connect with our customers in the ways that are most relevant for them," this helps the company to stay connected with their consumers. In my opinion, the consumers have a medium bargaining power, there are other alternatives to Chipotle that are healthy and affordable.
Industry Competition: Chipotle's competitors include Moe's Southwest grill, Qdoba Mexican Grill, McDonald's, Wendy's/Arby's Group, YUM Brands (Taco Bell/KFC), and Panera bread; each competitor runs their business a unique way. Due to high barriers of entry, the competition is limited, in my opinion the barriers of entry are high because many of the competitors are embracing the green/organic approach. It is difficult for a smaller stores to compete with the giants. Besides the green/organic approach, the industry competition in always fierce, while many of other competitors reaching maturity or are already in that phase, Chipotle is still in the growth phase. The company is testing out its concept store "ShopHouse Southeast Asian Kitchen," which will be derived from the same model that Chipotle currently holds, but instead will focused on Asian Foods. This could be the game changer in the industry, if the concept store proves to be successful.
Threat of new competition: Threat of new competition could arise from the current competitors. They could embrace a completely new approach to their menus by adding more green options and offer organic chicken. It is highly unlikable for a small business to challenge chipotle head on even if they offered better food than the company.
Substitutes/Compliments: There are plenty of substitutes to Chipotle that are healthy and affordable. Such as, Subway who has been big on healthy food and is much cheaper, there is Muscle Maker Grill, Qdoba, Moe's Southwest Grill, YUM Brands Taco bell with their new improved menu. Other alternatives are that you could cook your own healthy meal with the same cost.
EXTERNAL FACTORS
Economic: The market is rebounding (chipotle stock is climbing again), "Going Global" movement is definitely helping the stock as well. With the unemployment rate still high, consumers are turning away from other expensive options and turning towards cheaper healthier options like Chipotle.
Cultural/Social: The trendy stores are gaining popularity (casual dining) like Chipotle, people are getting educated and are demanding healthier foods now. We can also see that people are eating out more because it's convenient to eat out vs. cook a meal from scratch. The "going green" movement has also promoted Chipotle in a positive manner.
Technological: Due to new social media technology available at hand, it is easier to listen to your consumer's voice. Businesses like Chipotle and others are embracing the technology, there is rise in online food ordering through mobile apps and websites. There are also newer and faster ways to prepare food, Chipotle introduced new heating machines that heat tortillas faster and more evenly (No more ripping!).
Conclusion: After analyzing all of the external factors, we can clearly see that Chipotle is a strong brand, every household member is aware of their foods and their organic approach towards it. Not just that, the investors love the year over year growth the company is able to produce. With the assistance of green trends, organic foods, technology, and the economic factors playing in favor of Chipotle, I think the company will see more growth in the upcoming years.
Disclosure: I have no positions in any stocks mentioned, and no plans to initiate any positions within the next 72 hours.