The crude rally is over for now, with several attempts to break into bullish territory thwarted.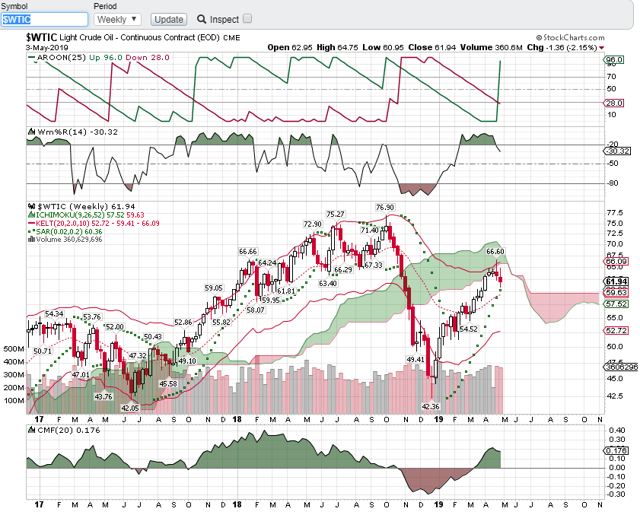 $WTIC - Light Crude Oil - Continuous Contract (EOD)
Source: Stockcharts
The weekly chart topped out at $66.60 the week ending April 27th after several attempts to penetrate a bullish cloud.
This past week saw a selloff in crude oil of almost $5 from the peak to close at $61.86. While the damage was extensive, crude still managed to finish the week above support, being the mid range of the Keltner Channel ($59.41), Parabolic Support ($60.36) and the top of the forward looking Ichimoku Cloud ($59.63).
The stage is set for more selling and a test of targets from last week's low of $60.95 to $59.41. Another week of broad selling in crude oil could lead to a test of the bottom of the rather small bearish cloud, in the $57.50 range, although I find that unlikely for the week ahead.
A continuation of the strong rally of 2019 remains intact, so long as levels below $54.50 aren't tested.
Crude Oil Daily Chart
$WTIC - Light Crude Oil - Continuous Contract (EOD)
The daily crude oil chart paints a more bullish picture.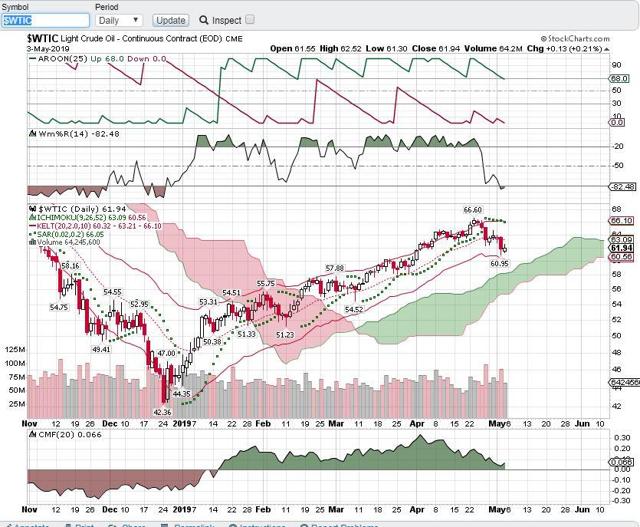 $WTIC - Light Crude Oil - Continuous Contract (EOD)
Technicals all remain bullish, however, given the hard selloff and the size of the air pocket above the bullish Ichimoku Cloud, I'd expect price action to enter the cloud in the coming sessions. The top of the cloud is currently in the $58.50 range and a test of that level can't be ruled out for next week.
Fibonacci Retracement Levels - Weekly $WTIC Chart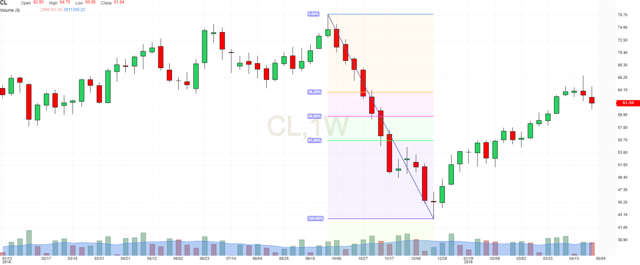 While crude oil prices did indeed breach the .618 Fib retracement level of the 2018/2019 range three weeks in a row, the fact is the body of the candles didn't. Given last week's selloff, a test of the 50% retracement level at $59.63 is a high probability.
$59.63 is also the exact same level as the top of the bearish Ichimoku cloud.
The .382 retracement level is at $55.55.