I'm not in the real estate business, but I owned a house until recently and am planning on buying another, so I have a vested interest in knowing which way the market may be heading.

Finding out how many homes are in existence,  including condo's, TICs, and Co-Ops is a hard thing to do.

Best guess estimates put the existing owner occupied inventory at approximately 56 to 77 million.  (AmherstSecurities recently stated the 56 million number on CNBC).

The analyst from Amherst, stated that 7.5 million owners are behind on at least one payment and have a very limited chance of getting caught up.  That's right, according to her calculations, 13.4% of the existing homes are behind on a payment and the lender has yet to initiate foreclosure procedures.

Now let's look at the "shadow inventory" that everyone is so fond of talking about.

Third quarter 2009 foreclosure filings in the US: 937,800 (link takes you to Marketwatch).  If anything, the foreclosure filing rate is increasing and I would imagine we will add an additional million homes to foreclosure for the fourth quarter 2009.  Foreclosure sales are up - but no where near the total number of homes being foreclosed upon.  The best figure I can get is approximately 41-47% of these homes are being resold every month.  This means we are adding to the "shadow inventory" of unsold, not on the market homes, at the rate of 128,000 homes per month for at least the next 6-8 months. 

Based on RealtyTrac's data, there were more than 2.3 million homes foreclosed in the US in 2008, an 81% increase from 2007.  We are on target to obliterate 2008's number just in the last 8 months of 2009.  If the 41-47% number had held for these homes from 2008, we would have seen an explosion in the total number of homes sold in 2009.  This explosion has not shown up in the data.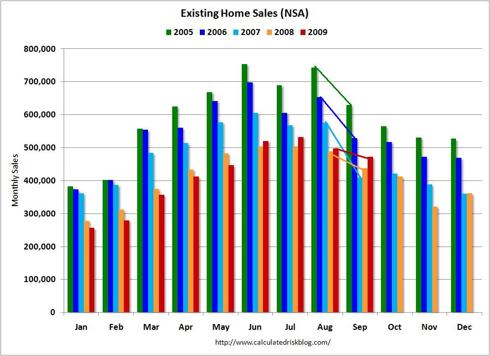 Courtesy of calculated risk

An interesting contrarian view is held by Foreclosure Radar in California, with this excerpt from the Wall St. Journal.

"But there is no sign yet that the shadow inventory will swamp the market soon in California, says ForeclosureRadar.com"  (link is to SacBee PDF from ForeclosureRadar.com).

They seem to think that in California, as of September 2009, there are only 90,365 properties in bank owned (REO) properties (4.77 months of supply).  In September 40,216 existing homes were sold in California, while having 79,000-86,000 homes foreclosed on for the quarter (26,300/month).  Even if we go with the better of the two resale numbers for foreclosed homes (47%) banks are losing ground by about 7,400 homes per month.  This flies in the face of the ForeclosureRadar REO inventory graph.

To close, it seems that the real estate industry would love for you to THINK that we are reaching the bottom, but from my standpoint that "bottom" is at least 7-12 months away.