Well fellow Alpha Seekers, I must admit I might have been wrong about the housing market.  It seems that it is more schizophrenic than I thought.

New home sales for April 2010 are up 14.8% from the March numbers and a nice 47.8% from April 2009.  Of course working in percentages always look great when you have a crash.

Here is an example of the dichotomy, ratings on PMI.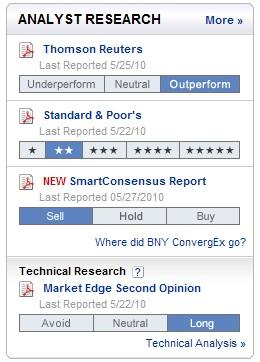 Not that I put much stock in these analyst research computer generated reports -but it shows that in the last week, PMI is both slotted for exceptional growth and crazy sell it now pessimism.

I still think that housing outside of urban areas is still going to be under tremendous pressure for the upcoming 10 months and perhaps the next 10 years as commuting costs rise and the flight of upper middle class (if such a thing still exists) from the suburban wastelands to a more metropolitan environment.

Mortgage lenders have learned their lesson as least as far as due diligence for applicant's income and down payment sources.  This enhanced scrutiny is going to put additional pressure on home buyers that in the past might have secured a loan with little documentation.

My current long position in PMI is a short term play.  Move up your stops if you are still holding long and plan an exit strategy should it go above $5/share.





Disclosure: Long PMI