About CEL-SCI
CEL-SCI Corporation ("CVM") is a small-cap market ($200M) clinical stage cancer bio-pharmaceutical company. Multikine, a cocktail combination of cytokines and chemokines, is a prospective neoadjuvant treatment and an investigational drug candidate in clinical development for newly diagnosed advanced primary head and neck cancer ("HNC"). While CEL-SCI has another promising drug, L.E.A.P.S, that provides immense value of its own, we will not be discussing it.
A detailed Corporate Presentation by CEL-SCI can be found here. Many of the items discussed in this article are directly from this presentation.
Multikine
The intent of adding Multikine treatment to the current Standard of Care ("SOC") treatment regimen is to either cure the patient or increase the time to recurrence of the patient's cancer since there is a known correlation between increased time to recurrence and increased survival of patients. The FDA has also granted the Orphan Drug designation to Multikine.
From their Corporate presentation: "Multikine is a complex of 14 natural human cytokines, the body's regulators of the immune system. In addition to the cytokines, Multikine also contains a drug cocktail of cyclophosphamide, indomethacin and zinc ("CIZ"). This sub-therapeutic dose of CIZ enhances the effect of the cytokines. Multikine's use in HNC requires the drug be injected locally around the tumor with additional injections into adjacent areas that allows for exposure to the lymphatic system.
Multikine is injected around the tumor and below the ear to eliminate micro metastases that cause the recurrence and subsequent death of the cancer patient. Since these micro metastases can't been seen by the physician, the still healthy immune system should be the only way to find and destroy them and thereby eliminate the cause of death of most HNC patients.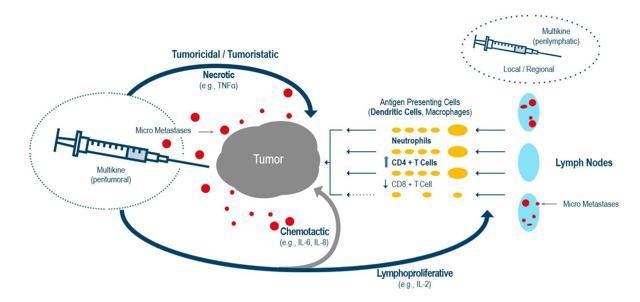 The tumors primary defense mechanism is to blind the immune system. Multikine is meant to help the immune system see the tumor while it's still healthy, before surgery, radiation, and chemo, so that the still healthy immune system can attack the tumor.
No severe toxicity was reported as being associated with Multikine when it was added to the current standard of care in Phase II clinical trials. The experience in the Phase III study with respect to toxicity has paralleled what was seen during the Phase II studies.
Phase III Clinical Trial Overview
CEL-SCI began the Multikine Phase III clinical trial in December 2010 with their last patient dosed in September 2016. The trial was conducted at 101 sites in 24 countries and included 928 newly diagnosed HNC patients. Patients were excluded from the study unless their cancer was advanced, i.e. primary tumor with spread of the cancer to adjacent lymph nodes (Stage III and IV patients).
There was a brief clinical hold in 2016. The FDA reviewed the study and then released the hold with no changes to the protocol. It was lifted as it had a "likelihood of meeting the statutory requirements for marketing approval". This is no small thing. Remember, the FDA is responsible for protecting the public health by ensuring the safety, efficacy, and security of human and veterinary drugs, biological products, and medical devices. They don't release holds without a very good reason.
Patients were randomized into three groups in a ratio of 3:1:3. This means that out of every 7 patients entering the study, 3 were assigned to receive Multikine + CIZ prior to SOC, 1 patient received Multikine without CIZ prior to SOC and 3 patients were treated with SOC only. SOC has been the tradition for years in treating HNC and is defined as surgery followed by radiation or concurrent radiochemotherapy.
The clinical trial ends when there is a total of 298 events (i.e. deaths) in the two groups where patients received Multikine plus CIZ and those treated with SOC only. The group receiving Multikine without CIZ is not included in calculating total events.
The two groups that matter for top-line results are the Multikine Arm and SOC Arm. These represent approximately 796 patients. Looking at one referencefor overall survival, we see an expectation of 49.8% at 5 years. This is consistent with CEL-SCI's statements that the overall expectation at 3 years is approximately 55%.
To further support the previous statement that the 3 year survival being approximately 55%, we have noted this: Out of the 24 countries this study took place in, around 60% of patients are in developing countries. We believe that the stronger overall survival rates between industrialized countries (U.S., France, U.K., etc.) and the much worse overall survival rates in developing countries (India, Sri Lanka, Romania, etc.) should equalize out to create a realistic overall survival rate.
The Trial Is Taking Longer Than Expected
A bit of history. The study took 6 years to enroll instead of the planned 2 years. The original CRO did not perform, was sued by CEL-SCI and CEL-SCI won the arbitration. The CRO was found to be guilty of material breach of contract.
This is a final and binding decision and to CEL-SCI's knowledge, marks the first ever decision in favor of a biomedical company against a CRO for breach of contract"
The trial was expected to end in late 2018 or earlier this year. We believe that the fact that the trial has yet to reach the last event, it suggests that Multikine is working.
Furthermore, we believe that the Phase III trial would be deemed successful if the study ended today. The longer the endpoint is delayed, the more effective Multikine becomes in terms of prolonging death.
On May 8th Mr. Geert Kersten, CEO of CEL-SCI, said the following
"We have not yet hit the primary endpoint of our 928 patient Phase III study with our investigational cancer immunotherapy drug Multikine. That endpoint will be reached when 298 events (deaths) have occurred and are recorded in the two main comparator arms of the study. Since the scientific literature does not suggest an improvement in the survival rates for oral head and neck cancer patients receiving standard of care only, we believe a delay in reaching these 298 events could be a good sign for the potential effectiveness of Multikine."
The current CRO, Ergomed, has a co-development agreement and has invested up to $12M into this trial.
Ergomed's CEO Miroslav Reljanovic stated, "At this point in the clinical trial we have decided to increase our investment in the development of Multikine, as we believe that it holds the potential to treat head and neck cancer in a new way. Our potential returns from this agreement will increase in line with our investment."
A handful of Ergomed's employees are the ONLY people that have UNBLINDED data. They stand to benefit significantly from a successful trial. Ergomed recently stated that they expect the trial to finish in the first half of 2019:

Over the past few months, Ergomed's stock (ERGO.L) has increased from 180GBp to a high 234GBp. We believe this is at least partly related to the pending success of Multikine.
IDMC
The Phase III study and its data have been repeatedly reviewed by the Independent Monitoring Committee ("IDMC"), who have reviewed safety results and efficacy indicators. In the early years of the trial, when little data was available, the IDMC did express safety concerns on Multikine. All those issues were addressed by CEL-SCI. In fact, CEL-SCI has meet with the IDMC over 12 times. As recently as August 2018 and March 2019, CEL-SCI announced that it was IDMC's recommendation "to continue the trial until the appropriate number of events have occurred"
From the May 8th Shareholder Letter Press Release:
At the end of March 2019, we had an official review of the Phase 3 study by the IDMC (Independent Data Monitoring Committee). The IDMC recommended to "continue the trial until the appropriate number of events has occurred". The IDMC reviews all the study results at the time of each IDMC meeting. Had the study results indicated that meeting the primary survival endpoint of the study would no longer be possible, the study could have been deemed futile. The IDMC recommended to continue the study. In our Phase III trial the primary endpoint is met by reaching a 10% improvement in the overall survival of the group of patients receiving the Multikine treatment regimen plus the Standard of Care versus the overall survival of the group of patients receiving the Standard of Care only. Futility has been on the minds of investors a lot more recently, because finding futility in the case of a Phase III Alzheimer study by Biogen in March 2019 resulted in a loss to shareholders of close to $30 billion."
The IDMC has shown that it will shut down trials for futility. In addition to Biogen's study being found futile, the IDMC also shut down both Tracon Pharmaceuticals and Clovis Oncology trials recently for futility.
Three S's: Stats, Survival and Spreadsheets
As of the time of this writing, there are between 683 and 699 enrollees in both the Multikine and SOC groups that are at or beyond the 3 year mark.
Without considering that enrollees beyond 3 years (at 55% OS expectation for 3 years) have an even lower survival expectation, a simple calculation shows that for just these, 699 - (699 * .55) = 314 events are conservatively to be expected as of today. At the May 20th Shareholder meeting, Mr. Kersten again stated we are waiting for the 298 event and we believe there is a clear signal of likely effectiveness. A more precise analysis will show that it is very difficult to argue that we should not have reached 298 events yet without significant effectiveness.
In the relatively small Phase II study of Multikine, 10.5% of evaluable patients had no remaining cancer cells following three weeks of Multikine alone. Furthermore, 42.1% of the population responded to injection. If we conservatively estimate that 50% of the test group in the Phase III study responds, then this places the burden to show effectiveness on 50% of the test group. This also means that the degree of effectiveness in this portion of the test group will be substantially more than 10% improvement to OS in order to be where we are today using the standard overall survival statistics.
While CEL-SCI has stated that they expect no improvement in SOC survival (55% OS expectation for 3 years) for the study Stage III and Stage IV cancers population, we have also considered the possibility that SOC might have improved over the years. US cancer database seems to indicate improvement in relative survival, although still showing a great discrepancy in the US between groups who don't show the same socioeconomic ability to pay for insurance.As 62 out of the 101 sites for the trial stand in developing countries we can therefore assume that for those populations the SOC has not improved much over the years. This led us to consider for the entire trial eligible population (796 patients in both arms of the study) a SOC with a shown observed survival of 63% at Year 3 and 53% at year 5.
This SOC shows much better survival than the one by CEL-SCI and is in line and sometimes better than known studies for Stage III and IV cancers in (for instance AHNS site figure 7). We consider these SOC survival figures as not only realistic but also probably very conservative.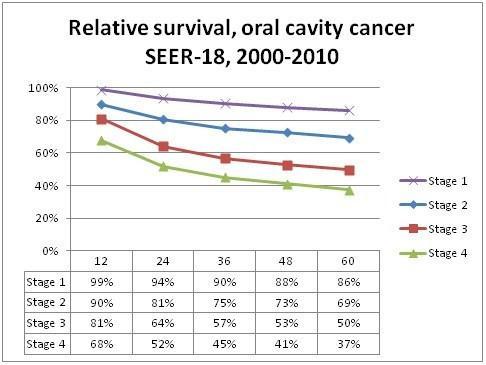 It is worth noting that there is significant discrepancy in the literature between observed and relative survival. CEL-SCI will measure the number of events, eg observed survival, regardless of the cause of death. Another point of consideration is the potential dropouts numbers from the study. As Multikine treatment is fast (three weeks) and nontoxic, we don't believe there will be many patients dropping out. Main causes of drop out might be due to painful chemotherapy treatment and/or non-willingness to being followed. We will consider that the patients enrolled for the study have been perfectly made aware of the clinical trial goals as the protocol requires and will be willing to be treated and followed. The ultimate goal being survival, non-showing patients' death can always be tracked in the country death registry.
Here is the SOC observed survival curve we did consider: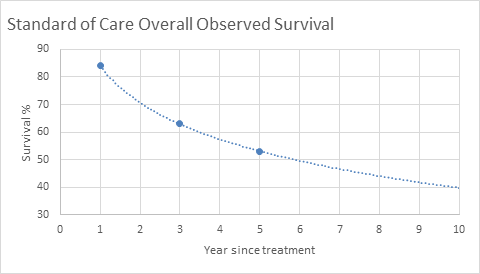 With a 10% improvement of survival in Multikine Arm, we found out that more than 300 events should have occurred as of May 2019, even with 5% of the patients dropping out. As the 298th event has not been announced yet, we can assume that improvement of survival in Multikine Arm is greater than 10%
Based on the earlier assumptions on survival and dropouts, we also found that when IDMC met and looked at the data earlier in March, 274 events should have occurred: 158 in SOC Arm and 116 in Multikine Arm. Thus, we were 24 events away from 298 events at that time.
Therefore:
If all the remaining 24 events happen in the Multikine Arm, which is highly unlikely, then the primary endpoint for the trial fails because Multikine will show 8% survival improvement
If all the remaining 24 events happen equally in both Arms, then Multikine will show around 19% improvement
If we have 14 events in SOC Arm and 10 in Multikine Arm, then Multikine will show around 22% improvement
Having all this in mind, the IDMC's decision makes sense: Multikine might have shown efficacy at this point in March but more events needed to happen. The IDMC will meet again in August. If 298 events have not yet occurred, then it is likely that they will have enough data to make a determination.
Below is a survival analysis made based on the assumptions on survival and dropouts and run with a date set to March 1st.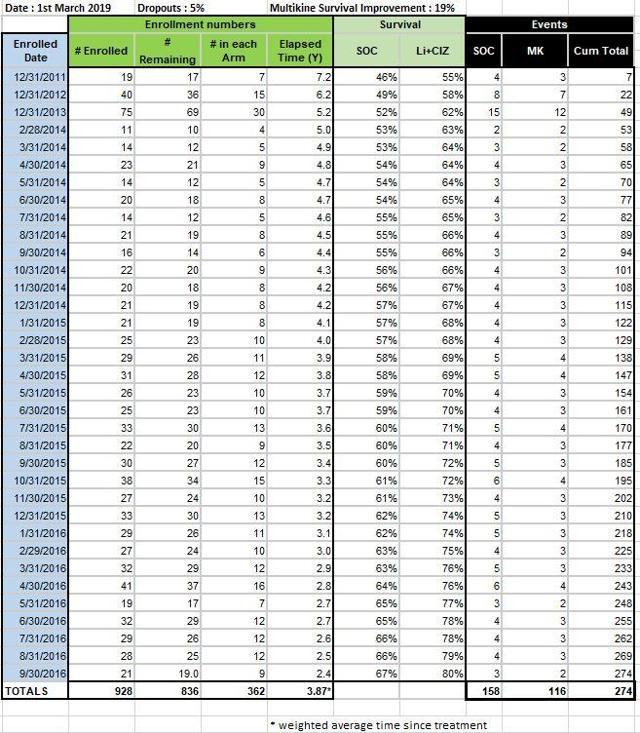 Institutional Investors, Insiders Purchase, And Analyst Ratings
The latest 13F filings revealed Institutional ownership grew last quarter with 45 Institutional holders (22 of them increased their positions) holding 3,110,130 total shares. Top holders are Vanguard Group Inc. and Blackrock Inc. In addition, MMCAP filed their 13G in February and they have 1,584,894 shares that are NOT reflected in the NASDAQ Institutional table.
Institutions do a tremendous amount of due diligence before investing. They have many people to report to and are held accountable. Thus, we view the recent increase in institutional holdings to be very bullish.
The IDMC announcement was made on March 29th. We suspect a substantial increase in Institutional purchasing started in April as they were waiting on IDMC update. Thus, they are not reflected in the recent 13F filings.
7 Insiders recently purchased shares at market price. They purchased $210K of common stock at $6.86. They "believe" that Multikine is working. Mr. Kersten stated:
I purchased $100,000 worth of restricted CEL-SCI stock at $6.86 directly from the Company at the full market price. Several others from our senior management team and one member of the Board of Directors have joined me and purchased another $110,000 worth of CEL-SCI stock on the same terms"
Mr. Kersten has nearly 1.1M shares and he "believes"!
Zacks Small-Cap recommends a hold with a 12-month consensus price target of $14. We recognize that Zacks was paid by CEL-SCI for this coverage, but we find the research to be accurate, despite the low price target.
Full-Scale Manufacturing Facility & Robust IP Portfolio
CEL-SCI operates its own 73,000 sq. ft. manufacturing facility and produces Multikine for its clinical trials. About $100M was spent on the manufacturing plant, development and validation. Manufacturing in-house helps them protect their IP and allows for more control when working with the FDA and other regulators to secure approval of Multikine. In addition to the many Multikine manufacturing trade secrets, CEL-SCI has received a number of patents for Multikine from the U.S., EU, China and Japan. Lastly, CEL-SCI holds all sales and marketing rights for Multikine in North America.
Cash Position
The recent 10Q filing was a bit confusing to the average investor. While the balance sheet stated they have $5.5M in cash as of March 31, 2019, you NEED to dig a little further. The Subsequent Event section stated the following:
Between April 1, 2019 and May 13, 2019, the Company received approximately $7.6 million through the exercise of options and warrants to purchase shares of the Company's common stock"
Thus, they have over $13.1M in cash to work with and no debt.
Based on a SEC filing, it seems CEL-SCI is already preparing to preserve cash through a stock compensation program. To conserve cash, CEL-SCI expects that it will offer its officers, directors, and employees the opportunity to receive shares of CEL-SCI's common stock in lieu of amounts owed.
We have assumed a conservative monthly burn rate of approximately $1.1M. Therefore, they will have enough cash to continue with current operations well into 2020.
Risk and Reward - The Potential is Enormous
There is one recommended standard of care for advanced primary HNC. CEL-SCI's approach of treating cancer immediately after diagnosis and before the immune system is compromised is a paradigm shift. This is a chance to establish a new first line standard of care. There has been no new FDA approved treatments for advanced primary HNC in about 60 years. Once successful, CEL-SCI plans to develop Multikine for the treatment of other cancers
Keytruda and Opdivo are not competitors to Multikine. The Multikine patient population is advanced primary HNC planned for surgery as its first treatment with the intent to cure. It is unethical to delay surgery. Therefore, Multikine is only given for three weeks prior to surgery. Keytruda and Opdivo (both with adverse side-effects) are used in metastatic and recurrent patients, when surgery is not the first treatment or when surgery has failed.
There are 165K new cases each year of HNC in the U.S., Canada and Europe. Of these, 110K there are "advanced" Stage III or IV, Multikine eligible. Assume 50% market penetration of 55K. Average new oncology drug cost is between $200K and $400K. Assume Multikine only receives $100K. 55K X $100K = $5.5B. Assume a multiple of 4 X sales (which is extremely conservative) = $22B. Fully diluted by all possible shares (approx. 41M)= approx a $536 share price. Yes that is high, but just we are suggesting a more conservative amount of $250 per share.
If Multikine is successful for HNC, then it will be studied for many more types of cancer such as breast and cervical. The market potential is enormous.
A buyout is always a possibility. Recent buyouts of similar bios have been in the $2B to $12B range, as noted above. Even at $2B, the share price would be about $50 a share...a multi-multi bagger.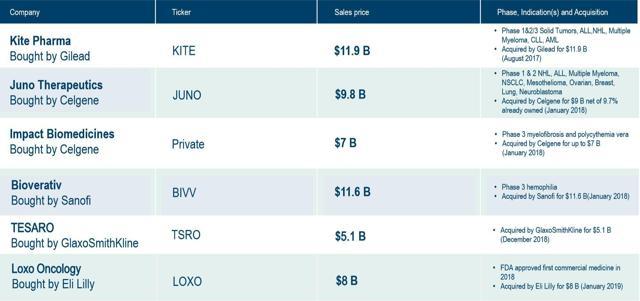 As this is a binary event, the risk is clear. If the trial fails, expect the share price to be around $1.00.
Disclosure: I am/we are long cvm.