ERGOMED'S INTERIM REPORTS CONFIRMS OUR SURVIVAL MODELS
Expect an end of trial in late Q4 or early Q1!
In our previous article, we stated that we thought the current pace of events in CEL-SCI clinical trial implied that the CRO, Ergomed, might have collected about 95% of the data (at least 282 events).
In Ergomed's latest Financial Interim report, dated September 25, 2019, slide 10 stuck out to us.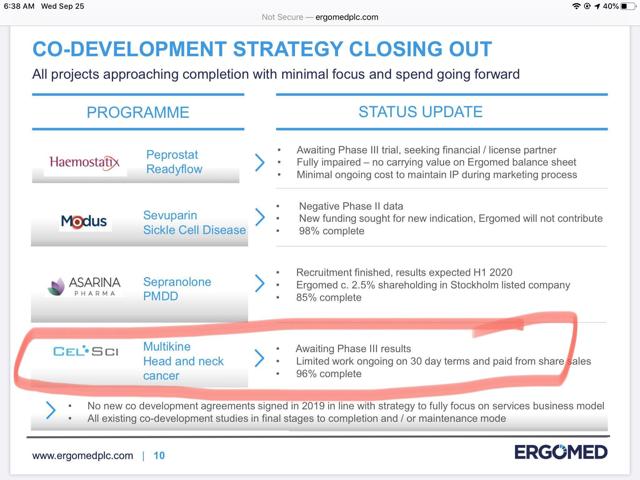 It stated the following regarding CEL-SCI's Multikine Phase III Trial:
Awaiting Phase III results
Limited work ongoing on 30 day terms and paid form shares sale
96% complete
EDITOR UPDATE: 
As we were about to publish this article, it was brought to our attention that Ergomed has REMOVED the verbiage "96% Complete" from their presentation.  This was after we plastered this tid-bit all over the internet. 
WHY DID THEY REMOVE IT!!!  Did they forget about their NDA?
See new version here and below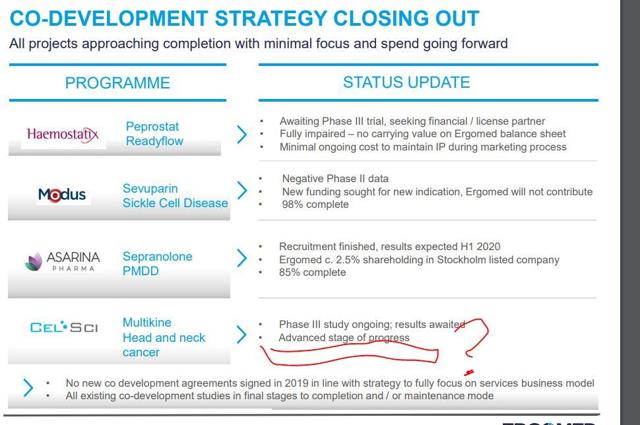 1-Ergomed Process
Let us focus on the "96% complete" bullet point, that was originally there, and on Ergomed's data collection process.
For Ergomed, work on a patient is complete when the patient dies. Ergomed collects all the data regarding this patient and then transmits the information to the other CRO, ICON, which compiles all the data.
It's likely Ergomed does not have the breakdown between the three arms.  ICON does have this data as it provides it to the IDMC on regular basis. Ergomed MUST have the total event count because they have to work until the number of events reaches 298. A diligent reader will note that they are now on a month to month contract with CEL-SCI.
Besides, 96% is not 95% nor 90% or 97%. It's specifically 96%. 96% is a precise figure, the result of a calculation. This fraction is 96% = Nb of Counted events / Nb of required events (298).
Therefore, the number of counted events, at date of this report is very likely 286.
2-Our Model at a Glance
Our model is based on Standard of Care ("SoC") survival assumptions, dropouts assumptions and survival improvement assumptions. As explained in a previous article, SEER data shows a worse outcome for this study population.  However, our SoC Overall Survival simulations are issued from SEER and conservatively taken from Stage III cancer,higher survival than Stage IV, as stated in our original article.
Our predictive model is calibrated based on two known events: Hospital data that was "leaked" for Feb 2017 (133 events) and Feb 2018 (208 events). Our previous model with 11% dropouts showed around 283 events by September 25, 2019. We increased the number of dropouts just a bit to 12.6%, so it matches 289 events and as well as the leaked Feb '17 and '18 events counts.  This matched pretty well...up to the unit.
This model, being a deterministic model, shows life is not so deterministic (think about the weather forecasts). The results shown must be interpreted with a possible margin of error.
3) The Results
CVM Clinical Trial Survival Analysis by Fosco
Efficacy (Overall Survival Improvement from Test arm VS SoC ) is now shown to be of 26%
Theoretical end date for the trial (298th event) is estimated for January 5, 2020
Most importantly, the Ergomed publication confirms, in the most striking manner, the previous predictions of our model :
298th event was predicted long ago by us to be ending at least by Q4 2019.
Multikine is predicted to be a very effective drug against Head and Neck cancer.
4) Cash
As with all small biotechs, cash is always needed and may be CEL-SCI's biggest long-term risk. The last 10-Q shed some light on the company's cash position, and it looks bright! CEL-SCI has been benefiting from the recent uptick in warrant conversions, having received nearly $11 million in the last four months.
As of 6/30/19, CVM had over $9.5 million cash on hand plus $2.5 million from warrants converted 7/1/19 to 8/14/2019. These conversions were not reflected on the balance sheet as of 6/30/19, but you must include them for a complete picture. Thus, the company has a total of $12 million in cash to "work with."
It has a cash burn rate of $1.4 million per month. This means the company will have enough cash until at least April 2020. Assuming no additional warrant conversions (not likely), it likely will not need a cash raise until February/March 2020. If there are material warrant conversions, this date gets pushed back even further!
Even if phase III is successful, delays in the New Drugs Applications or Biologic License Application processes could cause the need for the company to raise additional capital through dilution and affect the price per share.
5) Risks
At this point in time, this tremendous confirmation of our assumptions looks like a very good sign to us. That being said, we will not have any information until complete data is unblinded. The cautious investor should therefore be aware that, at this point, we see only two theoretical factors that could influence greatly (positively or negatively) our conclusions:
SoC showing a different survival than SEER historical data.
A very large number of dropouts (superior to 30%)
The fact that the IDMC has not rung the alarm bell so far even with 90% of the data on hand is a clear sign to us that the data they saw does not show futility.
REMEMBER TO VISIT KILLCVMSHORTS.COM EVERY DAY!
Disclosure: I am/we are long CVM.