blog·ger
/ˈbläɡər/
noun
a person who regularly writes material for a blog.
Looks like this blogger got under a political science major, who blogs, skin.  My blog entitled Multikine Musings, really poked the Bears.  The political science major, who blogs, tweeted out his blog right after the closing bell on 10/7/19.  Interesting timing indeed!
That blogger, who is a political science major,  has tried over and over to bring CEL-SCI down. Regardless, each time the blogger tweets, it creates less and less effect. Remember, his last blog was in January and CEl-SCI shares had soared threefold since that blog.  His blogs have become tiresome and repetitive
Don't forget about the blogger's prediction on PUMA.  As he later admitted, it was a big win for the bulls. But I digress.
We will touch on a few things that are relevant now. I could careless that CEL-SCI has lost 99% of their value since they went public.  I personally started investing heavily last year, sub $1. So...lets talk about now!
Trial Holds
Yes...we all know about the holds. But lets go over it some more, why don't we!
In September 2016, the FDA put the trial on partial clinical hold based on the fact that CEL-SCI had not responded thoroughly to all of the IDMC concerns. In its letter, the FDA wanted CEL-SCI to review its doctors' brochures and provide an action plan for protocol deviations. CEL-SCI subsequently addressed these issues and formally responded.
In August 2017 the FDA removed the hold.
Just a few months later in December 2017, the IDMC again recommended the trial to continue. Furthermore, the IDMC, unblinded to the data, and meeting from March 2018, December 2018 and March 2019, also stated CEL-SCI should continue with trial.
I guess the FDA, SEC, IDMC and CEL-SCI are all in cahoots. Cahoots I tells ya!
But again, the blogger states that that no one was dosed after the holds were lifted... So why hasn't the IDMC recommended this be shut down for futility if the "trial has already failed"?
IDMC Futility
In my recent blog, I asked why hasn't the IDMC recommended to shut the trial down for futility. Why did they instead recommend the trial to continue?  I've reached out to the blogger.  He hasn't responded to our request as of this writing.
We all know that the IDMC makes recommendations and doesn't have the power to shut trials down.  This was a clever deflection by the blogger.  So why did the IDMC recommend the trial to continue as recently as March 2019?  Is the IDMC in cahoots with Geert to keep the "pump and dump" going?  LOL!
But why won't any of the Bears answer this fundamental question: "Why hasn't the IDMC shut the trial down early due to futility?" We know why...it doesn't fit their narrative.
Why Hasn't It Been Stopped Early for Positive Efficacy
If Multikine is the wonder drug we all think, the blogger states it would have been stopped early for positive efficacy.  Or would it?
As we previously wrote, this is a Event-Driven study...not a Time-Driven like other neoadjuvant clinical trials.  Big difference!
Only a small percentage of trials are stopped early for "benefit." This is because stopping trials early for benefit skews the data and gives a "biased" impression of effectiveness which automatically tarnishes potentially positive results. The IDMC must also consider whether or not the trial findings will change clinical practice.
If the IDMC review were to recommend an early stoppage and the recommendation was implemented by CEL-SCI, it would make it more difficult to provide the exact efficacy of Multikine. It would also open up the possibility for biased "False-Positive" data results. At this stage in the trial, with the understanding of the "delayed clinical effect," it would be imprudent to jeopardize the results.
The IDMC may have already observed that the unblinded interim data is indicating greater benefits to the Multikine treated group vs. the Standard of Care group. However, if the IDMC recommends early unblinding and termination of the study based on the available interim data, they will be doing so before the predetermined stopping boundary of 298 events is crossed.
Survival From Standard Care Has Increased
It Must Be The Checkpoint Inhibitors
The blogger points out that Opdivo and Keytruda, both approved in the US in 2016, is far more likely to explain the delayed completion of the Multikine trial.  Did the blogger really just say that?
Remember a few things:
The Multikine trial started in 2010 and the last person dosed in the Multikine trial was in September 2016. Therefor, how many patients from the study population could have been treated with Opdivo or Keytruda, even if the trial allowed.  
Per the Trial Design, Checkpoint inhibitors cannot be used in this patient population. They are used only in recurrent & metastatic head and neck cancer patients.
Opdivo and Keytruda was approved only in the US in 2016.  A quick look at the Clinical Trial site notes that a majority of the trial locations were outside the US.  EVEN if they could have used these drugs, a majority of the study population could NOT have used them because it was outside the US.
Opdivo and Keytruda extend lives by a few months.  This trial is nearly one year past its expected completion date!  Not a few months.
This is a tired and worn out theory that will be the Bears undoing.  But, lets look at the SEER data.  
EDITORS NOTE:  After my blog was released, a message board poster reached out to Investor Relations at CEL-SCI to clarify the above statements and the bloggers comments on Opdivo and Keytruda:
Patients in our trial can take anything they want to live. Opdivo and Keytruda had conditional approval in the US. Keytruda got full approval in June 2017. Outside the US, Opdivo received approval in Europe in April 2017.The SEER data base search we had someone run is for survival in the US and it covers the time our patients were enrolled and should therefore cover new treatments as well. With the best new treatments the survival did not improve, nor would you expect it to improve much due to those new drugs. Keytruda only improved survival by 2.5 months and we are still waiting for the Opdivo results.We have 24 countries and 100 sites in our Phase 3 trial. The great majority of patients were enrolled outside of the US where they had limited access to these drugs. A 2.5 month survival benefit for a small number of our patients does not explain why we do not have 298 events.Hope this addresses your question."
SEER Data
CEL-SCI hired an independent statistical company to extract SEER (US cancer survival) database information with inclusion criteria matching CEL-SCI's Phase III trial Study Population.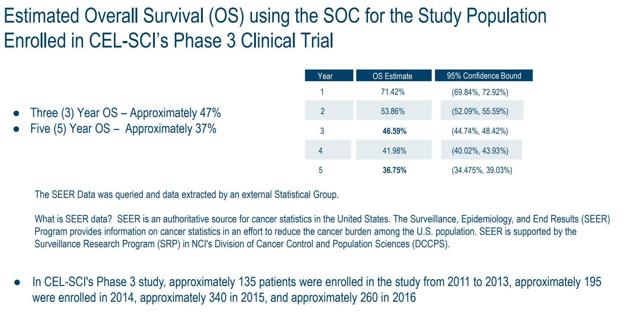 The result for survival for Oral Cavity Stage III/IVa cancer are in average:
Year 1: 71.42%
Year 2: 53.86%
Year 3: 46.59%
Year 4: 41.98%
Year 5: 36.75%
We can't avoid stating that these survival data numbers are really poor.
In fact the American Cancer Society's stated this on 1/8/19:
In contrast to declines for the most common cancers, death rates rose from 2012 through 2016 for... sites within the oral cavity and pharynx."
Where we are today
The average weighted time since treatment from this trial is 4.4 years. A rough calculation makes the average survival of this whole group to be around 40% according to this SEER data and number of events should be around 60% in the two comparator arms.
60% from 672 equals 403. There should be at least 400 deaths or at least 200 in the Standard of Care arm. This leaves 98 events in the Multikine arm. We see clearly that either Multikine is a miracle drug or something is overly pessimistic on the survival assumptions.
Some, but not all, studies show higher survival in clinical trials than expected in real life (Pancreatic cancer: Survival in clinical trials versus the real world.). So we assume that survival is better than expected in the public database.
We think that our assumptions shown in this survival analysis might be closer to reality or at least show the most optimistic possible outcome for the patient of this clinical trial: Stage III cancer survival data being considered (a near 50% survival at year 5), a credible level of dropouts (11%) and an endpoint reached by December.
This still implies a 28% survival benefit on the test arm vs. control arm
Conclusion
Sure we could spend the rest of our evening discussing each point...but we just we wanted to touch on the important stuff.  
To the other blogger we say this: "Keep up the good work! The last blog from you helped increase the share-price threefold.  $27 sure sounds good to me!
Remember to visit KillCVMShorts.com.  
Disclosure: I am/we are long CVM.