Roku (ROKU) the streaming-TV device producer has skyrocketed over 440% this year wrecking anyone that has tried to short it. Even despite the widespread market volatility, Roku continues its straight march upwards.
The massive run-up is partly due to accelerating revenue growth and investor optimism. However, the optimism and future hopes of profitability are not worth the current premium.
A Steep Valuation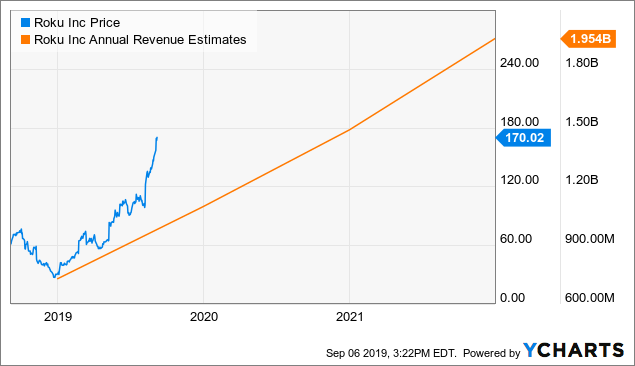 The graph above reflects the stock price along with its annual revenue estimates. The 2019 annual revenue estimate is just over 1 billion at $1.11B. Roku has a market cap of 19.21 billion, which equates to a value of over 17 times its current revenue estimate for 2019.
Chances are the future sales estimates are too high. The valuation is even steeper if you are to go off the actual numbers. The annual revenue for 2018 came in at $0.743B.
Management is still expecting another loss this year as well. The company has guided a net loss for 2019 to be between $61 and $71 million. Many economists are predicting a U.S. recession before the end of 2021. Roku investors need to ask, "how will this yet to be profitable company perform during an economic downturn?"
No Economic Moat
Roku seems to have a widening lead over its competition but will it stand the test of time? Mostly like not. Its competitors include Amazon, Apple, Google, Nvidia, and Tivo just to name a few. Many people use their gaming console or smart tv to Netflix and chill. So where is Roku's competitive advantage? It's neat streaming platform and hardware isn't enough to take down the other big players in the market. 
The prime ecosystem from Amazon will be difficult for Roku to compete with over the long term. While Roku has entered the Smart TV arena, Amazon's Fire TVs will easily overtake any advantage. And that's just Amazon, Google TV and Apple TV also have an impressive fanbase and platform. The competition that Roku faces is more than just fierce, it's flat out ruthless. 
Bottom Line
Roku continues to burn cash trying to gain market share against its competitors. It will need to develop strong partnerships in order to gain any competitive advantage.
Investors are overly euphoric and optimistic about the future of this streaming device company. The current premium for Roku stock is the definition of a bubble and is most likely to end badly.