The Dream Team Of Revenue Streams
In the aerospace and defense sector, a relatively obscure mid-cap company most people have never heard of called HEICO Corporation (NYSE: HEI) finds itself in a unique position with the dream team of revenue streams, tapping into both military defense and commercial airlines. For nine straight years, HEICO has reported record net income, operating income, and net sales.
When you have a winning streak, you don't mess with a good thing. If it ain't broke, don't fix it, right? But with HEICO, that is precisely what they do. As the world's largest independent supplier of FAA-approved aircraft and engine replacement parts, HEICO has given its shareholders more wins than they can count. In HEICO's case, it's been a winning formula because of the indispensable equipment the company provides above at cruising altitudes.
With the recent megamerger between United Technologies and Raytheon shaking things up in a big way in the aerospace and defense sector, Boeing and Lockheed Martin may soon have their hands full as they fend off increased competition and potentially lose market share. If you're a HEICO shareholder, though, it's pretty much been business as usual since HEICO has no such competition to worry about in its very stable and very profitable niche market.
The Florida-based company has actually been around since 1957 but only really started hitting its stride in 1990 when CEO Laurans Mendelson and his two sons took the helm (or is it grabbed the yoke in the flight deck?). In 1990, the company was worth only $25 million. Today, it has a market cap approaching $17 billion.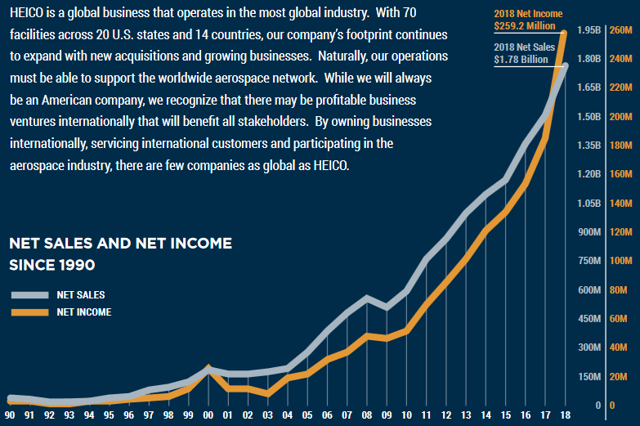 During Mendelson's distinguished tenure, HEICO has ramped up M&A activity, making over 75 acquisitions. Many of those acquisitions have been immediately accretive to earnings. Since 1990, HEICO's revenue has increased at a compound annual growth rate (CAGR) of 26% with around 50% of that driven by acquisitions, according to Jefferies aerospace analyst Sheila Kahyaoglu. Delving deeper, HEICO boasts two thriving segments along with a number of vertically integrated subsidiaries: Flight Support Group and Electronic Technologies Group.
The Best Offense Is A Good (Department Of) Defense
In 2018, Flight Support Group's net sales increased 13% to $1.1 billion while operating income also increased 15% year-over-year to $206.6 million. All of the world's major airlines are customers of HEICO's Flight Support Group, which supplies critical core components to avionics, hydraulics, pneumatics, structural integrity, electro-mechanical, and landing gear.
I'd be remiss if I didn't mention Boeing's well-documented problems with the 737 Max planes that are now disrupting their supply chain. The tragedies earlier this year have forced Boeing to ground their planes. But that hasn't grounded HEICO in the slightest. According to CL King analyst George Godfrey, HEICO is one of the few suppliers not adversely effected:
While the reduction in production could be a negative for Boeing's suppliers, it also could be a positive for HEICO, since fewer new planes means more older planes flying longer, and that will require more maintenance and service, as well as the potential for more PMA (Parts Manufacturer Approval) parts from HEICO.
Moreover, HEICO is a prime contractor for the U.S. Department of Defense. After Social Security, military spending is the second largest item in the federal budget, and the DoD now has a war chest budget of $738 billion to work with for the next fiscal year in 2020. Republicans traditionally spend more on military defense than Democrats, but it's one of those increasingly rare bipartisan issues where the left and right are able to set aside their differences and find common ground. The next election, regardless of who emerges as the winner, shouldn't have much of an impact on HEICO's business one way or another. And that's certainly reassuring.
GPS Satellite Of Love & Space: The Final Frontier
In 2018, the Electronic Technologies Group saw its net sales increase 22% to $701.8 million while operating income saw a 30% increase year-over-year to $204.5 million. The Electronic Technologies Group provides space and defense-related subcomponents that can be found in aircraft, drones, launch vehicles, and satellites.
As a matter of fact, all of the latest generation of GPS satellites utilize power converters from HEICO. Other products include: high performance active antenna systems, electro-optical test equipment, power amplifiers, digital receivers and tuners, laser rangefinder receivers, electromagnetic interference shielding, radio frequency interference shielding, traveling wave tube amplifiers, and crashworthy and ballistically self-sealing auxiliary fuel systems.
You can't spell aerospace without space, and HEICO has done more than just provide power converters to GPS satellites. HEICO also supplies and installs microwave assemblies, ferrite devices, amplifiers, memory modules, etc. The company has also partnered with NASA on numerous missions including InSight, RainCube, ICESat-2, Parker Solar Probe, Juno, New Horizons, Dawn and Orion. Along with Lockheed Martin, HEICO provided critical components to InSight (Interior Exploration using Seismic Investigations, Geodesy and Heat Transport) for the purpose of studying Mars' surface and atmosphere.
If It's Low, Let It Go; If It's High, Let It Fly
The FAA expects worldwide GDP growth to be 2.8% over the next twenty years. Meanwhile, Boeing anticipates a 4.7% increase in passenger traffic growth and 3.5% increase in the global fleet. With that type of prognostication, who needs diversification? I'm being a little facetious, of course. Still, it's welcome news if you follow the sector closely.
Between military defense and commercial airlines, HEICO has the dream team of aerospace revenue streams - just like Boeing. Unlike Boeing, HEICO flies under the radar. I would argue that's a good thing because it's not heavily scrutinized, which all but guarantees it'll never be heavily shorted. HEICO also has a savvy CEO with skin in the game (Mendelson and his two sons have a 5.5% stake) and an active management team that is highly acquisitive but also disciplined, which admittedly has led to a higher P/E multiple. This isn't a value stock in any sense of the word.
You're paying a premium for growth. Granted, at least some of that growth is already priced in with HEICO's stellar performance in 2019; the stock is up over 75% year-to-date. However, it's growth that comes with a fairly wide moat and a long runway. The valuation is on the higher end, and yet the stock could conceivably fly higher. I see nothing but clear skies ahead for HEICO, but if the stock stalls or hits some turbulence and begins its descent by dipping with the broader market as it did at the end of last year, buy your first class ticket and enjoy the flight.
Disclosure: I am/we are long HEI.
I wrote this article myself, and it expresses my own opinions. I am not receiving compensation for it (other than from Seeking Alpha). I have no business relationship with any company whose stock is mentioned in this article.