Tweet Softly And Carry A Big Stick
Since his inauguration in 2017, President Trump has tweeted a staggering 10,000 times. With a nod to the infamous "covfefe" faux pas, JPMorgan's new "Volfefe Index" will track the implied volatility of the president's social media presence. From his Twitter feuds with celebrities to airing his grievances against Jerome Powell and the Federal Reserve to the neverending trade war with China, the short-tempered commander in chief is never short for words. But those words have consequences. Bonds, Treasury yields, and interest rates have all been reportedly affected.
Will The @realDonaldTrump Please Shut Up?
According to CitiGroup, approximately 10% of the president's musings don't involve the leader of the free world whispering tweet nothings. As a matter of fact, 10% of Trump's tweets relate to subjects of importance to U.S. markets, often to their detriment. Bank of America recently published a note suggesting that on the president's more Twitter-happy days, the market tends to see negative stock returns of 9 basis points on average whereas when Trump tweets less frequently the market sees positive stock returns of 5 basis points on average.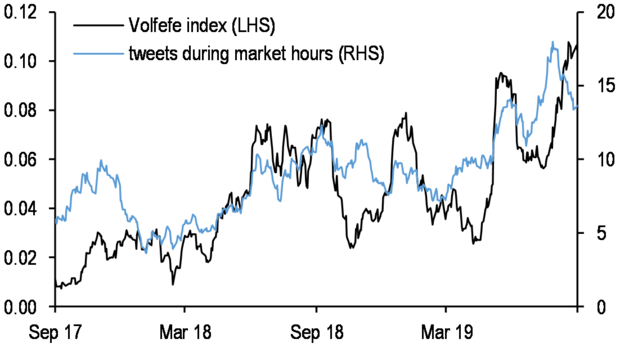 JPMorgan analysts concluded that:
"Trade and monetary policy have become an increasing focus for the executive branch, and everything from casual sentiments to seemingly formal policy intentions have been disseminated, globally and instantaneously, via this carefully scrutinized social media platform. In response, a broad swath of assets from single-name stocks to macro products have found their price dynamics increasingly beholden to a handful of tweets from the commander in chief."
It's also not merely the volume of Trump tweets that is alarming; it's the timing. JPMorgan has found that noon to 2:00 pm Eastern Time is the "most likely window within which a new remark will hit the tape." That's right in the middle of the trading day, and investors are getting caught in the crossfire.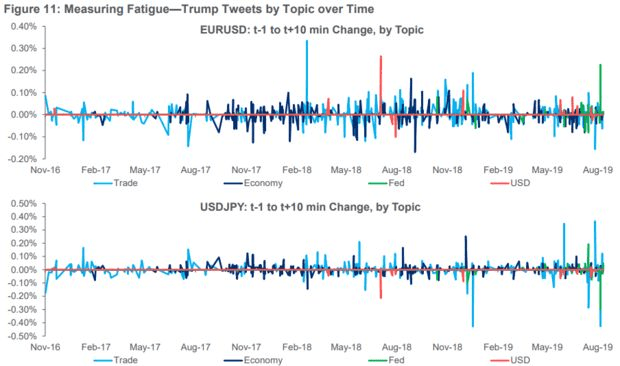 A Market Mover And A Twitter Shaker
Though the Fed and China currently bear the brunt of Trump's ire, it should be noted that the president has also clashed with the likes of Amazon, Apple, Harley-Davidson, and Nike. With the 2020 election right around the corner, one can safely assume Trump's Twitter usage will not abate before we get to the debates. However, Democratic nominees and future Twitter targets could give the market a reprieve or perhaps even a rally in the next year or so.
While the impact of social media on society is still not fully understood, it would seem that its impact on the stock market merits further study as well. JPMorgan's "Volfefe Index" isn't necessarily a good sign, but it is nevertheless a sign of the turbulent times we find ourselves in. I'm not saying we're effed, but we might be covfefed.
Disclosure: I/we have no positions in any stocks mentioned, and no plans to initiate any positions within the next 72 hours.
I wrote this article myself, and it expresses my own opinions. I am not receiving compensation for it (other than from Seeking Alpha). I have no business relationship with any company whose stock is mentioned in this article.