It did not take long for executives of Poland's construction company PBG to *disable* the Polish website version of the company's financial reports for the first three quarters of 2019.
The company's benefactors, bondholders and creditors are pissed off. They have been invited to Warsaw on June 28, 2019 to "renegotiate" the terms of "a particular series" of bonds (G1 series and G3 series bonds for the total amount of PLN 61,934,800)
According to PBG, the "necessity" for the urgent talks is the company's failure to meet its so-called "disinvestment" target in Ukraine.
The bankrupt Polish construction company and its two top executives — Jerzy Wiśniewski and Dariusz Szymański — have been under a microscope in Kyiv for the last six months.
Investigative journalists in Kyiv have tracked down millions of dollars of PBG funds misappropriated by its Ukrainian subsidiary Energopol-Ukraine. The trail leads to The trail leads to Wiśniewski and Szymański, who are today desperately trying to cover their tracks. Minority shareholders, who for years have not received dividends, have raised the alarm and Ukraine's law-enforcement agencies are now involved.
PBG on April 30, 2019 reported that its management board in Ukraine was taking steps to directly sell apartments build under the development project in Kyiv, Ukraine. They said then, "Having become aware of the failure to complete the transaction …" it would would request bondholders to approve a rescheduling of their redemption dates.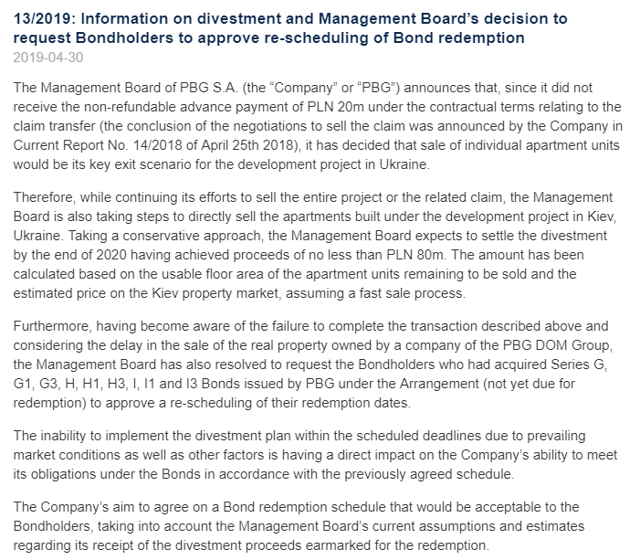 PBG's share price is down a whopping 97% in the last three years. That is enough to cause even the strongest minds some disquiet. Moreover, it's down 26% in about a quarter. That's not much fun for bondholders and it is a living hell for the two hundred families waiting for the Polish developer to finish building their new flats in Kyiv.
Disclosure: I/we have no positions in any stocks mentioned, and no plans to initiate any positions within the next 72 hours.