Introduction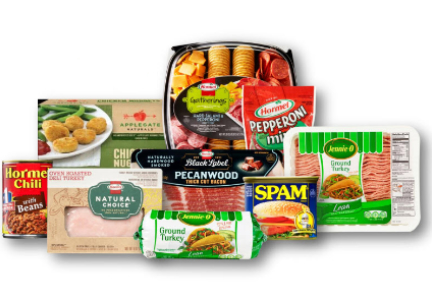 Figure 1
Hormel Foods Corporation (NYSE: HRL) specializes in packaged meat and food products. Their brand portfolio includes its namesake Hormel, Jennie-O, Dinty Moore, Applegate, Skippy, and of course Spam. The company has been in business since it was started by George Hormel in 1891.
While I am always looking for growth, my interest in Hormel is its dividend, and is it currently worth the risk so I can yield those dividends.
The Dividends
Currently (June 12, 2019), Hormel is yielding 2.01%. That is enough for me to classify this stock as an income stock. The key though, is to make sure the dividend, while never guaranteed, is secure. Here are some fundamentals to consider.
Rising Dividends
In looking for an income stock, it is first important to see if the company has a history increasing the dividend. With Hormel, we have a company that has been increasing its common dividend every year since 1990. Throw in the fact that Hormel likes to add the occasional special dividend, and we have a company that gives pay raises with bonuses. In making sure the dividend is secure, its current payout ratio is below 50%, and is usually at 36.8%, so it is certainly not exhausting all its earnings to honor the payments.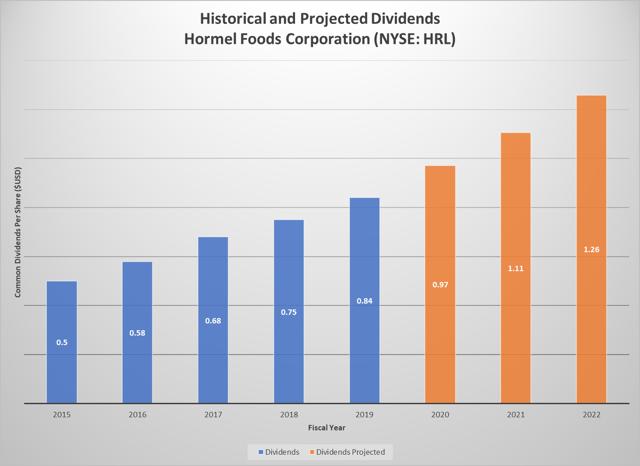 Figure 2
Balance Sheet
An older mentor of mine always insists on looking at the balance sheet of the company. I also like looking at the cash flow statement. First, I want any company in which I invest to have an Altman Z-Score higher than 3. Hormel's is 9.54. That's a good start.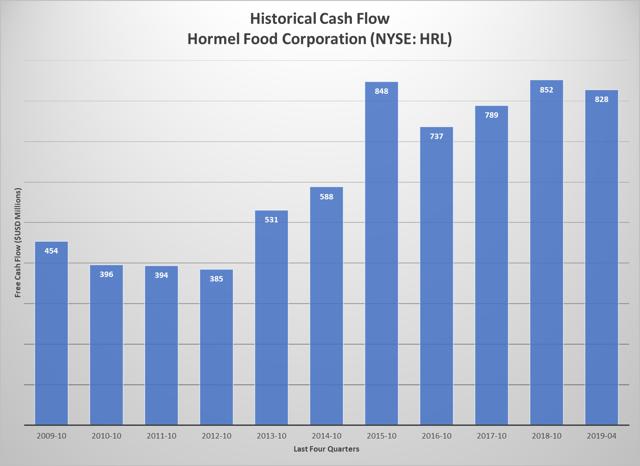 Figure 3
To demonstrate the overall financial health of Hormel, it's current Debt-to-Equity ratio is 0.04, and it has persistently kept that ratio below 0.10 over the last ten years.
Earnings Growth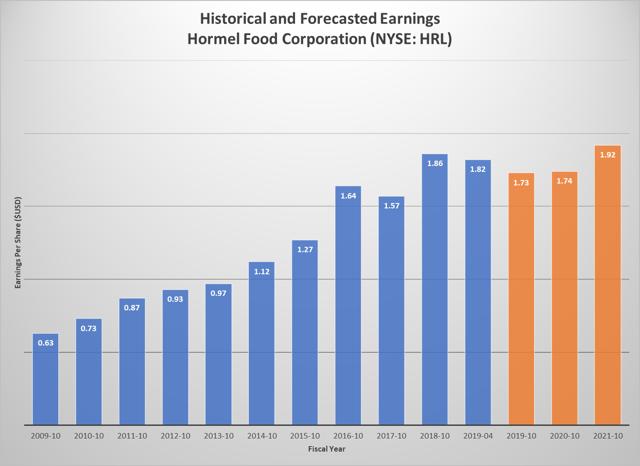 Figure 4
For the long-term, the analyst community sees the earnings for Hormel increasing, which they certainly have in a persistent fashion for the last ten years. While it maintains its legacy businesses, it is quite clear that Hormel is on a shopping spree. Most recently they've acquired Fontanini, Applegate, Columbus Meats, Justin's, and Ceratti. The company believes this kind of shopping spree with diversify their portfolio of offerings across different types of food, and different geographies. Nevertheless, if earnings continue to improve, that would give one some comfort that the dividend is secure.
What is Hormel Worth?
Currently (June 11, 2019), Hormel is $41.84/share. Using past and forecasted earnings, the company could be worth $55.50/share in five years. Couple that with the dividends, and one is potentially looking at a nifty 8.6% annualized return. Even if one assumes a 7.95% required rate of return, the value of the future dividends makes Hormel worth $47.69/share right now, based on a non-constant growth calculation. That is more than enough margin of safety for an income investor.
Special Note, one needs to understand that Hormel is a low beta stock. Depending on your sources, it averages a beta of 0.09 to 0.59, making it less volatile than the overall market. For an investor who might be looking for a buy and hold type security, this one maybe worth a look.
What Are Others Saying About Hormel?
Morningstar (2-Stars)
The Street (B-Buy)
Credit Suisse (Neutral)
Ford Equity Research (Hold)
Zacks Investment (Sell)
Edward Jones (Hold)
JP Morgan (Underweight)
Goldman (Sell)
Disclosures
Past performance is not an indicator of future performance.

This post is illustrative and educational and is not a specific offer of products or services.

We are using this blog to test ideas and

learn from the Seeking Alpha community.

Information on this blog is not an offer to buy or sell, or a solicitation of any offer to buy or sell the securities mentioned herein.

Information presented is believed to be factual and up-to-date, but we do not guarantee its accuracy and it should not be regarded as a complete analysis of the subjects discussed.

All expressions of opinion reflect the judgment of the authors as of the date of publication and are subject to change.

Investments in individual sectors or companies may be more volatile than investments that diversify across many industry sectors and companies.

Certain sectors of the market may expose an investor to more risk than others.

Diversification does not assure or guarantee better performance and cannot eliminate the risk of investment losses.

Dividends can be reduced or eliminated at any time.
References
Altman, Edward. 1968. "Financial Ratios, Discriminant Analysis and the Prediction of Corporate Bankruptcy." Journal of Finance.
Hormel Foods Corporation. n.d. Stock Info: Dividends and Stock Splits. Accessed June 2019. https://investor.hormelfoods.com/dividends-and-stock-splits.
NASDAQ. n.d. Hormel Food Corporation Earnings Forecast. Accessed June 2019. https://www.nasdaq.com/symbol/hrl/earnings-forecast.
Portfolio12 Securities LLC. n.d. Portfolio123. Accessed June 2019. www.portfolio123.com.
Disclosure: I/we have no positions in any stocks mentioned, and no plans to initiate any positions within the next 72 hours.
I wrote this article myself, and it expresses my own opinions. I am not receiving compensation for it (other than from Seeking Alpha). I have no business relationship with any company whose stock is mentioned in this article.