Introduction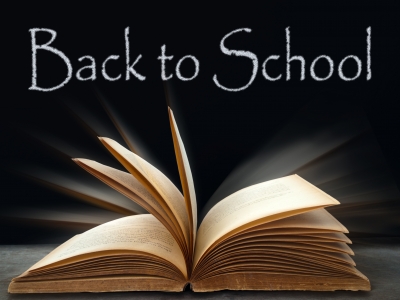 From: FreeDigitalPhotos
When we teach our students about stock picking, we ask them to look at sales growth, earnings, and dividends. While one can debate about other metrics, the historical data supports looking at these fundamentals to yield outsized returns. Before we outline each of our companies, we do want state that each has an Altman-Z score greater than three. We feel that ensuring each company has a healthy balance sheet is critical.
We will give each company two scores. One based on growth, and the other based on income. We feel this is useful for investors depending on their needs. For a growth company to achieve a perfect score, it must be selling below its fair value based on free cash flow, sales growth, and earnings growth as a function of its earnings. An income stock achieving a perfect score yields at least 2%, and is selling below its fair value based on dividend growth and free cash flow.
The Shopping List
Arista Networks Inc. (NYSE: ANET)
Growth Rating (4-Stars)
Income Rating (1-Star)
Arista Networks, Inc. develops, markets, and sells cloud networking solutions in the Americas, Europe, the Middle East, Africa, and the Asia-Pacific. First, Arista does not pay a dividend, but we've been watching this tech company for a few months, and the reason is clear; its sales over the last five years have been persistent and increasing at a torrid rate. With Microsoft (NASDAQ: MSFT) as a major customer, revenues have been increasing at 38% annual clip. With those sales, though, the cost of goods sold and research and development have been increasing even faster. This makes evaluating the company based on earnings difficult. Nevertheless, the increasing sales have been feeding its free cash flow, and we feel that this trend should continue. As of July 31, 2019, Arista's stock is selling at $273.45/share. Based on its sales grow, free cash flow, and projected earnings, we feel the company's present value is $285/share.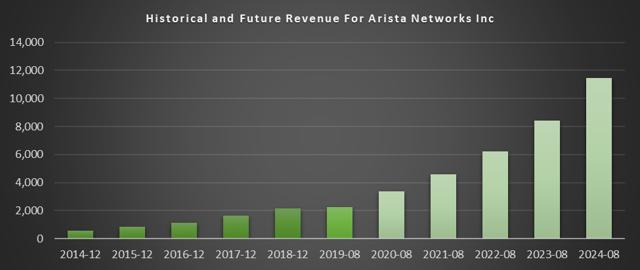 Historical and Forecasted Revenue for Arista Networks, Inc. Revenue is $USD Million.
We wrote about Arista in June. You can find that piece here. We are pleased to see that Arista has grown 14.6% since June 17. The S&P 500 only grew 3.1% since that same date.
Altria Group, Inc. (NYSE: MO)
Growth Rating (5-Stars)
Income Rating (4-Stars)
Altria Group, Inc., through its subsidiaries, manufactures and sells cigarettes, smokeless products, and wine in the United States. We want to note that tobacco products and alcohol are not appropriate for young people. Having said that, Altria Group does provide opportunities for growth and income investors. Growth, however, will not be coming from sales. Currently, sales are only growing at an anemic 0.7% per year, yet it appears the earnings will grow at 10.6% per year. Why? Mainly, Altria has been cutting its cost of goods sold by -2.9% per annum. If that trend continues, even with the slow revenue growth, the earnings should grow at a pleasing rate. That makes the company worth $67.50/share, which substantially more than that its current price of $47.07/share.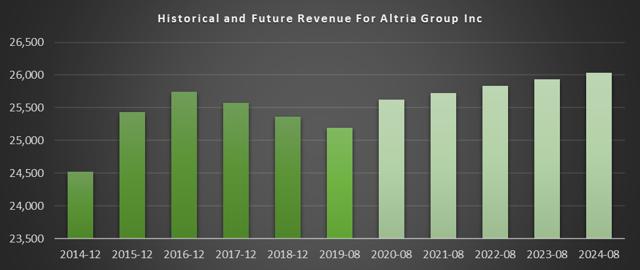 Historical and Forecasted Revenue for Altria Group. Revenue is $USD Million.
Altria is also an income stock. With a current yield of 6.8%, any income investor should look at this dividend monster. Its dividend has been growing 10.6%/year for the last five years. Along with an increasing free cash flow, we feel that Altria's income rating is 4-Stars. What prevents it from becoming a 5-Star income stock? We are concerned about its current payout ratio of 96%, and feel that is unsustainable. Because of this, that exposes Altria shareholders to a dividend cut in the future. It will really come down to its earnings growth.
The Kroger Co. (NYSE: KR)
Growth Rating (4-Stars)
Income Rating (4-Stars)
The Kroger Co. operates as a retailer in the United States. The company operates supermarkets, multi-department stores, marketplace stores, and price impact warehouse stores. Grocery stores are notoriously low profit margin businesses, so increasing revenues are the engine for earnings growth. Kroger is the largest grocery store chain in the country, and one of the largest retailers in the nation. Just based on economy of scale, its earnings should continue to grow at 3.3%. The experts peg earnings growth at 5.3%. We see it differently, and see it at 11.1%, due mainly to cost controls and better execution. If these numbers hold up, Kroger's current share price of $21.16 is far below what we feel is its true fair value of $56.50/share.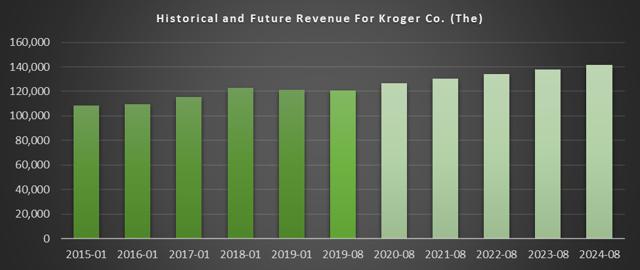 Historical and Forecasted Revenue for The Kroger Co. Revenue is $USD Million.
For the dividend investor, we see opportunities there too. Currently, Kroger's yield is 3.0%, and we see every reason for it to grow 7.6% over the next few years. If one is looking for a dividend payer, Kroger might be a good fight for you.
Hormel Foods Corp (NYSE: HRL)
Growth Rating (4-Stars)
Income Rating (5-Stars)
Hormel Foods Corporation produces and markets various meat and food products in the United States and internationally. The company operates through five segments: Grocery Products, Refrigerated Foods, Jennie-O Turkey Store, and International & Other. We wrote about Hormel in June here. Since then, Hormel's price has been flat. Like Kroger, revenues are expected to grow 0.4% per year, but because of cost cuts (-0.8%/year), we feel earnings can grow a robust 10% per year.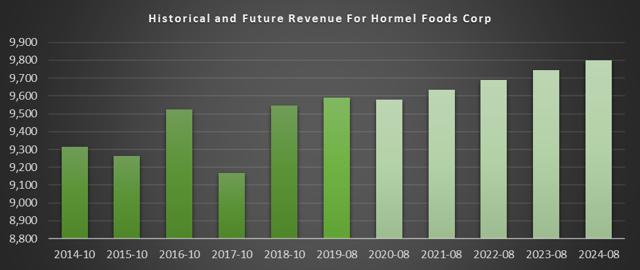 Historical and Forecasted Revenue for Hormel Foods Corp. Revenue is $USD Million.
Where Hormel really shines, though, is as a dividend stock. It does yield 2.1%, and the dividend has been growing 15.5% the past few years. The dividend growth should slow down some, but we still rate Hormel as a dividend star.
Conclusion
We feel that we have developed some nice quantitative algorithms to analyze growth companies and dividend payers. The key is how each metric works as a function of a company's respective revenue. If one is looking for a solid core of companies for their Large Cap allocation, these four are a good start. We will keep you updated on their performance.
Disclosures
Past performance is not an indicator of future performance.

This post is illustrative and educational and is not a specific offer of products or services.

We are using this blog to test ideas and learn from the Seeking Alpha community.

Information on this blog is not an offer to buy or sell, or a solicitation of any offer to buy or sell the securities mentioned herein.

Information presented is believed to be factual and up-to-date, but we do not guarantee its accuracy and it should not be regarded as a complete analysis of the subjects discussed.

All expressions of opinion reflect the judgment of the authors as of the date of publication and are subject to change.

Investments in individual sectors or companies may be more volatile than investments that diversify across many industry sectors and companies.

Certain sectors of the market may expose an investor to more risk than others.

Diversification does not assure or guarantee better performance and cannot eliminate the risk of investment losses.

Dividends can be reduced or eliminated at any time.
Disclosure: I/we have no positions in any stocks mentioned, and no plans to initiate any positions within the next 72 hours.