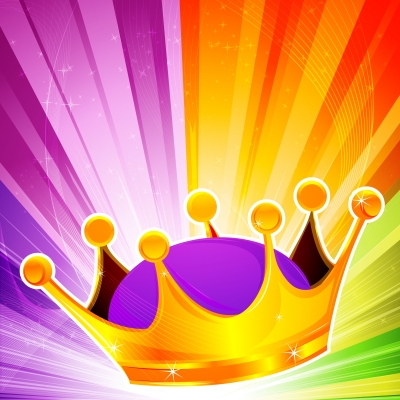 From: FreeDigitalPhotos
Introduction
When one retires, the need for investment income is very important. Given that inflation is the enemy of any income investor, those payouts need to rise over time. The question then becomes even more challenging in looking for investments that will provide these increasing dividends in an uncertain world.
In this investment environment, the solution seems to be ETFs for just about everything. For example, one might suggest using ProShares S&P 500 Dividend Aristocrats ETF (ETF: NOBL) as a potential solution for income seekers. According to NOBL's profile, it, "focuses on the S&P 500 companies that have the longest track records of year-over-year dividend growth." Also, it:
Follows the S&P 500® Dividend Aristocrats® Index

Invests in the S&P 500

companies that have increased dividend payouts every year for at least 25 consecutive years

NOBL's index has outperformed the S&P 500 with lower volatility since inception in 2005
Additionally, it also, "includes stocks with a float-adjusted market capitalization of at least $3 billion and an average trading volume of at least $5 million, in addition to consistently increasing dividend payments. The index typically contains 40 to 50 companies."
As of September 8, 2019, NOBL's top holdings are Target Corp (NYSE: TGT), Brown-Forman Corp (NYSE: BF.B), Lowe's Cos Inc (NYSE: LOW), S&P Global Inc (NYSE: SPGI), and Procter & Gamble Co (NYSE: PG). Currently, NOBL's dividend yield is 1.48%.
We Have Issues
We have several issues with NOBL as an investment, if one is looking for income generation from blue-chip stocks. Here they are:
First, we don't like the dividend yield. At a 1.48% yield, it does not generate enough income for this to be considered an appropriate investment if one is looking for dividends on which to live.
Second, while this ETF invests in companies that have a history of rising dividends, the ETF itself has a history of dividends that rise and fall over time. Here is a chart that shows just that. It is based on $60,000 investment in NOBL on September 5, 2014.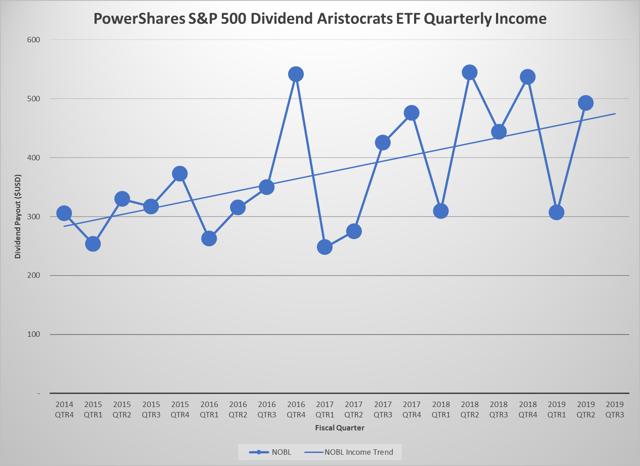 Figure 1
While one can see that the general trend is for the dividends to increase over time, if one is seeking predictably rising income, then NOBL will not deliver.
Third, as we will illustrate later, NOBL is short on performance as well as cash. If we have an investor who invests $60,000 in NOBL, including a $10 commission, then they will have seen their investment grow to $90,407 by September 5, 2019. While that was happening, they were able to realize a dividend cash flow of $7,378. The overall return for this approach was 10.86%. That is pretty nifty, but as we will see there is a better way.
| | | | | | | | | | |
| --- | --- | --- | --- | --- | --- | --- | --- | --- | --- |
| Return | Intraday | 1-Week | 1-Month | 3-Month | YTD | 1-Year | 3-Year (Ann.) | 5-Year (Ann.) | (Ann.) |
| Total | 0.00 | 2.23 | 2.61 | 3.98 | 18.54 | 8.84 | 11.14 | 10.99 | 10.86 |
| Index | 0.00 | 1.69 | 1.03 | 3.34 | 18.82 | 2.78 | 10.70 | 8.00 | 7.93 |
Table 1
A Better Way
We have been studying a process to find undervalued large domestic dividend paying companies for years, and we have great confidence in its ability to generate a healthy return for an investor. Here is the process, in a nutshell:
Analysts' Ratings
The company has an analyst following, and a rating of "HOLD" or better

There is a consensus that the net income will grow over the long-term
Financial Health
We only look at companies with an Altman-Z score of three or higher

Free cash flow (TTM) is positive
Historical Returns
We look for companies that have a historical return on equity of 15% or higher, OR

We will settle for companies that have a historical return on investment of 12% or higher
Secure Dividend
The current dividend yield must be 2% or higher

The company must have increased the dividend every year for the last ten years

The historical payout ratio must be less than 50%
Reasonable Price
If the historical dividend growth is less than the required rate of return, the current price must be less than the company's present value based on a discounted dividend model, OR

If the historical dividend growth is greater than the required rate of return, the current price must be less than the company's present value based on a non-constant growth model
When we ran this screen five years ago (September 5, 2014), and these are the companies that were generated:
Again, we spent a total of $60,000 on this portfolio, with each component having an equal weight. Each transaction was $10. Here are the five-year results:
Return

1-Week

1-Month

3-Month

YTD

1-Year

3-Year (Ann.)

5-Year (Ann.)

Since Purchase (Ann.)

True Aristocrat Portfolio

Total

1.99

7.94

13.26

35.78

18.89

11.92

12.49

12.37

Index

1.69

1.03

3.34

18.82

2.78

10.70

8.00

7.93
Here is how each component performed:
Return

1-Week

1-Month

3-Month

YTD

1-Year

3-Year (Ann.)

5-Year (Ann.)

Since Purchase (Ann.)

General

Mills

Total

2.16

1.74

7.05

45.55

20.54

-2.98

4.13

4.00

Kellogg Co

Total

2.26

3.70

15.74

16.06

-9.91

-3.90

3.13

2.88

Coca-Cola Co

Total

0.35

2.87

8.10

18.58

24.84

11.87

9.23

9.19

PepsiCo Inc

Total

1.17

6.85

3.64

27.13

25.57

12.05

11.61

11.62

Target Corp

Total

2.63

32.10

27.46

70.48

28.14

20.83

16.50

16.27

Texas Instruments Inc

Total

2.70

2.24

15.01

37.21

20.54

25.84

24.44

24.35
Table 2
While we could pick apart individual results, such the two cereal companies, it isn't necessary. It is all about increasing dividends, which both General Mills and Kellogg have delivered. General Mills has been raising its dividends at 4.81% per year in the last five years, and Kellogg at a more modest 3.55% rate.
The bottom line is that this approach yielded a 12.37% annual return since September 2014. Our initial principle is now valued at $92,289, but that is not the best of this story. Our $60,000 investment has returned $10,895 in dividends over the last five years, and these dividends grew every quarter.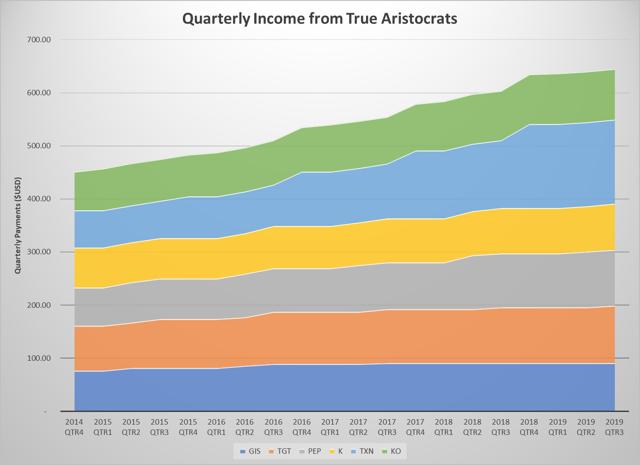 Figure 2
We believe in the efficacy of this approach. From January 1999 to April 2019, this algorithm has averaged an adjusted 10.34% per year. This return crushes the S&P 500's return of 4.79% over the same period, and has outperformed the market 59.64% of the time.
What About Today?
We ran our screen based on the closing prices on September 6, 2019. Currently, we have two possible candidates for our income investors.
The Kroger Company (NYSE: KR)— Kroger operates supermarkets, multi-department stores, marketplace stores, and price impact warehouse stores. Its dividend has been growing a weight-adjusted 9.28% per year. Its current price of $24.70/share is well below its present value of $29.31/share, based on a non-constant growth model. Kroger was part of " Our Back To School List," and has grown 16.7% since we recommended it. Kroger's current yield is 2.59%
Best Buy Co Inc (NYSE: BBY)—Best Buy operates as a retailer of technology products, services, and solutions in the United States, Canada, and Mexico. Its dividend has grown a weight-adjusted 28.72% per year. Its current price is $66.35/share, and its $74.01/share. We have not written much about Best Buy; maybe that is something we will have to do. Best Buy's current yield is 3.01%.
Conclusion
While the returns we report for our algorithm assume an annual rebalance, including a fair amount of turnover, we wanted to show a different approach for the true Buy and Hold investor. This anecdotal example illustrates that one can find a tailored portfolio that holds high yielding companies with strong balance sheets.  It is a nice way to find investments that can grow, but also pay a dividend that can grow over a long period of time.
Our point is pretty basic. One does not have to default to an ETF to meet their investment needs. It is possible, and we have demonstrated that here, to find investment that truly meet your needs.
Disclosures
Past performance is not an indicator of future performance.

This post is illustrative and educational and is not a specific offer of products or services.

We are using this blog to test ideas and learn from the Seeking Alpha community.

Information on this blog is not an offer to buy or sell, or a solicitation of any offer to buy or sell the securities mentioned herein.

Information presented is believed to be factual and up-to-date, but we do not guarantee its accuracy and it should not be regarded as a complete analysis of the subjects discussed.

All expressions of opinion reflect the judgment of the authors as of the date of publication and are subject to change.

Investments in individual sectors or companies may be more volatile than investments that diversify across many industry sectors and companies.

Certain sectors of the market may expose an investor to more risk than others.

Diversification does not assure or guarantee better performance and cannot eliminate the risk of investment losses.

Dividends can be reduced or eliminated at any time.
References
Altman, Edward. 1968. "Financial Ratios, Discriminant Analysis and the Prediction of Corporate Bankruptcy." Journal of Finance.
FreeDigitalPhotos.net. 2011. "Golden Crown Stock Photo." 100274522. August 7.
Investopedia. 2018. "S&P 500 Dividend Aristocrats Index." Edited by James Chen. April 2. https://www.investopedia.com/terms/s/sp-dividend-aristocrats.asp.
Morningstar Inc. n.d. Investment Research Center. Accessed June 2019. library.morningstar.com.
Portfolio123 Securities LLC. n.d. Portfolio123. Accessed June 2019. www.portfolio123.com.
ProShares. 2019. "S&P 500 Dividend Aristocrats ETF." Profile. June 30.
Disclosure: I/we have no positions in any stocks mentioned, and no plans to initiate any positions within the next 72 hours.
I wrote this article myself, and it expresses my own opinions. I am not receiving compensation for it (other than from Seeking Alpha). I have no business relationship with any company whose stock is mentioned in this article.