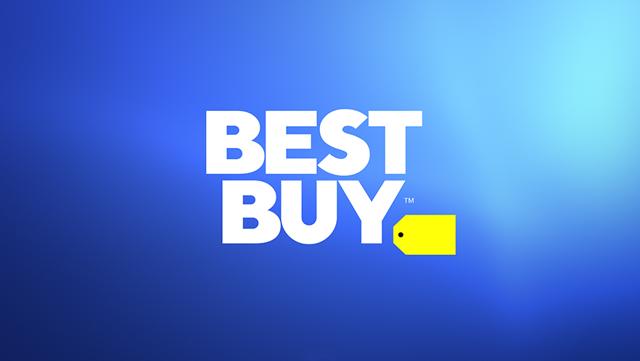 Source: Best Buy
Looking for a value stock in this market is becoming increasingly difficult. Frankly, the shelves are bare. All we were able to find at the end of last week is Best Buy Inc (NYSE: BBY). Here, we will look at four metrics to help us to determine whether Best Buy is worthy of one's investment capital.
The Basics
Before we look at any stock, there are a few metrics that we feel are non-negotiables. They are:
Financially safe—Best Buy maintains an Altman-Z score of 4.59.

Historically Profitable—Best Buy has a historical return on equity of 27.5%.

Improving Operating Margins—Historically, Best Buy's operating margin is 4.22%. The last 12 months, it was 4.67%. That is a 10.6% improvement.
How Does Best Buy Score as A Growth Stock?
Revenue Growth
Best Buy recently reported revenue growth of 1.7% (QoQ). This was fairly in line with analysts' expectations. Within the company's reporting, they believe their new strategy of focusing on solutions, especially through their Geek Squad unit, will continue to generate healthy returns.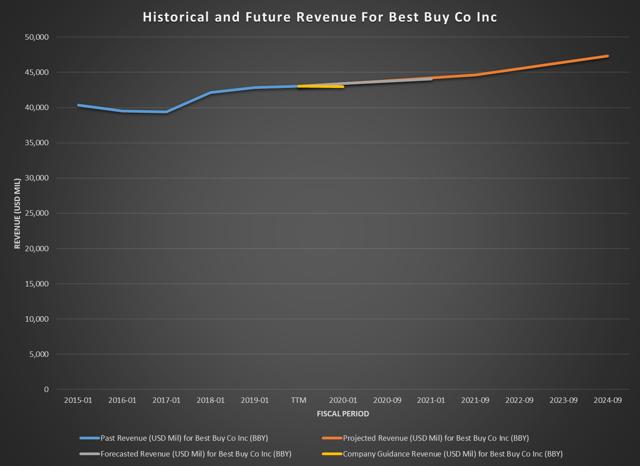 Figure 1
The analyst community sees the company growing its top line at 6.2% through the 2021 fiscal year. Over the next five years, we see at as a more mundane 1.9% growth rate for the next five years. The company agrees, stating their future growth rate will be between 0.5% and 2.5%.
The question then becomes how much is it worth? Based on revenue valuations, we are setting the five-year target price for Best Buy at $70.79/share, and a present value of $50.81/share.
Earnings Growth
Here, we need to perform some accounting. To find a projected earnings level for the next five years, we did make some assumptions.
Gross Margin Rate of 24%

Sales and General Administration Rate (SG&A) of 18%
Both figures are in line with the historical rates for Best Buy, though we do want to point out that they have both been improving over the last five years. That puts the future operating margin at 5.7%.
Where we are struggling is trying to calculate the future tax rate for Best Buy. They are assuming a 24% rate over the near-term. Given that 2024 is two elections away, we want to be conservative, and put the rate at a higher 35%. We are not making any predictions about the 2020 election; we just want to err on the side of caution. If that level of taxation actually occurs, we see Best Buy earnings at $6.52 per share in five years. That is a 3.3% annual growth over its current EPS of $5.53/share. If Best Buy sees that level of earnings growth, we peg it at a five-year target price of $98.57/share.
As one can see from the chart, we are definitely being more conservative than the company is guiding and what the analysts are forecasting. We prefer to keep it that. We do not want to be on the wrong side of that ledger, if it happens.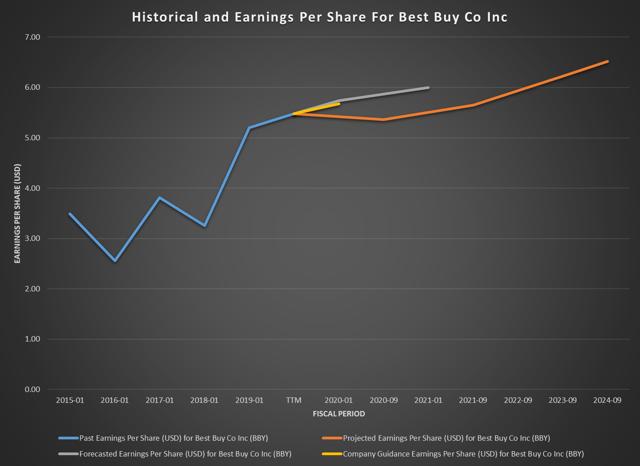 Figure 2
If Best Buy and the political environment maintain a 24% tax rate, then the earnings per share will go up substantially to $7.62/share. That would increase the five-year target price to $115.24/share. Before we finish our thesis, we would say that Best Buy is a "BUY" as a growth company. Normally we don't say it's all about the taxes, but for this company, it truly is.
Including future dividends, which we will discuss later, we place the present value of Best Buy at $58.14/share. This assumes a required rate of return of 11.3%, and shows that the company is slightly overvalued compared to its current price of $67.54/share
WACC and Free Cash Flow
We do like the future direction of the free cash flow, and we show it in the following chart. In calculating this, we made some assumptions based on Best Buy's historical numbers:
The Operating Cash Flow Margin will grow from 4.5% to 5.9%. If one can read the numbers correctly, Best Buy has been increasing this number over time for the last five years. The CAPEX margin will also grow from 1.92% to 2.50% over the next five years.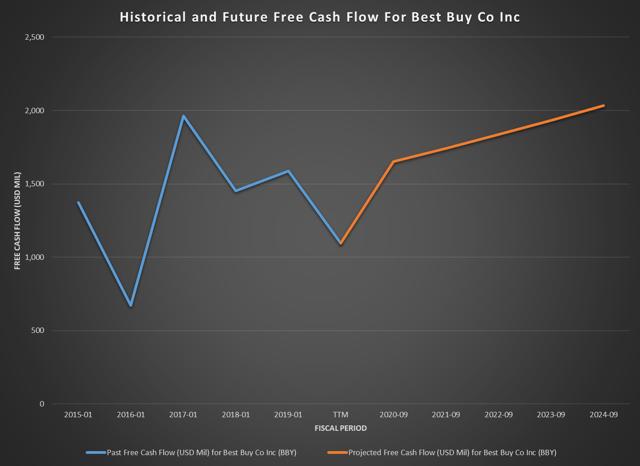 Figure 3
Using some assumptions such as a required rate of 11.3%, and the previously mentioned 35% tax rate, we put the present value of Best Buy at $105.63/share based on future free cash flow. So, as we come up with a rating for Best Buy, we have these valuations:
| | | |
| --- | --- | --- |
| Five-Year Valuations | Present Value | Five-Year Price Target |
| Revenue | $ 50.81 | $ 70.79 |
| Earnings | $ 65.47 | $ 98.59 |
| Free Cash Flow | $105.63 | |
| Average | $ 73.97 | $ 84.59 |
Table 1
Since Best Buy, financially, is a very healthy company, and there is some potential for growth, we give it a "HOLD" rating if one is looking for a growth opportunity.
Dividend Rating
It would come as no surprise that one might explore buying Best Buy for its dividend. What is there not to like? The dividend has been increasing at a rapid pace (23.3%) over the last five or so years, and it currently yields 2.96%.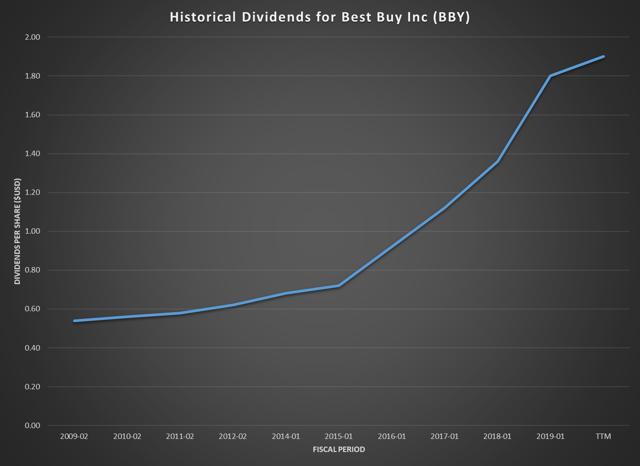 Figure 4
Our analysis indicates that this rate of dividend growth is not sustainable given its projected earnings growth (3.5%). We believe the dividend is going to settle on a 3.3% growth rate based on its historical 34% payout ratio.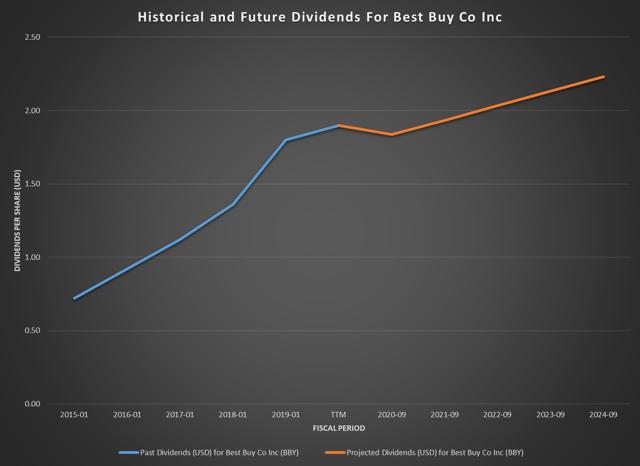 Figure 5
Now, we ask how much is that dividend growth worth? We used the discounted dividend model (DDM) to determine a present value for the company. Assuming a 11.3% required rate of a return, and the 3.3% dividend growth rate, we peg a current value for Best Buy at $23.79/share. This is well below its current price of $67.54/share.
From here, we are at a conundrum. How does one rate Best Buy, if they are buying it for the dividend? Given that it is yielding well over 2% for its dividend, is financially strong, and that dividend will grow over the next five years, we feel that Best Buy should be rated as a "BUY" if one is interested in income generating stocks.
What Do Others Say About Best Buy?
Here is how Best Buy is rated by some additional analysts.
Morningstar—Hold

The Street—Buy

Zacks—Hold

Telsey Advisory Group—Market Perform

Goldman—Neutral

Guggenheim—Buy

Cleveland Research—Neutral
Disclosures
Past performance is not an indicator of future performance.

This post is illustrative and educational and is not a specific offer of products or services.

We are using this blog to test ideas and learn from the Seeking Alpha community.

Information on this blog is not an offer to buy or sell, or a solicitation of any offer to buy or sell the securities mentioned herein.

Information presented is believed to be factual and up-to-date, but we do not guarantee its accuracy and it should not be regarded as a complete analysis of the subjects discussed.

All expressions of opinion reflect the judgment of the authors as of the date of publication and are subject to change.

Investments in individual sectors or companies may be more volatile than investments that diversify across many industry sectors and companies.

Certain sectors of the market may expose an investor to more risk than others.

Diversification does not assure or guarantee better performance and cannot eliminate the risk of investment losses.

Dividends can be reduced or eliminated at any time.
References
Altman, Edward. 1968. "Financial Ratios, Discriminant Analysis and the Prediction of Corporate Bankruptcy." Journal of Finance.
Best Buy Inc. 2019. Best Buy Reports Better-Than-Expected Second Quarter Earnings. August 29. Accessed September 2019. http://bit.ly/2lVhy4U.
Morningstar Inc. n.d. Investment Research Center. Accessed June 2019. library.morningstar.com.
Portfolio123 Securities LLC. n.d. Portfolio123. Accessed June 2019. www.portfolio123.com.
Vomhof, Jr., John. 2018. Best Buy Launches Refreshed Branding, Logo. May 9. Accessed September 2019. https://corporate.bestbuy.com/best-buy-launches-refreshed-branding-logo/.
Disclosure: I/we have no positions in any stocks mentioned, and no plans to initiate any positions within the next 72 hours.
I wrote this article myself, and it expresses my own opinions. I am not receiving compensation for it (other than from Seeking Alpha). I have no business relationship with any company whose stock is mentioned in this article.