Bull Market, Supercycle, Commodities Bull, Precious Metals Bull, Gold Bull, Silver Bull, Emerging Markets - these are all catch-words for the stock markets at the present time.  Sure, but what does it all mean an investor today?  Well, Standard-Chartered Bank, a bastion in the (South Africa, India, China, Australia) emerging markets has put out a superlative report last fall that documents their reasoning of what a "SuperCycle" is and what is happening because of it.  The link to the report is at the bottom of this article.
Here is the teaser opening paragraph of the overview section of this comprehensive report:
One of the present big issues is who will compensate for the US consumer, often the
driver of global demand? Of course, the world should not rely on a heavily indebted
American consumer, but it adds to the worries about global demand deficiency. Yet,
not only has the world economy rebounded to its pre-recession levels, helped by
policy in the West and spending in the East, but on our analysis, the rate of change in
consumer spending in China is already high, albeit from a much lower base than US
consumption. Assuming nominal consumer spending growth, for instance, of 11% in
China and 4% in the US, the increase in China's consumer spending will overtake the
US by 2017-18 in USD terms. The scale of that country is huge. But, as should be
made clear from this report, the super-cycle is much more than a China story.
Moreover, the lesson of this crisis is not just the need for a more balanced global
economy, as we allude to below; it has also reinforced pressure on more emerging
economies to move up the value curve, and this is likely to prove another feature of
the years ahead.
Now this report is consumption for sophisticated financiers (of which I am not), and it discusses currencies, and bonds and such, but it is the later part of the opening paragraph where it states "emerging economies to move up the value curve", that catches my eye.  What is that term that they teach you in business school "self-validation", where one searches for opinions that matches your own.  Eureka, I have just found a sophisticated financial analysis from a reputable bank operating in the emerging markets, that matches my own thesis of the emerging markets growing and creating strong demands for metals and commodities.  Their in-depth analysis of the "Supercycle", provides validation and support for my investment themes of concentration in the materials sectors.
Continuing on in this report there is more self-validation; the implications section at the end of the report uses the title:  Market Implications - Growth!  This is very easy for me to understand, just one word - "Growth".  And not just growth for the short term, but the authors of the report are extrapolating the growth into 2030, from a starting point of 2000 for their SuperCycle.
In summary, this Standard-Chartered SuperCycle report validates the authors preference for investing in metals, commodities and precious metals sectors.  The emerging world is engaged in growth and development of their respective lifestyles.  This means infrastructure developments and a higher standard of living for their populations. 
This growth from the emerging world is triggering demand for basic metals and commodities such coal, copper, iron ore, aluminum and may be even driving the demand for precious metals. Some possible investment vehicles that would rise in response would be the following:
·         EEM - Emerging Markets Index ETF
·         SLX - Steel producers ETF
·         KOL - Coal producers ETF
·         JJC - Copper Metal ETF
·         COPX - Copper Producers ETF 
·         SIL - Silver Miners ETF
·         AA - Alcoa Inc.
·         CLF - Cliffs Natural Resources
·         AWC - Alumina Ltd. (Australian ADR)
·         GLD - Gold metal ETF
·         GDX - Major Gold Producers ETF
·         GDXJ - Junior Gold Miners ETF
·         SLV - Silver metal ETF
·         SIL - Silver producers ETF


Finally, the author stumbled upon a remarkable chart in the middle of the report that may just sum it all up...as they say "a picture may be worth more than a thousand words".  (click to enlarge)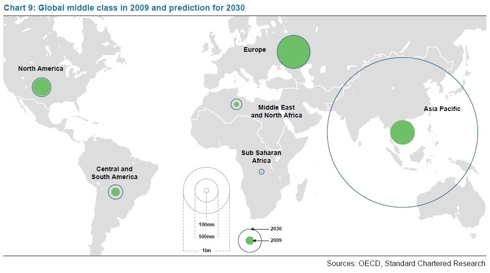 From the chart, note the large concentric dual green and white circles, that indicates the Asia Pacific middle class as of 2009 and the prediction for 2030.  The author will leave the reader to ponder the implications of that circle's size and the resulting growth implications.
Hat tip to reader CB for notifying me about the Standard-Chartered Supercycle Report:
www.standardchartered.com/media-centre/p...
Disclosure: The author is long junior metals miners and commodities.
Important Disclaimer
The information and opinions contained within this document reflect the personal views of the author and should be viewed as food for thought and amusement only. The author may from time to time have a position in any of the securities mentioned. There are no guarantees of the accuracy, reliability or completeness of the information contained herein. Independent due diligence and discussions with one's own investment and business advisor is strongly recommended. These writings are not to be construed as an offer or solicitation with respect to the purchase or sale of any security or as an endorsement of any product or service. We do not request or receive compensation in any form in order to feature companies in this publication. It is prohibited to copy or redistribute this document to any type of third party without the express permission of the author. This document may be quoted, in context, provided proper credit is given.
Disclosure:
I am long
GDXJ
,
SIL
.
Additional disclosure:
I am long junior miners.