EMC (EMC) had strong demand for its storage systems across all product categories in the past quarter and we expect EMC's storage market share will continue to grow as a result of high demand.  The company has also benefited from a revival in IT spending by large businesses that has helped other industry players like NetApp (NASDAQ:NTAP) and SanDisk (SNDK).
We have updated the Trefis price estimate for EMC's stock from $23.43 to $24.50 in part to reflect higher EMC storage hardware market share.  Below we explain the significance of the storage business for EMC and why EMC's share in storage hardware should grow over our forecast period.
Information Storage is 63% of EMC's Stock

EMC makes money by selling storage hardware, storage software and storage services to medium and large businesses. We estimate that the storage business, including software, hardware and services, generates close to 63% of EMC's value.  Interestingly, the storage hardware that EMC is known for constitutes only about 13% of the company's value compared to 45% for the storage software.  This difference is attributable to the much higher profit margins associated with software.
EMC's Storage Hardware Market Share to Increase to 24%
We estimate that EMC gained market share in high-end storage hardware systems during the last quarter of 2009.  We expect EMC's storage hardware market share to continue to increase as a result of the superior software that it offers for storage hardware systems.
Better Storage Software Gives EMC an Edge
In Q4 of 2009, EMC introduced a new approach to high-end data storage by integrating V-Max and FAST software technology into Symmetrix, the company's flagship storage hardware product that targets large businesses.  Both software suites are designed to improve the performance (speed, capacity) of storage hardware and help make EMC's storage and hardware combination an attractive choice for storage customers.
Better software technology helped EMC post a 13% rise in Symmetrix revenues in Q4 over Q3 of 2009.  We expect EMC's Symmetrix revenues to continue to grow and we expect EMC's storage market share to be positively impacted from Symmetrix.  We forecast that EMC's Market Share of Storage Gigabytes will increase from about 22% in 2010 to nearly 24% by the end of Trefis forecast period.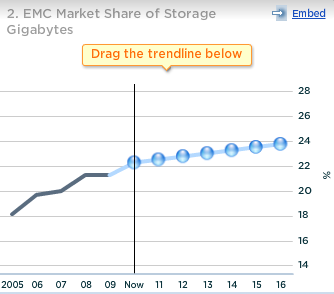 You can modify our forecast here to see how EMC's stock would be impacted if its share within the storage hardware market were to remain stagnant rather than growing as we have forecast.