News Corp's (NASDAQ:NWS) Avatar film has earned more than $2 billion in worldwide ticket sales.  The impact of Avatar's success on News Corp's stock, however, is minimal.  Below we discuss the total potential profits that News Corp can earn from Avatar and similar blockbuster films, as well as how Avatar's impact on the $17.78 Trefis price estimate for News Corp's stock is small.
More than $500 million in Avatar Profits for News Corp

For News Corp, we estimate that Avatar will bring in $1.5 billion of box office net revenue, $500 million of DVD revenue and combined box office plus DVD profits of about $500 million.
$1.5 billion of Avatar Box Office Revenue for News Corp

We estimate that Avatar will take in about $2.5 billion in gross box office revenue by the time it stops running in movie theaters.  The average film studio share of box office revenue is 60%, meaning that News Corp will earn close to $1.5 billion in net revenues from Avatar.
$416 million in Avatar Box Office Profits for News Corp
The total production and marketing costs for Avatar were about $460 million implying slightly more than $1 billion in profits for the film.  However, a group of private equity investors helped finance the film for a 60% stake, which implies that News Corp is entitled to 40% of the profits (or about $416 million) from Avatar movie ticket sales.
$500 million in Revenue and $100 million in Profit from DVD sales

In addition to the box office, we expect that 20 million DVDs of Avatar will be sold worldwide, generating revenue of roughly $500 million.  With a 50% margin on DVD sales and a 40% share of profits for News Corp, we estimate that the company could earn a profit of about $100 million from Avatar's DVD sales.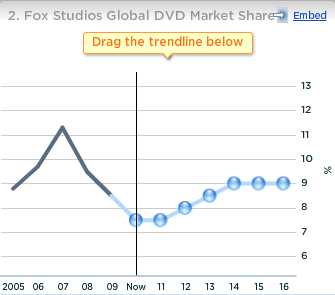 We estimate that Fox Studios (owned by News Corp) will have 7.5% market share amongst the 570 million DVDs that are sold in 2010, implying about 43 million DVDs sold.  You can modify our forecast here to see how an additional 3% market share in 2010 attributable to the sale of 20 million Avatar DVDs could impact News Corp's stock.
Impact on News Corp Stock
Box office and DVD sources combined, News Corp could earn a total profit of over $500 million from Avatar.  Even if Fox Studios were to produce and release a blockbuster film like Avatar every year for the next 10 years, all of these movies combined would cumulatively add $5 billion on a nominal basis or about $3.2 billion in discounted free cash flow (DCF) to News Corp using a discount rate of about 9%.
Given our $46.5 billion (or $17.78 per share) estimate for the value of News Corp, a $3.2 billion increase in News Corp's value would impact the Trefis price estimate for News Corp's stock by only $1.20 per share (less than 7%).
Within the Fox Studios division of our analysis of News Corp, you can see our forecasts for the key drivers related to News Corp's movie business: