FanHua is a fast-growing insurance provider in the one of the world's largest financial markets. It has established itself as a preeminent financial firm with over 20 years of history and 26 agencies throughout China. It's Chairman and CEO Chunlin Wang is widely respected as an industry leader with a number of accolades. According to A.M Best, the firm was one of the top 20 insurance brokers globally in 2017. The Guangzhou, China based firm represents 79 insurance issuers and counting.
Business Overview
FanHua primarily provides life and casualty insurance services. It has a formidable staff of 860,550 sales agents and 1,213 claims adjusters which allows it to compete with any firm in this space. Additionally, FanHua controls valuable insurance sales licenses through the CBIRC that are difficult to obtain.
Importantly, the firm has engaged in mobile and internet centric sales in recent years. Lan Zhanggui is an all in one portal for all insurance needs. Additionally, baoxian.com is a place to compare and contrast insurance policies, which generates a tremendous number of sales leads for the company. As an independent distributor, it has achieved the trust and reliability from the market than mainline insurance firms cannot obtain. This has allowed the firm to rapidly take market share and grow revenue.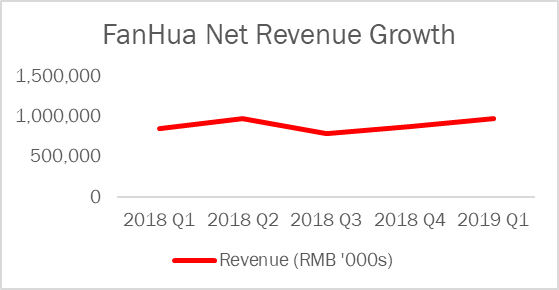 Fundamental Business Strength
The 2019 Q1 market reached RMB 1.3 trillion, up 18% year-over-year. As tens of millions more people enter the middle class each year in China, a large portion will require life insurance products. FanHua could be the first option for these individuals.
Over the past few years, FanHua has been able to capitalize on its business model to substantially drive value to the bottom line. The life and property business have grown substantially due to fundamental factors including a) increased wealth and demand for life insurance products as financial protection among Chinese middle and upper classes; and b) increasing values of property resulting in greater demand for more expensive properties in that segment. FanHua also derives revenue from claims adjustment services, but only about 8% of the total business. Life Insurance provides the largest share of revenue, with 88.4%.
The company's income grew by 34.3% in 2018 over 2017 and by 40% in Q12019 over 1Q2018. FanHua's overall gross margin and operating margin also improved during the same period, reflecting the solid growth in its life insurance business which has higher margin than the P&C line.
| | | | | | |
| --- | --- | --- | --- | --- | --- |
| | 2016 | 2017 | 2018 | 20181Q | 20191Q |
| Gross Margin | 23.20% | 24.40% | 32.40% | 29.20% | 31.20% |
| Operating Margin | 0.20% | 6.70% | 12.30% | 10.70% | 13% |
Although total revenue dipped a bit, its revenues from life insurance business, which contributed over 95% of its total operating profits, grew 144.8% YoY in 2017, 18.4% YoY in 2018 and 27.7% YoY in 1Q2019. Although it seems that revenue from life insurance business slowed down compared to 2017, it was mainly caused by temporary adjustment in the industry. It has continued to outpace industry growth as most listed life insurance companies in China posted negative growth in new business.
P&C Spin-Off
FanHua also strategically decided to spin-off it's P&C line to become more of a platform app called CNpad. While this decision impacted revenue, it will set the company in a better position over the long term. The P&C line was primarily composed of auto insurance. However, that industry in China has already reached its apex in growth and is steadily declining. Additionally, competition is increasing and margins are going down. For that reason, the firm is focusing more on the more profitable Life line of business.
| | | | | |
| --- | --- | --- | --- | --- |
| | P&C Gross Written Premiums | P&C Revenue (commission FANH received from insurance carriers) | P&C Cost (Commission Fanhua paid to sales agents) | Gross Profit |
| Before | 100 | 28% * 100 | 26% * 100 | 2%*100 |
| | | | | |
| | P&C GWP transacted via CNpad | Revenue (Platform Fee) | Cost | Gross Profit |
| After | 100 | 1%*100 | 0 | 1%*100 |
Growth Areas
FanHua has a number of potential areas for growth. Firstly, it can continue to add more agents and ride the impressive growth of the entire Chinese economy. The firm has over 860,000 registered agents with 120,000 actively selling policies. Growth is about 20 to 30 thousand per month. By 2020, the firm will mostly likely exceed 1 million registered agents that can sell policies.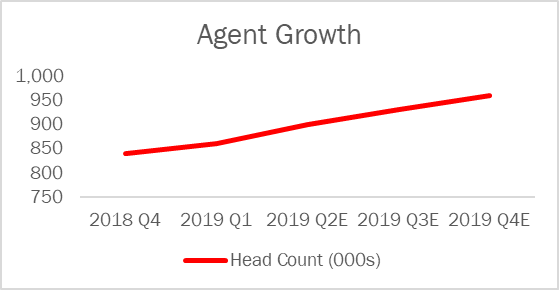 FanHua has a number of other potential areas of growth. Firstly, they can target both lower and upper class Chinese who are not part of the demographic target market of the firm yet.
FanHua can also expand its business lines into new products and increase its claims adjustment services.
Lastly, FanHua's CNpad App will allow the firm to increase revenue, premium volume and partners while reduce marketing and overhead expenses in the P&C line. That should allow for a stronger foundation over the long-term.
Risk Factors
FanHua maintains insurance distribution licenses through the CBIRC. Any interruption of these licenses based on changing regulations or improper performance of company personnel could have a major impact on the firm. Since 2017, strict rules and measures have been used by the CBIRC to clean up the industry and remove malpractice. FanHua must continue to be on the right side of the law.
Credit and Economic Growth
Chinese monetary growth is up 8% over last year although it has flattened in March, April and May of 2019. That has led to decreased economic output during this period, especially in big ticket items such as autos and home goods. If M2 growth remains flat, this could eventually damage the life insurance market. Additionally, life insurance companies would see a lower return on assets and have to decrease sales incentive payments.
Projections (USD)
| | | | |
| --- | --- | --- | --- |
| | 2017 | 2018 | 2019 (E) |
| Revenue (M) | $596.7 | $506.7 | $624.1 |
| Operating Margin | 6.7% | 12.3% | 13% |
| Net Profit (M) | $65.1 | $90.07 | $95 |
With increased sales agents and growth of the economy, FanHua should continue to see rapid growth this year. However, investment income will be lower in 2019 so net profit will not grow quite as quickly.
| | |
| --- | --- |
| | 2020 (E) |
| Trailing Profit (M) | 95 |
| P/E Ratio | 22 |
| Market Capitalization (M) | $2.090 |
| Year End Share Price | $38.30 |
Recommendation
Based on the company's continued growth, excellent positioning and strong fundamentals FANH is a BUY rating.
Disclosure: I/we have no positions in any stocks mentioned, but may initiate a long position in FANH over the next 72 hours.
Additional disclosure: I have an existing relationship with the company (non-employee)