Bullish Percentages are slowly rolling over
The major bullish percentages are slowly rolling over now for major indices. Lets first look at the two largest indices, Russell 1000 and Russell 2000.
Russell 1000
Russell 1000 (NYSEARCA:IWB) comprises of largest 1000 companies traded on NYSE and Nasdaq. Its equivalent of buying S&P 500 large cap and S&P 400 midcap stocks. This index reflects what is happening to the large and midcap stocks. Here are the charts for the index and its bullish percentage. A couple of observations, the Russell 1000 has touched its 50day moving average first time since beginning of the year. Its not a red flag, just a caution. But the bullish percentage has been dropping now and dangerously close to 70. A close below 70 will give a caution signal and a defensive approach should be taken. The last time it dipped below 70, the R1K index touched its 200 day moving average, which is around 800 which is about 7% correction from these prices.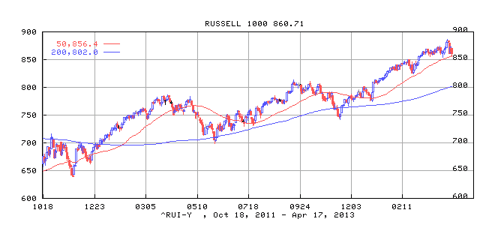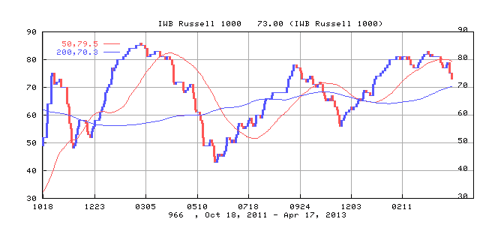 Russell 2000
Russell 2000 (NYSEARCA:IWM) comprises of the next 2000 companies in market cap after the Russell 1000. This index usually indicates the health of the small companies. It is also used to judge the sentiments of the market. Since small cap stocks are usually more volatile, market will only buy these stocks if the risk appetite is higher. A rising R2K is normally bullish and indicates that all the stocks are participating in the rally. A falling R2K index is usually bearish since it means that the small cap stocks are being sold. As of today, the R2K index has broken its 50 day moving average twice in a span of one week and now its about 2.5% below the 50 day moving average. The trend is downwards. The bullish percentage of this index is worse than the R1K (Russell 1000). The BPI has fallen below 70 and is in downtrend. The last time it broke 70, R2K touched its 200day moving average, which is now at 850, which is about 6% correction from here.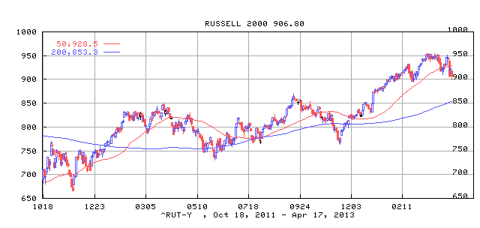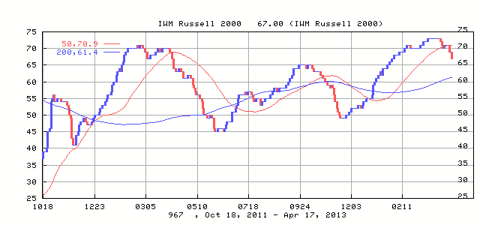 Other indices - S&P 500, S&P 400, NYSE, NASDAQ, etc
The S&P 500 (NYSEARCA:SPY) index touched bounced from its 50 Day Moving average and its bullish percentage index is at 76 though falling. S&P 400 Midcap Index (NYSEARCA:MDY) broke its 50 DMA and the BPI is at 73 and falling. S&P 600 Small cap index (NYSEARCA:SLY) broke 50DMA and its BPI has broken 70, its at 68 and falling.
NYSE Index broke its 50DMA today and its BPI is at 71 and .. you guessed it .. falling. Same story with Nasdaq, broke 50DMA and BPI is at 65 and falling.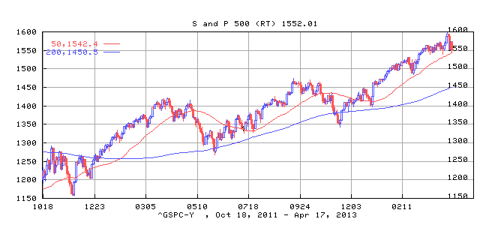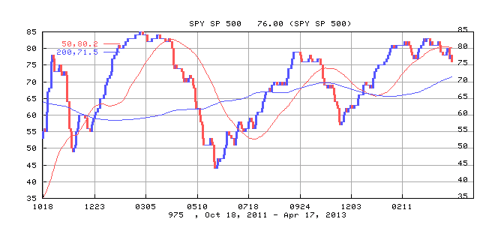 Summary
Overall, the market is at an extreme overbought position. The VIX (volatility index) is creeping towards late Feb high of 19. A break in S&P below its 50DMA may push market to sell more feverishly. The next support is at 1475-1480 range and after that at its 200 DMA at 1450.
At this time, some caution should be taken and any speculative positions should be guarded.
Disclosure: I am long SPY. I wrote this article myself, and it expresses my own opinions. I am not receiving compensation for it. I have no business relationship with any company whose stock is mentioned in this article.
Additional disclosure: Point and Figure and Bullish Percentage Index Analysis.