I am only presenting this blog as a trading idea. I do not necessarily recommend buying or shorting VBIV stock. I am only sharing an observation. DO NOT CONSIDER THIS A RECOMMENDATION.
Most investors are familiar with the popular investing strategy in the biotechnology world known as "buying on the rumor and selling on the news." VBI Vaccines, Inc. (ticker "VBIV") certainly appears one of those stories. Rumors are swirling receipt of Phase III data from their Hepatitis B Prophylactic Vaccine per their December 2019 Investor Presentation (page 42) is imminent. Here's a simple overview of VBIV's stock the last month: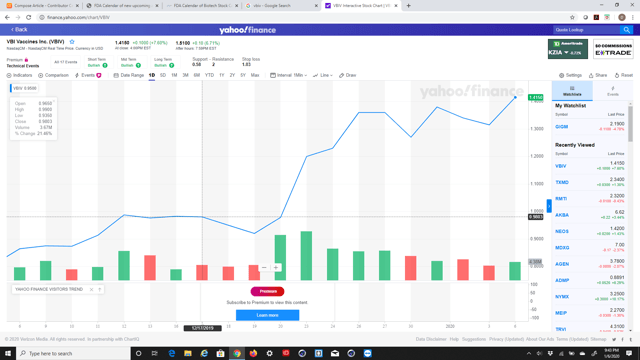 Now look at what happened late in the day today (it should be noted VBIV's share price is up another $0.10 (or ~7% after hours tonight).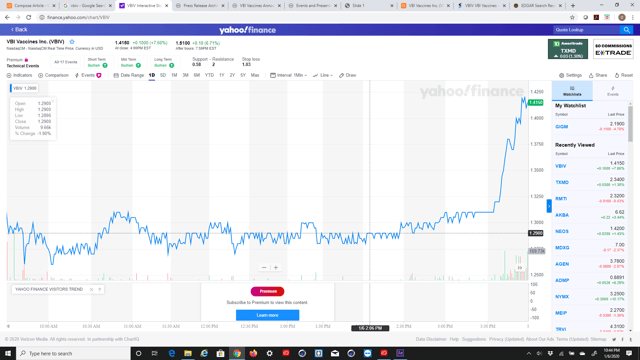 AUTHOR's NOTE: This is a speculative and hence VERY RISKY trading idea only. It is just as possible VBIV closes tomorrow (Tuesday 1/7/2020) for less than $1.00. I am only sharing a trading idea and make no long term "long" or "short" perspective (though if this vaccine is approved the company could do well). Also, if you do not like companies with material operations outside the United States this is not for you. However, after following the stock just for fun the last few weeks, it appears news is near (and it may in fact be too late as well).
THIS IS HYPE. THE AUTHOR DOES NOT RECOMMEND TRADING IN THIS STOCK. USE CAUTION WHEN INVESTING ON HYPE!!!
I invest considerable time reviewing small cap biotech stocks (less than $300MM EV) nearing commercial/clinical/regulatory milestones and, for entertainment, track their trading activity as milestones approach. Over the Christmas/New Years holiday I noticed VBIV was approaching such a milestone and bought 1,000 shares just before Christmas after noticing reasonable gains the prior two weeks (at a whopping $1.12 per share or so). I was already aware of VBIV for personal reasons (because Chris McNulty is the CFO of VBIV and somewhat of a local legend in Cambridge, MA...though to be clear only the executive team of 7 FTE's works in Cambridge MA, VBIV R&D is in Ottawa, Canada and VBIV manufacturing/production is in Israel). At the end of the day today (Monday 1/6/2020) I noticed a 100,000+ share purchase (definitely not me) at about 3:47 PM that took the stock up $0.07 and purchased another 1,000 shares for myself at $1.38/share. I noticed after hours tonight the stock is up to $1.51/share. Something appears afoot.
I recommend investors stay alert tomorrow morning and watch VBIV on a speculative basis (i.e. should the trend continue...and I have no idea which way it will trade). To be crystal clear I am not that familiar with VBIV's long term potential but with a $250MM market cap I do not see a material downside with the current indication (affecting up to 2.2MM people in the US) plus 5 others in development. 4 are infectious disease indications (vaccines) and 2 are in immuno-oncology which is the idea of helping the human body use its  immune system to treat/fight cancer (i.e. AGEN...which I do recommend). Here's an overview of the therapies in development (SOURCE: VBIV Investor Presentation page 4: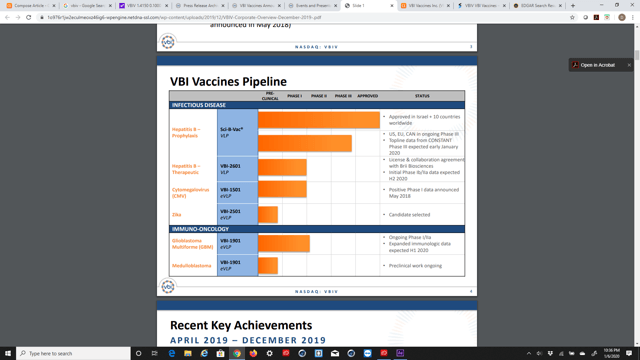 As a practical matter VBIV produces no revenues of substance, burns ~$15MM/quarter and has $55MM in cash as of 9/30/2019. VBIV closed a $0.50 secondary offering just last September that raised $35MM so dilution risk is as real as it gets. The author would also caution investors there's considerable current liabilities totaling $30MM (versus $55MM in cash and negligible other current assets) which appears quite high for a company spending $15MM/quarter. I have not invested the time to learn more. Again I know Chris McNulty is the real deal. The stock may still be a big risk but with Chris McNulty as the CFO that's good enough for me considering, if I trade again, I expect to be in and out within a day.
VBIV is the definition of a pre-clinical biotech hopefully about to transition to a 1 product commercial enterprise later in 2020 should the data look good and regulatory approvals are obtained. VBIV references CDC data that suggests between 800,000 and 2.2MM people in the United States could benefit from VBIV's first vaccine. Should the Phase III data look good (their vaccine is approved in Israel and 10 other countries per VBIV...and the run up in price is perhaps affirmation). VBIV will then immediately submit for regulatory approvals in the US and Europe.
Here is an overview of VBIV's FY2020 timelines and potential milestones: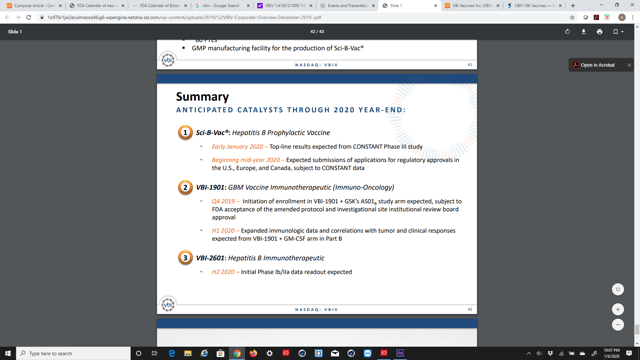 Again, this is only a speculative idea for those who like speculative trading and can take some risk. Remember it is just as possible the data is not good...though a reasonable downside is probably only 50%. If VBIV does not issue a press release tomorrow morning the stock could keep running or pull back again just on speculation...or if you have the time during the day (because I do not) you could invest some time researching its potential. The author would only note 4 analysts cover VBIV and are all bullish (I understand this means nothing...but at least VBIV is not rated a sell either).
Unfortunately I will not have the time to answer questions tomorrow (1/7/2020). It is also just as likely I won't know the answers anyways. For those of you who follow me again, please, this is just a trading idea for a day at the most. Whatever you decide to do on your own since I do not formally recommend trading in VBIV without additional research, I strongly recommend you are out of the stock by the end of any trading day. This has the potential to be a textbook "buy on the rumor and sell on the news stock issue."
I would tell you my personal strategy is to start with an investment in a new stock in the amount I can afford to lose. Should the stock move higher I then buy more and more (easy over the last 3 years). For example I have done very well with VICR based on a friend's suggestion. I started with 100 shares at $28/share about 6 months ago and buy 100 more every time the stock grows say 10%. I just bought another 100 late last week at $48 (so I am up to 500 shares...VICR may pullback but it is a $100 stock in 2-3 years if not much sooner). Since I know very little about VBIV I will just seek how it goes now that I am up. I will sell should VBIV pull back to say $1.20.
Good luck whatever you decide! If it is not fun then don't do it.
Disclosure: I am/we are long VBIV.
Additional disclosure: Please note I do not recommend buying VBIV. I am only sharing an observation.