http://reasonablythinking.com/2011/09/02/1-99-the-us-10yr-treasury-paradox-shorted-iei-20110902/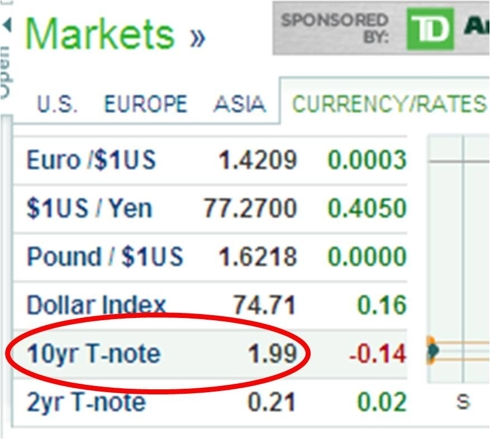 I spent minutes staring at this:  the US 10yr Treasury Bond finished the day at 1.99%.  I want the reader to first step back and think about the inherent paradox of investors buying a downgrade, and secondly, consider what a current and continued low rate structure implies.
Paradox
Last month, S&P downgraded the US's sovereign credit rating from AAA to AA+ (with a negative outlook).  Since then, the US 10yr Treasury Bond yield has fallen from 2.40% to 1.99%.  This means that as US credit is officially considered to be worsening, more investors are buying it!  The opposite is normally true:  when a country is downgraded, investors normally demand higher compensation for lending funds to that country.  In the US's current situation, the country suffered a downgrade and investors now demand less compensation for funds lent–quite the paradox!  I believe this situation to be unsustainable.
Implications
Suppressing interest rates to abnormally low levels both hurts the economy and the currency.  My assumptions are as follows:
An economy is based on what it produces
New sources of production depend on businesses investing in capital expenditures
Financing for capital expenditures depends on another party saving money (forgoing consumption)
Saving money requires an incentive of high interest rates
AND
Printing money to enable low rates (via purchasing treasuries) devalues the currency
A devalued currency appears as broad-based inflation with increased commodity prices
Today's Trade
 I argue that the economic malaise, devalued currency, or both, will not be tolerated over the next few years.  I have already established investment positions for an economic downturn, and I have multiple positions that hedge against the US Dollar (see Commodities and Coins allocation in this pie graph).  Today's trade directly attacks the yield curve.  I strongly believe that the US 10yr Treasury Bond will yield significantly higher than 1.99% in a few years.  I choose to short the 3-7 year portion of the curve by shorting 15 shares of IEI, which is a bond fund ETF mimicking the Treasury Yield curve, at $121.70.  Ideally, I would have like to have also shorted IEF, which is the 7-10 year portion of the curve, but shares of the ETF were unavailable for shorting; I may revisit this next week…  And for those of you who are long-time followers, I still own JFR and would consider purchasing more at a lower price.