Solid fundamentals
Bonterra is trading at a significant discount to the value of its assets as well as to the cash flow it is currently generating. The Company is now trading at c.30% discount to PDP asset value – PDP stands for Proved Developed Producing Reserves which have over 90% probability of being able to be extracted economically with a very low level of technical risk and no additional capex. Oil companies trade at discounts to PDP typically only during short periods of extreme distress. Edmonton Par price has recovered, therefore the valuation discount to PDP should close imminently and revert to trading at a premium.
George Fink (CEO and founder) holds 11% of the stock. W. Oberndorf (founder of SPO Partners) holds another 12% of the stock.
The company is a fantastic investment for value and fundamental investors.
Share price performance
Bonterra's share price collapsed from a high of C$20/share in August 2018, to C$6/share currently. Reasons for sell-off:
Edmonton Par oil price crashing – now recovered
Income investors selling – likely over as well
Edmonton par
In late 2018, Edmonton Par oil price (the benchmark from which Bonterra's oil is priced) crashed 70% due to (1) WTI oil price falling from $76/barrel to $42/barrel, and (2) discount of Edmonton Par oil to WTI blowing out due to Canadian export capacity issues.
Edmonton Par discount blew out due to export capacity constraints out of Canada. Alberta produces more oil than it can export. Several solutions have been discussed for some time now – expansion of pipelines going into USA, pipeline to the west coast of Canada, expansion of crude by rail capacity. These will likely take some time to materialize. As a stopgap measure, Alberta Government forced major oil and gas companies to reduce production by 325,000boepd starting from January 2019, which led to Edmonton Par discount to WTI to narrow to historic averages.
Edmonton Par has now stabilized and recovered to pre-selloff levels.
Bonterra stock (white) vs Edmonton Par (green):

Income investors
Bonterra was historically viewed as an income stock, favoured by investors looking for a stable dividend (company traded at 8%-10% dividend yield). After the dividend was cut, it lost its appeal to income investors, as the focus of the company for the next few years will be on restoring the balance sheet.
As the dividend investors are selling, the value and fundamental investors are stepping in. Once the rotation from income investors to value investors is complete, there will be no more sellers and the stock will start catching up with the Edmonton Par price.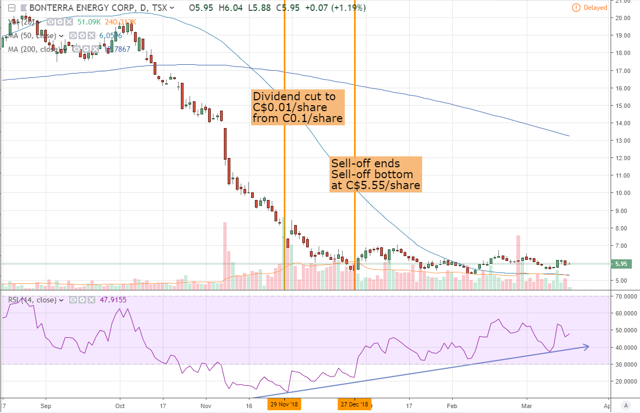 Key events:
November 29, 2018 - dividend cut to effectively zero
December 27, 2018 – sell-off ends, stock starts to consolidate in the range of C$5.5-7.0/share
Everyone who bought after the sell-off ended (Dec-27 2018) is likely to be a "strong hand". Cumulative trading volume since December 27 is 22 million shares. The free float is 25 million shares. In the next 10 trading days, the volume traded since the end of the sell-off will surpass the free float of the company, signaling a full rotation of the shareholder base. Once all the sellers are out, the stock is likely to start rallying.
Disclosure: I am/we are long BNEFF.
I wrote this article myself, and it expresses my own opinions. I am not receiving compensation for it. I have no business relationship with any company whose stock is mentioned in this article.