by David G. Hawkins
Here, being the end of the month and the quarter, I'm reviewing the monthly bars (long term) and the quarterly bars (very long term) charts. But first we'll look at the short term (daily) chart since there's been some changes on that since our last post.
Short Term - Daily Bars Chart
The first chart here is the daily bars chat, which you should compare to the one in my last post here. At that time, I noted the very strong upward response of the market to both the European and the U. S. central banks' announcements of significant quantitative easing. I opined that this was probably the start of an accelerated up trend, and labeled the S curves accordingly. But now we see that the market has retraced half of the gain since the QE announcements, coming down to the S curve launched from Sept. 4 and supporting there. This tells me that we did not get a new accelerated up trend. Indeed, looking at the market and the hierarchy of S curves since the latter part of July, it now is showing us that what we've been having is a simple, mild up trend, with each pullback in price coming down to and supporting at its latest S curve. This gives us no forecasting information, as this behavior could go on indefinitely. The uptrend since July will end when price definitively breaks below the latest S curve.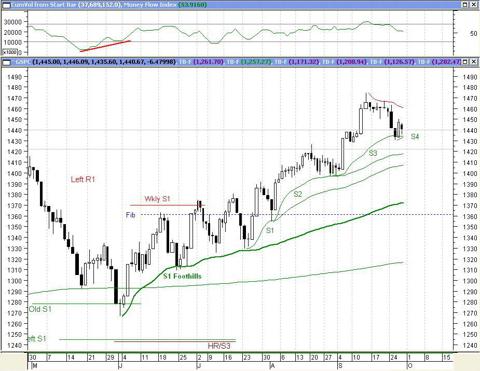 -
Long Term - Monthly Bars ChartXX
The second chart here is the monthly bars chart, which you should compare to the one in my post here on Sept. 2. I said then that this looked like the uptrend was loosing steam. But since then, the September bar is in place with significant upward movement above the high of April. So, the uptrend continues, and there's no resistance in sight until the high of 2007.
Very Long Term - Quarterly Bars Chart
The last chart here is the quarterly bars chart. Compare this with the one I posted on July 1. The chart here today is the update of the second chart of July 1. We see that price continues to move upwards in a slow, steady way, getting closer to the all-time market high. Very importantly, the RSI in the upper pane is edging up, getting even closer to its resistance line (see the discussion of this in the July 1 post). So, in the next 1 to 2 quarters, both price and the RSI will probably test their resistances, which will be a very significant turning point. If they break above these resistances, we're off to the start of a major new very long term bull market. But if they turn down, the likely interpretation will be that the market will have formed a triple top and probably will go significantly lower.