NZD/USD:
The Kiwi declined the most against the Greenback last week, compared to the rest of the G-10.  On October 28th the RBNZ kept rates on hold.  More damaging to the Kiwi were the accompanying statements from the RBNZ in which they remarked that rates would likely remain on hold through Q2 of 2010.
Six days prior to that announcement NZD struck near the prior day's high versus the dollar at .7606.  Since that day the Kiwi has been in a tail spin.  The Chart below is a daily Candle chart of NZD/USD.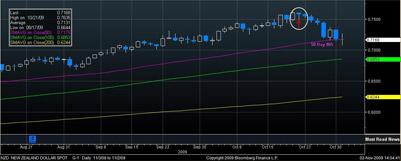 In the white circled area we have a Candlestick that traders refer to as a Hangman. There is a short candle body with a wick hanging down from it.  When this is seen during price appreciation it may signal a possible reversal.  The candles following the Hangman are lower and that could be confirmation enough to enter a short NZD position.
This pattern appearing out in front of a rate decision may have been traders signaling caution ahead of the announcement.  In the end traders were correct and price has continued to decline.  One last item to always keep an eye on are the daily Moving Averages.  NZD is approaching a close below its 50 day MA.  A close below the 50 day MA should put further pressure on the already battered NZD.
USD/CHF:
We have discussed correlations and their importance.  Aside from straight technicals and fundamentals often what drives a currency might be its correlation to another instrument, product and or commodity.  The Swiss Franc historically has had a very tight correlation to Gold, as one appreciates so does the other and vice versa.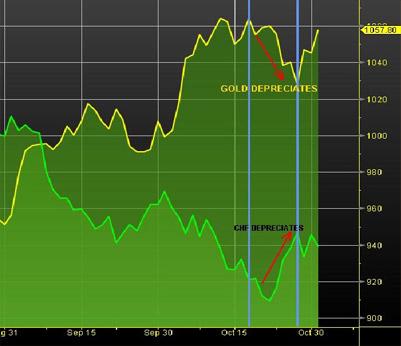 The Chart below shows the price movement of GOLD and CHF.  During Gold's most recent depreciation (as depicted between the 2 blue lines), you observe the strong correlative effect one exerts on the other.  What should grab our attention as Gold has resumed its strength is that the Franc has not. As a trader you should wonder if Gold is overbought or the CHF oversold?  Of course keep in mind it is not a perfect correlation of 1, meaning some variation is normal.