USD/JPY:
The Dollar Yen has been relatively volatile as of late.  On the chart below there are levels of support and resistance indicated by the bright green horizontal lines.  We have now tested 89.90 twice on the close.

Additionally, the 50 day MA is closing in on that level.  If an entire candle sits above the 50 Day MA then we would expect price to move towards the next resistance level at 92.00.  However, if the price closes below 89.90 then we would expect a further drop to the next level of support at 88.00.
Lastly, one additional chart to look at is the correlation between the DXY (which is an indexed weight of the dollar, based on a basket of currencies) versus the Yen.  What you see since April is that as the DXY has depreciated the JPY has appreciated. If you have a negative dollar bias than you will want to go Long the Yen as we approach S&R.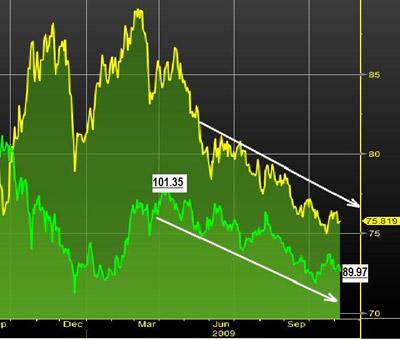 USD/CAD
The Canadian Dollar is in a very vulnerable position at this juncture.  Fundamentally, the CAD has come under pressure from its own Central Bank as well as recent poor economic data.  It completely retraced its mover lower towards Dollar parity.
I looked at the CAD over a number of different tenors from a 4 hour to a Daily to a Weekly.  On each of those charts there were technical indications that the CAD maybe in trouble.  I will focus on the weekly chart, although I do not trade from a weekly but rather use it for confirmation of trends.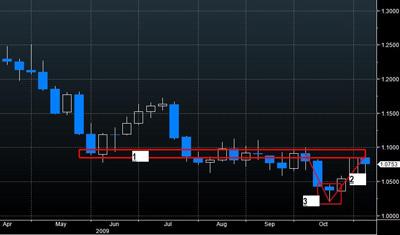 Based on the chart above there are 3 points that get my attention even before we look at any additional oscillators or indicators or the like.  1) The red rectangular box shows levels congestion or S&R for the CAD. 2) The red lines that make up  the 'v' shows a complete retrace of the previous move 3) In the square red box you have a "Hammer" shaped candle (although it more so resembles a mallet).  A trader who purely uses candles would have closed out his Long CAD position after the formation of the Hammer on a weekly chart. 
Looking at the daily chart the CAD is also closing in on the 50 day MA.  It is very possible that on poorer than expected economic news from Canada or a firmed greenback that the CAD will touch 1.10 this week.