GBP/USD:
Perspective is quite valuable regardless of what instrument or product you trade.  Your forex trading style will vary when range trading versus trading in trending markets.  The Chart below is a monthly candle on the GBPUSD.  Notice the tight range the Pound has been trading in since the end of May.  This is shown by the orange rectangular box.  Take note of the strong move down that preceded this period.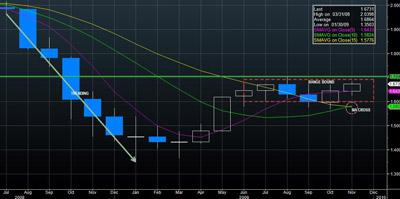 For those forex traders that pick entry points based off of Moving Average crosses, then this is a pretty significant cross that just took place.  On the Chart we have a 5, 10 and 15 MA using a monthly tenor.  The 5 MA which follows price closest is in purple on top.  The 10 you would expect to see next when price is appreciating, however, in this case it just crossed back above the 15 indicating that a bullish run has returned.
To put some perspective on this, these Moving averages have not been in this order since early 2008 around the time the Cable was at its all time high against the greenback.  The first confirmation of a long term run up in price would be the breach of the next level of resistance at 1.7045.  Of course MA can always cross back, but using a monthly tenor provides quite a confirmation.
USD/JPY:
The Greenback has replaced the Yen for the carry trade.  Like most other currencies we are at key levels here once again. If we can close above 92.20 we will have completed an inverse head and shoulders as depicted on the graph.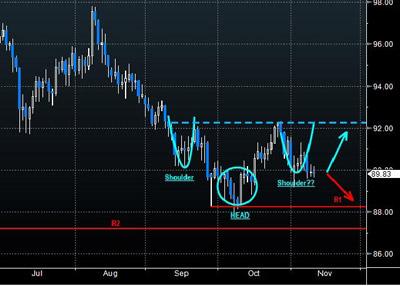 However, we are far closer to testing resistance at R1 with a handle of 88.30.  If we breach that, we would expect to move a full figure lower and test R2.