Summary Investment Thesis
FedEx offers a potential upside of 60 percent to around its all time high over the next 24 months from its current price of $160. My analysis of FedEx concludes that the market has overcorrected for FedEx's inability to grow and advance due to underperforming earnings and because of relatively recent changes in the business model FedEx will be able to thrive regardless of the economic enviroment.
A few tailwinds that could sustain FedEx's growth in the future making this a valuable opportunity is the fact that FedEx may be moving further away from Amazon partnerships as first signaled by the transition just a month ago in June, their adoption of a fulfillment platform - an exponentially expanding market, and there long lasting 40 year presence that is greater than many big businesses attempting to enter into the delivery sector.
Summary
FedEx has been one of the most trusted brands in delivery for nearly 50 years. It has been able to withstand recession after recession and bounce back with substantial growth every time due to its constant evolution and expanding nature. In recent times however newer competition and poor earnings has taken a toll on FedEx's ability to continue this outstanding growth cycle.  Prices have consistently downtrended about 40 percent from its high at about 280 dollars a share, but I believe that FedEx once again is evolving during difficult times and will create at least all time if not newer highs. I am convinced that Wall Street and the media have shadowed the fundamentals of this company and that a significant reversal will come based on recent changes.
Why is FedEx Down
For the last couple decades Amazon and FedEx have been working hand and hand to service the vast majority of online orders. But in recent years, Amazon has been creating their own delivery system and fulfillment centers due to their large successes and significant cashflow, essentially pushing FedEx out slowly and steadily. With their own vans and cargo jets, Amazon as well as other big businesses are growing independent of delivery services and in turn forcing companies such as FedEx to lower their costs of shipping substantially. 
Due to this and several other factors, FedEx's margins have significantly decreased yielding lower profits while also becoming slaves towards big business. In the graph below the total net margin dropped to almost zero in the past year which leaves little shock as to why the stock price has dropped so significantly in the recent years. Earnings have been hindered due to this constant unnecessary pressure causing an average 7 percent drop in the past 3 earnings reports. FedEx is likely breaking away from this downtrend as they are beginning to work on increasing net margins.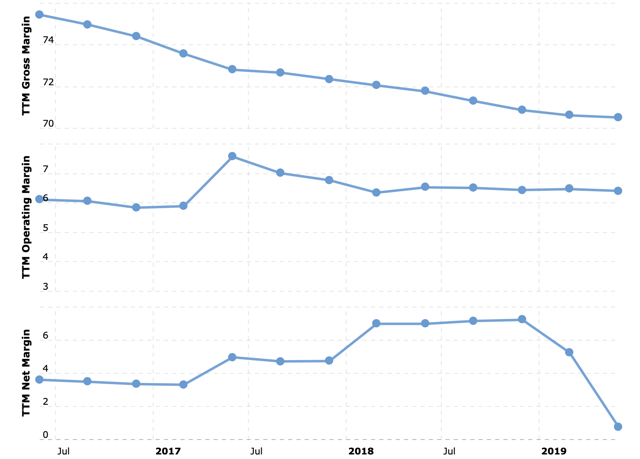 Credit: FedEx Profit Margin 2006-2019 | FDX. Net margins for FedEX in the past 3 years have decline due to other competition.
Amazon Partnership Deal
Just in June FedEx made a seemingly bold move to move away from Amazon by ending the FedEx Express contract. Though this move only accounts for relatively 1 to 2 percent of the total revenue due to the other contracts that are still in place, FedEx seems to be gaining its independence again as well as testing new waters on its own.
While many believe this may be reason FedEx has room to fall more due to Amazon being such a large percentage of their business, I believe this is the reason that Fed Ex will have the ability to expand and grow. The deal that broke between Amazon and FedEx isn't so much a numbers game but a qualitative one that shows FedEx attempting to go back to its independent roots. Without this constant pressure from Amazon as time goes by to reduce the cost of shipping to almost nothing, FedEx can begin to expand and increase their net margins. I believe that this is only the beginning of FedEx moving away from Amazon and that further contracts will be ended in the future due to FedEx making evolutionary changes in other parts of its business.
For example back in 2017 FedEx released its own fulfillment center similar to the one that Amazon released several years before them. Amazon has been generating nearly half of its revenue form 3rd party sellers and the numbers have been growing at an exponential rate. But what does this mean for FedEx?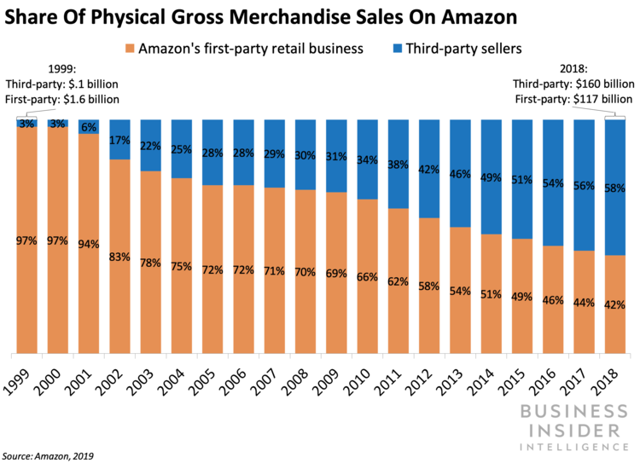 Amazon Revenue from third-party sellers has increased form 100 million to 160 billion over 20 years.
A problem that many people seem to mistake is that FedEx does not need Amazon to deliver on expectations but in fact needs to get rid of them. Amazon relies heavily on FedEx to deliver its services while it builds it infrastructure while FedEx is already an existing entity capable of handling its volume on its own. By adding a fulfillment center similar to that of Amazon, FedEx is looking to cut into Amazons large profits gained form third party sellers as shown in the graph above, a huge market hat they have barely scratched the surface with. On the other end, by reducing the amount of business FedEx involves itself with Amazon, the better profits margins they will have and the faster they will grow.
Why Its Time to buy FedEx
It is clear that amazon has done an exceptional job in terms of growing their customers and merchandise sales but FedEx is just beginning to enter this exponentially growing industry. FedEx is well established in areas outside of the United States that they have not even scratched the surface with when it comes to the new business that the company is involving itself with. 
The company has faced too many downturns due to poor decisions and small profit marginality causing a P/E to be at a low 11 at current prices of 160 dollars. The companies fundamentals have not changed and the business still operates profitably, and the next 18 months will be filled with what I believe as significant positive earnings and a strong reversal.
Disclosure: I/we have no positions in any stocks mentioned, but may initiate a long position in FDX over the next 72 hours.