In past years many major banks have seemed to rebound from the 2008 crash with JP Morgan and Bank of America making some of the largest moves. However, Wells Fargo, due to account scandals, the resignation of CEO Tim Sloan, as well as a multitude of regulation problems has seemed to produce negative returns during these great times.These problems have seemed to hinder the banks growth when it comes to being able to grow but instead has allowed Wells Fargo to accumulate enough free capital. Due to this Wells has been paying out its share holders a hefty dividend price of almost 4 percent allowing the stock to be relatively manageable during these dark times. But as we move past the dark ages of Wells Fargo and people begin to put the past behind them the low valuation and fundamentals of the company in the future could allow for the stock to be a great buy.
Positive and Negative Technical View on Wells Fargo
Looking at the 180 day chart at 4 hour time intervals we can see that a breakout occurred just in these last days from the long lasting downward trend. It will be interesting to see if it can sustain this breakout from its downward trend due to the fact that the stock is significantly overbought with decreasing volume as the price moved higher on the previous couple of days. This can indicate potential risk and volatility in the coming days due to volume not following price and the breakout.
If you look at any of the times prior where Wells Fargo was overbought you can see a considerable drop. preceding after it. The three price points however all bounced on the trend line that Wells has been following for over 6 months. This time the overbought state has managed to stay extended and delay its fall after it broke trend. What this can been for the stock is that in the near term if this breakout can hold the stock will drop in the next couple of days and bounce of the 48 dollar mark which has served as a major support in many of the daily movements this past week.
However falling volume on increasing prices after a breakout can indicate a false move and therefore a break below the 48 dollar mark will prove to be a greater downside risk during the short term market. However I only believe this will be the case if a major shift in market expectations arises - particularly with the Fed.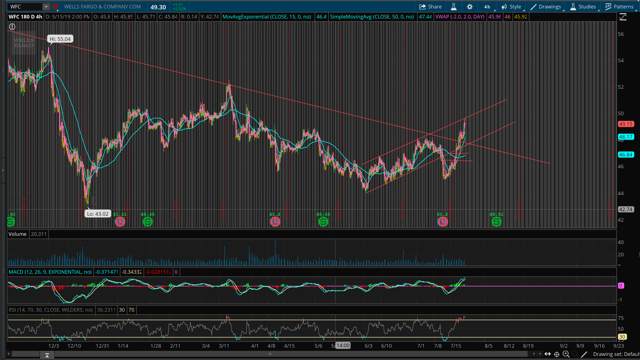 However when we look at the stock from a long term perspective we are able to see that Wells Fargo seems to be trading at 5 year lows. Bad news after bad news and regulation after regulation have hindered the banks ability to grow but have allowed them to gain considerable liquidity that can prove lending and investing in the coming years to be of extreme value. Wells remains to be a dominant player in the mortgage sector and have been able to increase small and big business lending over time. As regulations will inevitably be removed over the long term Wells Fargo could return better that the S&P in the coming years. We can see But before diving into Wells Fargo as a good long term play after a potential downside within next week there is one tropic that could change the dynamic of the whole situation - the Fed.
The Feds Decision
The Federal Reserve is set to meet this July 30th and 31st to discuss if rate cuts will be implemented this time of year and the following years to come. The market has seemed to price in a 25 point rate cut, but for some reason I believe that bank stocks have managed to overlook this prediction.
Bank stocks including Wells Fargo have been skyrocketing in the past week or so due to a mix of both earnings and the fact that many of them are claiming that the Federal Reserve might not cut rates. Indeed if this does happen, I believe Wells Fargo is in the clear for a buy after the immediate short term drop due to its overbought state, but if you are willing to forgo the perfect buying time for a solid long term play, I still believe it is a buy for the long run so long as no rate cut.
However if comes to a rate hike or a rate cut which the market has been pricing in, bank stocks could take a hit. If the Fed decides to make a 25 basis or 50 basis point markets have historically skyrocketed, but bank stocks profits will significantly be cut as well as Wells Fargo. On the opposing side, a very unlikely situation, a rate hike would be great for banks profit but cause the entire market including banks to take a hit when it comes to share prices. This is relatively dangerous due to the market cycle being so over extended that a rate hike could pull the entire market into a recession at this point.
Overall
Overall, I don't see the Fed cutting or raising rates due to better than expected GDP values. A 25 basis point cut is possibly but I believed that it is going to come to market shock. With this I see the overall market taking. hit and Wells Fargo correcting itself with the market and posing itself as a great buying opportunity for the long term. But currently bank values including Wells Fargo are overbought and one to maximize profits should wait for the Fed Meeting to confirm the long term play.
Disclosure: I am/we are short WFC.
Additional disclosure: This article except for the summary section was written before the rate cut was announced however was published after. Clearly my prediction on the rate cut was wrong however I remain bullish in the longterm regardless of the decision.