1st Article Thoughts (Or A Fistful Of Comments)
Sep. 06, 2020 9:45 AM ET
SPG
Please Note: Blog posts are not selected, edited or screened by Seeking Alpha editors.
Long/Short Equity
Seeking Alpha Analyst Since 2019
As someone with a day job, the pen name is a requirement. Investing or auditing companies for 20+ years. As someone who enjoys reading 10K's this has been a decent sideline for years, but 2000/2008 markets have convinced me that I couldn't deal with the volatility inherent in a full time gig.
I prefer income stocks to growth stocks. Often I'll find short opportunities when evaluating the balance sheets of income stocks. For risk management, I will only actively trade <10% of my portfolio & have to explain my investment thesis to Mrs. SkepticalOtter prior to any individual stock/option trade.
Summary
How am I doing?
Surprises.
Writing an article while short/long.
Letting people help you.
Closing thoughts/What's next?
Hi all,
Wanted to share a few thoughts after my first article covering SPG. As a disclaimer, if you're looking for new investment ideas, this isn't the place.  Accordingly I won't be listing a primary ticker for this blog post.  My disclosure from the prior article still applies.  Rather, I did want to provide a bit of context to the article.
How am I doing?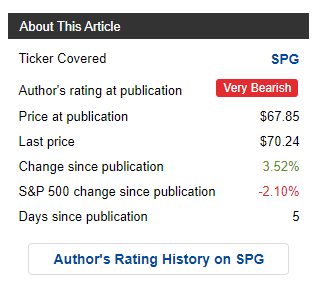 Not surprising there hasn't been a major movement this close to publication although there has been some price gains. Since it's early, I'm not yet prepared to say I've missed the mine.
Favorable: Abysmal Q2 Macy's same store sales + a pilot non-mall project.
Unfavorable:Likely rotation into brick & mortar sectors after the late in the week weakness in tech. The collapse of the JCP deal which removes one pretext for recapitalizing.
Surprises
I did not anticipate this level of reaction to the article. Will possibly hit 400 comments today.  I hadn't even set up payment information for my account. In my mind, I'd already done the research for my stock trade and this was an experiment to see if I could leverage the same materials for an article. I had some naive misconceptions about being able to thank the 2-3 patient readers who waded to the end of my opus during my lunch hour and possibly move towards building a following. Instead there was an oh **** moment as I logged on during my lunch hour and realized the comments section had taken a life of their own & I couldn't possibly reply to all the deserving thoughts before my next meeting. It even spawned a more detailed rebuttal. Please let this blog post serve as a reply to all the creative commenters.
What surprised me most overall was the generally respectful tone of the comments. Even from long time contributors who were diametrically opposed to my thesis. While I'd been advised to avoid the comments altogether by some experienced online contributors, even the negative comments included information that I'd like to incorporate in future articles. I will admit that even reading the "Seriously?" from the 1st comment made me chuckle. Especially when read in a John McEnroe voice.
There were a lot of great "what about X" comments.  I think the GAAP/FFO debate was pretty well litigated in the comments.  If you think that TCO as the only non-negative book value retail REIT in the sector is a coincidence, I'm not sure what else I can say to persuade you.  Speaking of TCO itself, I could have expanded on the litigation as a scenario in my modeling.  Equally AMZN has been prominently featured as new opportunity for SPG.  All great ideas plus more in the comments, but as a one otter shop I had to be selective in the avenues of research I pursued.
Writing an article while short/long
I wrote the article after establishing a short position. I do my research first & foremost for my own trading. If I can't find the conviction from my research to put up my money, then the article shouldn't be shared. Far more eloquently, "I like a bartender who drinks, otherwise I feel like I'm being poisoned"
Kicking and Screaming (11/12) Movie CLIP - I Like a Bartender Who Drinks (1995) HD
Letting people help you
In some ways this is antithetical to the myth of the lone researcher meticulously evaluating sources to wring that precious "Alpha". I had an embarrassing amount of help along the way. An incomplete list...
My Significant Otter, who's always been much the savvier brander, suggested the title. After I went with something fairly anodyne, my SO asked me if that was what I really meant to say. If you have someone who will help you cut through the filler to get to the heart of the matter, hold onto that person with both hands. Needless to say, my SO's title suggestion won 2:1 in the voting.
My investment chat group provided invaluable suggestions on the user name. They're also the ones who read my first thoughts on an investment which generally range from atrocious to gibberish. Mistakes were made.
My editor was both amazingly supportive yet unafraid to challenge every point in my article. After getting a page of review notes I began to realize exactly how seriously they took their standards & no unsupported arguments were welcome. For any first time writers out there with a well researched, compelling idea, be unafraid. These professionals will get you through it.
Closing thoughts/What's Next?
With Labor Day weekend here, I'm taking the whole romp of otters to parts unknown courtesy some clever planning by my Significant Otter, master of both branding and travel planning. It'll be good to refresh a bit heading into the fall. While I'd like to do a rough draft around what to look for during earnings for SPG, I'm excited to take a few looks at some other stocks from a variety of industries to figure out my next new project. Possibly from the under covered listing. Feel free to suggest tickers in the comments.
-Skeptical O
Analyst's Disclosure: I am/we are short SPG.
Seeking Alpha's Disclosure: Past performance is no guarantee of future results. No recommendation or advice is being given as to whether any investment is suitable for a particular investor. Any views or opinions expressed above may not reflect those of Seeking Alpha as a whole. Seeking Alpha is not a licensed securities dealer, broker or US investment adviser or investment bank. Our analysts are third party authors that include both professional investors and individual investors who may not be licensed or certified by any institute or regulatory body.