As we leave the first decade of the 21'st century behind, there seems to be an unprecedented lack of consensus concerning the economic outlook for the next decade.  A lot the confusion stems from the economic turmoil of the last 2 years, which we seem to have survived but not solved.  In one camp there are a lot of thinkers pointing out that many financial problems have not been solved and will come back to haunt us soon, while in the other camp many commentators are looking at the markets and economic numbers and seeing signs of recovery. Stepping back and looking at the bigger picture trends helps provide perspective.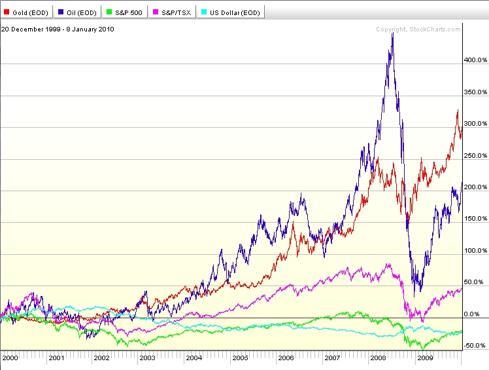 This above chart highlights some major trends of the first decade of the 21'st century.  The S&P index and USD index, taking different paths but ending up at the same place, down 25%.  While the Canadian TSX is up 50%, reflecting the it's value as a resource exporter and it's more stable banking system. Oil prices in a long term uptrend punctuated by extreme volatility, while gold steadily rose, tripling in value over the first decade of the 21'st century.
Energy is the lifeblood of the global economy, as it's consumption is closely correlated with global GDP growth.  The steep rise in oil prices from 2003-2008, may have much more to do with the cause of the recent recession than the sub-prime / real estate housing crisis. A point that has been supported by both Nouriel Roubini, and Jeff Rubin, former economist for CIBC.  Their thesis is basically that, high oil prices, led to increased interest rates, which helped to prick the long foretold housing bubble, thus revealing the shaky sub-prime house of cards supporting the whole trend.
Despite the recent, the recession global commodity demand is still intact, as evidenced by the oil price and the TSX recovery.  The millions of new consumers being added to the middle classes in the BRIC nations are responsible. This trend also includes other basic commodities like agricultural products, and base metals. Large cap established players that are well positioned in these sectors include:
Oil: Suncor, Canadian Oil Sands
Agriculture: (Fertilizers) Potash Corp, Agrium, Mosaic,
Base Metals: BHP Billiton,  VALE, FreePort-McMoRan
The standout trend of the decade though, is Gold, which is clearly in a long term secular uptrend. Gold is the most complicated commodity to understand.  Something about it's historical value and allure lend it an almost mythical quality that clouds a rational understanding of it's value and importance. The fact that most nations have substantial gold reserves, give's it a conspiratorial mystique as well.
What we do know about Gold though is that it is a store of value. It has been throughout history and continues to be today.  It's value is related to demand vs supply fundamentals, and like all commodities there is room for manipulation by those who have large reserves of it.  Also like most commodities today, it is very difficult to substantially expand supply, due to the costs, risks, and time required to build a major new mine.
The long foreseen structural economic problems in the world's biggest economy are now out of the closet, and this is reflected in the US dollar index and it's 10 year stock market returns.   As a result Gold will likely continue find support for numerous reasons.  First, as a reflection of uncertainty in currency values as economic advantage shifts towards the BRIC nations, and the decay of US dollar continues, perhaps leading to it's eventual dethroning as  the world's only reserve currency.  And second, thanks to a perception of heightened inflationary risks stemming from unprecedented monetary expansion by central banks.
How long these strong trends will continue is anyone's guess, but for now the long term technical trend is still bullish and there are valid fundamental arguments to support it's continuation.
Disclosure:
Disclosure: Long all the stocks mentioned in this article.