AbbVie - Give It Time, But Buy Now.
Please Note: Blog posts are not selected, edited or screened by Seeking Alpha editors.
Summary
AbbVie is very well set for the future, however, it will take some time to achieve it.
What many see as risk, I see as a great opportunity to buy.
But an investor must be very patient with this investment.
Overview
There are many reasons why is this biopharmaceutical company not exactly well known. They primary focus are on immunology, oncology, virology and these types of research. That's kind of drugs and vaccines you normally do not have an access to or need any.
Moreover, one other reason is because it has not exact consumer sector as we know from companies like Johnson&Johnson (JNJ) or Pfizer (PFE). However, I believe that there do not have to be any consumer sector to make this company very well set for future grow. Although, AbbVie (ABBV) has added one company, which could present that after all.
Some people believe in Abbvie`s future grow and some do not. I am the person, who does and I tell you why I am adding this SWAN company to my portfolio.
Recent time
For many years the great generator of revenue and income was HUMIRA with usage all around the world. However, patent for this medicament has expired in Europe in 2020 and will expire in US in 2023. Because of patent expiration many other pharmaceutical companies will eventually start selling this drug either. Thats is significant problem, what will lead to decrease of revenue, which AbbVie could generate. To be accurate HUMIRA is equivalent of almost 60% of total revenue. That is significant portion.
So what would be next after HUMIRA`s patent will eventually expire in US too? That is great question on which I do not have exact correct answer, because I cannot see into the future, right? However, AbbVie management is aware of this and they are making proper steps to decrease potential outflow, when that time will come.
First and in my opinion important step is that AbbVie increased dramatically its R&D from $5.6 billion in 2015 to $7.5 billion in 2020 (actual YTD data). That is increase of 30% over this 5 years. All these efforts lead to creation of new and potentially great drugs like SKYRIZI and RINVOQ, which got approved recently and both skyrocket in sales. We do not have comparison with year before in case of RINVOQ, however, we do have comparison with year before in case of SKYRIZI and it is over 1,000% YoY growth. These both drugs have bright future and I do believe it will eventually wipeout part of robust share of HUMIRA sales in few years.
Second is that AbbVie has made many strategic collaboration like with Janssen Biotech Inc. which is one of many companies owned by Johnson&Johnson. This collaboration created drug named IMBRUVICA, which sales go up a lot. Part of this collaboration is distribution of revenue made by this giants between them. Janssen Biotech is leading operation internationally (and giving part of this income to AbbVie) and AbbViee is leading US operation (and giving part of this income to Jannsen Biotech). To be honest, this deal is very sophisticated and both companies gaining from it a lot. However, because IMBRUVICA is quite young, it will take a time to grow this sales. Same thing in case of SKYRIZI and RINVOQ.
Last step to great future is acquisition of Allergan Plc. Allergan is a global pharmaceutical leader focused on developing, manufacturing and commercialising branded pharmaceutical, device, biologic, surgical and regenerative medicine products for patients around the world. Allergan has a portfolio of brands and products primarily focused on key therapeutic areas including aesthetics, eye care, neuroscience, gastroenterology and women's health. (Source: AbbVie Annual Report)
This acquisition is strategic and will inflow a lot of revenue over the years. Allergan`s revenue in 2019 was around $16 billion with 2% increase on YoY basis. Thats is significant portion of revenue, which will be now available to AbbVie. However, it cost AbbVie a lot with almost $39 billion in cash transaction and other $24 billion in form of AbbVie`s shares. Overall deal is worth around $63 billion, which is monstrous, however, I believe it will be worth it.
Overall these are main steps, which I wanted to point out and believe it will take AbbVie to a different level. However, because of many drugs and deals are in really stage of development it will take a time to see AbbVie get on that level. That is why I called this thesis "Give it time".
Valuation and potential return
Compare to historical data, AbbVie seems to be quite undervalued and I believe it is partly because of unknown future. Actual P/E (GAAP) of 20x is down 10% compare to 5y average P/E of 22.3x, in case of P/S actual is around 3.8x, which is down 11% compare to 5y average of 4.28x. These fundamental data are showing us certain undervaluation, but is it correct?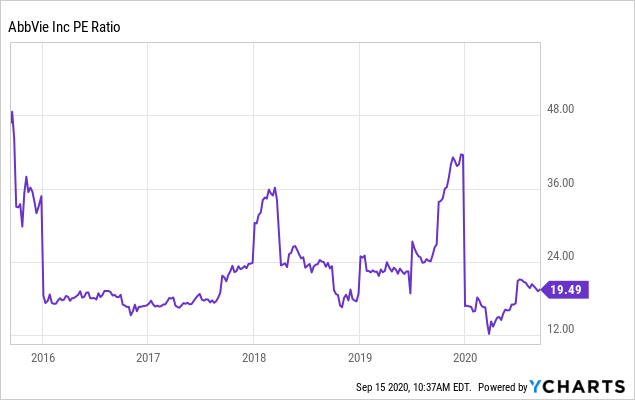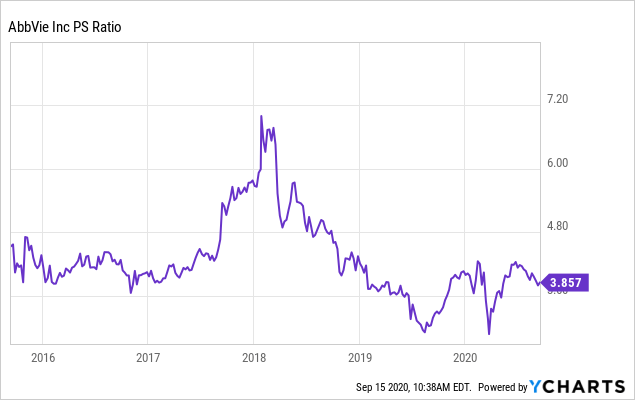 Lets compare it with dividend yield, which is actually around 5.22%, however, 4y average was going around 4.2%. So its seems to be correct. So lets take a look on what price we could expect as fair one.
Using combination of DDM (where my RRR is almost 25%), DCF (where I am assuming growth of revenue 36% in 2020, 17% in 2021 and conservative 7% in 2022 and 2023, combining with WACC of 6.34%) and Ben Grahams formula, I calculate fair value of $110.34, which I believe is reasonable for what we are able to expect from AbbVie in future.
Following previous paragraph I would like to explain you, what growth we could possible expect for next 5y. Historical 5y growth was around 11% in case of revenue, 25% in case of net income and 15% in case of EBIT. Assuming this growth can be sustainable for next 5y and I am certain it can, we could expect (and to be conservative) growth of 7.3% CAGR.
Combine it with actual dividend yield of lets say 5%, we could see overall growth somewhere around 12.5% CAGR. Of course without margin of error, which is up to you which sum you are going to use.
Bottom line
As many see AbbVie too risky for now, I see perfect moment to buy and hold this beautiful company with juicy dividend and even greater dividend growth (and do not expect historical 5y average growth of 20%, lets assume more sustainable growth of 10%- 13% for next 5y).
Of course there are many risks to consider in form of unknown development of new drugs and losing patents for HUMIRA, however, every company has their own risks and I believe taking this risk would be worth it.
Analyst's Disclosure: I am/we are long ABBV.
Seeking Alpha's Disclosure: Past performance is no guarantee of future results. No recommendation or advice is being given as to whether any investment is suitable for a particular investor. Any views or opinions expressed above may not reflect those of Seeking Alpha as a whole. Seeking Alpha is not a licensed securities dealer, broker or US investment adviser or investment bank. Our analysts are third party authors that include both professional investors and individual investors who may not be licensed or certified by any institute or regulatory body.