The Pharma War - Who's The Best In Income? Part 1
Please Note: Blog posts are not selected, edited or screened by Seeking Alpha editors.
Summary
Pharma companies are without doubt strong dividend machines and even stronger businesses, but is there any company who's the best in dividends?
Let's take a look on few companies which are undoubtedly on the top of a mountain.
By comparing few metrics and fundamentals, combining it with strong dividends payouts, we should get the best one.
In this part is going to be described financial strength.
Introduction
I am a big fan of pharmaceutical companies and even bigger fan of what they are able to create. Nobody can blame me for that. Someone likes tech, someone else energy. I like healthcare. Before I decided to study economics, I wanted to study biochemistry. Perhaps that's one of main reasons I like those companies, because I understand, how they work and what their drugs exactly do.
This whole this segment represents circa 22% of my portfolio. Healthcare is one of the strongest drivers of every political party in the world. There is literary no political party which would not have at least some part of healthcare in their program. Need of medicine for people is growing every year and even more people can afford it (considering also the growth in developing countries).
However, with this sector, there are risks. Huge risks I would like to say. Because R&D cost billions ($, €, does not matter), failure could be a disaster. So that is why only the biggest companies can be on the top of a mountain. 
Even thought, those companies have solid bases, strong cash-flows and plenty of cash on their hands, different between elite and average is noticeable.
Today, I would like to compare four companies and find the best one you can buy for your dividend portfolio.
These are:
| | | | |
| --- | --- | --- | --- |
| Name | Price | Market Cap | Founded |
| Johnson & Johnson (JNJ) | $162.98 | 436.32B | 1886 |
| AbbVie (ABBV) | $105.01 | 187.25B | 2013 |
| Bristol-Myers Squibb (BMY) | $60.60 | 136.71B | 1887 |
| Pfizer (PFE) | $34.44 | 192.10B | 1849 |
Financial Strength
Johnson & Johnson (JNJ)
Financial strength of JNJ is very impressive with Debt/EBITDA of 1.5x, interest coverage of 105x (where 8x is considered as a safe) and credit rating AAA. In the last 5 years JNJ did very good job in revenue growth and exactly from $71.8B to $82.5B which represents 5y CAGR of 3.4%. For company size of JNJ I consider this as positive side of JNJ sales capabilities.
On the other side, EBIT is quite flat over the years where 5y average of EBIT margin represents 25.9%. I would like to see more efforts in improvement. I am not that satisfied with flat EBIT over those years. Net income to the company is very stable as well, except 2017 where JNJ had massive tax expense.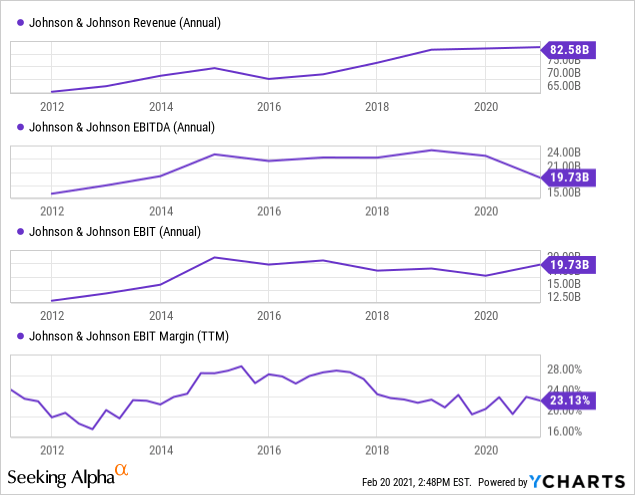 Piotroski F-Score, which indicates short-term bankruptcy risk, is 6 vs. 10y median of 6, where 4+ is considered as safe and 6+ as very safe. In term of long-term bankruptcy risk where I am using Altman Z-Score which is very reliable indicator, JNJ has 4.34 where everything above 1.88 is considered as safe.
I would like to point out that JNJ has by the last report $30B on its hand so JNJ's management is able to handle possible litigation charges and short-term obstacles very fluently.
Overall I can say JNJ financial strength seems to be very strong and reliable. 
AbbVie (ABBV)
After spin-off in 2013 AbbVie did great job. They are motivated by LOE of their blockbuster Humira in the US in 2023 which is going to cause massive outflow of cash. To prevent this AbbVie management is working very hard and they did exceptionally well. Revenue in the past 5y has grown from $25.6B in 2016 to massive $45.8B in 2020. IT represents 5y CAGR of almost 15%. Last year jump was caused by acquisition of Allergan. 
EBIT is growing in line with revenue and exactly 12% CAGR in last 5 years. Moreover, AbbVie has the highest EBIT and EBITDA margin from all 4 companies, represents 34% and 47% respectively.
Regarding the financial growth there is not too much to criticized.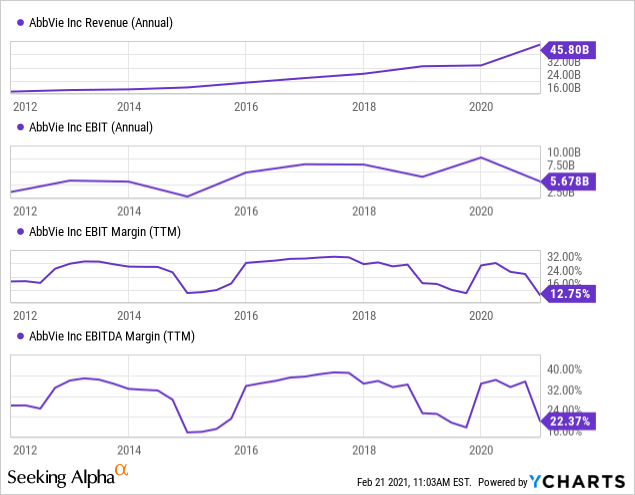 On the other hand, AbbVie took a lot of debt to complete Allergan acquisition. Actual debt level is around $87B which is massive. AbbVie does have $8B in cash, so net debt is making by the last report $79B. Still massive indebtedness. 
To use advanced financial metrics like Piotroski F-Score or Altman Z-Score does not give me any sense, because those metrics are also influenced by debt. So in this case those are inaccurate. 
In the last report management said that they were on its way to massively deleveraged AbbVie. I believe them that they will continue to do so until 2023 as they promised.
Overall financial strength of AbbVie seems to be for me solid with bright future. AbbVie represents the biggest position in my portfolio and I am confident that they will do well even when LOE of Humira in the US will take a place.
Bristol-Myers Squibb (BMY)
Quite similar to AbbVie, Bristol Myers did very well over the time. Revenue jumped from $19.4B in 2016 to $42.5B in 2020 representing 5y CAGR of 20%. Highest growth from all 4 companies. Last year jump was caused by huge acquisitions of Celgene and MyoKardia. As we can clearly see, strategy of AbbVie and BMY are similar. 
EBIT has grown substantially from $5.5B in 2016 to $7.7B representing 5y CAGR of 15%.
In short term BMY needs to deal with loss caused primarily by acquisitions of Celgene and MyoKardia.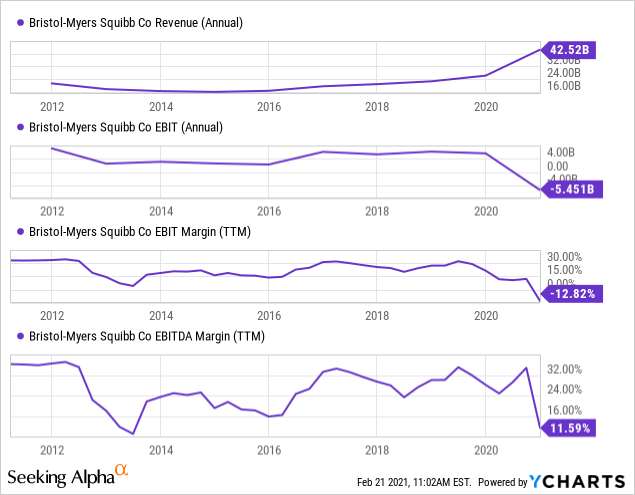 To finance those acquisitions BMY needed to take a lot of debt. Exactly, debt has grown to $51B. BMY has enough cash on its hand so net debt is about $34.8B. Still a huge portion.
As same at AbbVie, I cannot use here advanced financial metrics like Piotroski F-Score or Altman Z-Score. But management said, they were going to reduce that leverage in the near future, so overall I believe that BMY's management is able to handle its portion of debt.
Analytics are estimating long-term EPS growth of 6-8% CAGR with revenue growth of 4-5% CAGR. I strongly believe it is achievable with those recent acquisitions. Overall I see financial strength of BMY as a solid one.
Pfizer (PFE)
Pfizer is in the recent month black sheep of the family, but in my opinion it is not as bad as it looks. In the last 5y revenue was quite flat with no substantial growth. Nevertheless, revenue did drop last year from $51.7B to $41.9B. It is caused by recent spin-off of UpJohn division which I personally believe was the right action. So in this case we need to adjust EBIT and other financial metrics.
EBIT has been over the years rather flat, more precisely has grown a little bit. Imagine Pfizer's EBIT as a stable generator of money. However, net income to the company was really strong, mainly caused by low tax expenses over the time.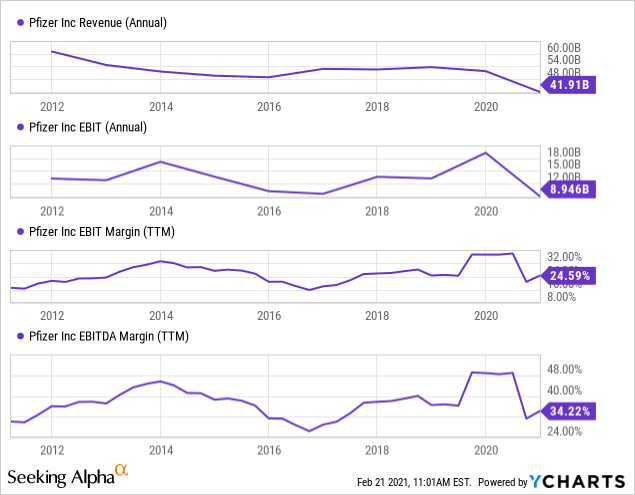 Pfizer has a lot of cash on its hand, but also it has a lot of debt. I am not fan of high leveraged company, so I see this as a main negativity. Surely, AbbVie and BMY have huge portion of debts too, but there were those debts used to finance future growth. On the other hand, we did not see any significant acquisitions done by Pfizer.
Interest coverage of Pfizer is 7.7x which is little bit lower than 8x what is considered as a safe level. Debt/EBITDA represents 3.77x where 10y median of it is around 2.1x. I would like to see it there again.
Piotroski F-Score represents 6 (where safe level is 6+) vs. Pfizer's 10y median of 6. Altman Z-Score of 2.32 represents safe level, however, vs. 10y median of 3.7, it is way lower. Altman Z-Score goes hand by hand with leverage, so in this case when leverage goes down, Altman Z-Score goes up.
Overall I see Pfizer as a strong and stable cash-flow machine, but I miss drivers for the next decade. Management is trying to restructure their company which I believe is right thing to do and so do I believe Pfizer will keep its momentum as it did in the past. Pfizer represents my smallest position in my portfolio and for now I am not considering to sell it.
Evaluation of Financial Strength
I need to point out that I didn't use more metrics, because it would look chaotic. What I wanted to achieve here was a small overview of each company and to provide an image of what is roughly going on in this industry sample.
I will evaluate each company in each segment with "+" for good metrics and "-" for let's say worse, irregular or negative metrics. "+" represents growth or flat with slight growth.
| | | | | |
| --- | --- | --- | --- | --- |
| Metrics | Johnson & Johnson | AbbVie | Bristol Myers Squibb | Pfizer |
| Revenue | + | + | + | - |
| EBIT | + | + | + | + |
| EBITDA | + | + | + | + |
| Net Income | + | + | - | - |
| Cash on hand | + | + | + | + |
| Debt | - | - | - | - |
| FCF | + | + | + | + |
| | 6 "+" | 6 "+" | 5 "+" | 4 "+" |
I did add one more metric and that is Free Cash-Flow which I believe all of these companies have very strong. I am going to talk about FCF in the next part. For now all companies have clear and strong "+".
Bottom Line of the Part 1
Looking at results I clearly have two winners, Johnson & Johnson and AbbVie. Both companies represent strong financials and overall quality. To be more precise I would consider Johnson & Johnson as the best in the financial strength, followed by AbbVie.
Even thought, Bristol Myers is strong company, it has finished with 5 "+" caused by irregular net income to the company. Finally, there is no surprise that Pfizer remained last with 4 "+".
I am holding all of them in my portfolio and I will happily continue holding them even though they have their negative sides. I believe those represent strong and stable samples of healthcare sector and combine it with strong dividends, they will add significant inflow of money to your portfolio.
In the next part I am going to talk about dividends and valuation.
Analyst's Disclosure: I am/we are long ABBV, JNJ, PFE, BMY.
Seeking Alpha's Disclosure: Past performance is no guarantee of future results. No recommendation or advice is being given as to whether any investment is suitable for a particular investor. Any views or opinions expressed above may not reflect those of Seeking Alpha as a whole. Seeking Alpha is not a licensed securities dealer, broker or US investment adviser or investment bank. Our analysts are third party authors that include both professional investors and individual investors who may not be licensed or certified by any institute or regulatory body.