On August 23, 360 Finance (NASDAQ: QFIN) released its unaudited second quarter 2019 earnings report.
In addition to doubled revenue and net income, the number that really caught my eyes is the loan generated by 360 Finance's financial technology service segment, the so-called capital light model, which surged 10 times quarter on quarter. This indicates that China's financial technology industry, or fintech, has entered a period of rapid growth.
Coincidentally, on August 22, the People's Bank of China (PBOC) released a heavyweight plan, the "Fintech Development Plan (2019-2021)", which outlines the priorities and development targets for the fintech sector. It is the first time that China formally makes clear the role of the fintech industry as technology service provider, rather than a financial service provider.
With the enhanced technological capacity of fintech companies, the prominent value of their platforms, together with the supportive policy from the central bank, it creates a new opportunity for the accelerated development of the Chinese fintech sector. Meanwhile, there is a realistic problem for investors: how should we value fintech companies in this emerging industry?
I will discuss the valuation of 360 Finance as an example.

01
The new trends in the fintech industry from 360 Finance's quarterly report
The second quarter earnings show that 360 Finance realized revenue of 2.227 billion RMB during the quarter, an increase of 128% from 979 million RMB from the same period last year. Non-GAAP net profit was 692 million yuan, an increase of 114% from 324 million year over year.
Behind the rapid growth of revenue is the growing loan origination volume.
Loan origination volume was RMB48,378 million during the quarter, an increase of 127% from RMB21,277 million in the same period of 2018.
When it comes to the factors behind the rapid growth of 360 Finance, we find that there are three that matter: first, it is the transition of 360 Finance to a capital light model; second, it is the efficiency improvement brought by AI-powered precision marketing; and third, it is the market leading risk management.
[1] Transition of income structure to a capital light model
In the second quarter, 360 financial technology service's, the capital light model, contribution to transaction volume increased significantly, with a single quarter transaction amounting to 3.8 billion RMB, accounting to 8% of all loan generated, and astonishingly, an increase of more than 10 times over the previous quarter.
According to 360 Finance's IPO prospectus, the financial technology service is a service whereby 360 Finance provide technology support and expertise to funding partners for a fixed or floating fee based on loan origination volumes, without retaining credit risk exposure associated with the loans.
In fact, apart from 360 Finance, other Chinese fintech companies also showed their increased emphasis on their technology service segment growth.
For example, JD Finance achieved full-year profit in 2018, and their income structure has also changed where the portion of technology services revenue to total revenue tripled in 2018 year over year.
These examples have proved the effectiveness and high growth potential of the technology service model, and also in line with the new plan of the fintech industry issued by PBOC as mentioned above.
Technology service is the next growth hub for 360 finance. It is expected that the company's share of technology services revenue will gradually increase in the future.
360 Finance have made significant progress in enhancing technology and research capabilities this year as well as data mining and risk modelling. Technology-oriented employees now accounted for approximately 48% of total workforce which reflects just how critical the cutting-edge technologies are to our business. As of June 30, 2019, 360 Finance submitted 139 patent applications for proprietary financial technologies.
Also, in the second quarter of 2019, the number of 360 Finance's institutional financial partners increased to 60 from 30 in the last quarter. Among the total amount of borrowing business, the financial institutions accounted for 85% of the total amount of funds, which was significantly higher than 79% in the first quarter. It is second to none among listed financial technology companies.
[2] Precision marketing solvespain points in traditional finance
We can see from the earnings report, 360 Finance's accumulative registrations were 109 million in the second quarter, an increase of 96% over the same period last year of 55.6 million; the number of credit users was 19.23 million, an increase of 166% over the same period last year.
360 Finance achieved high growth in the number of customers because it has solved pain points in traditional finance.
In order to reduced reliance on manual marketing in traditional finance, 360 Finance came up with a unique DSP (Demand-Side Platform) system, which minimizes the use of labour in the marketing process and achieves precision marketing with AI technology.
The DSP system brings together inventory of various advertising exchanges, ads networks, supplier platforms and even media, which help agents manage one or more ad exchange market accounts with a single interface, improving the efficiency.
It is worth mentioning that the DSP system can target the audience to individuals rather than to a certain group as in traditional media. Even better, the big data calculus mechanism has the capacity to model the portrait of different groups, which helps find users with high ARPU (average revenue per user).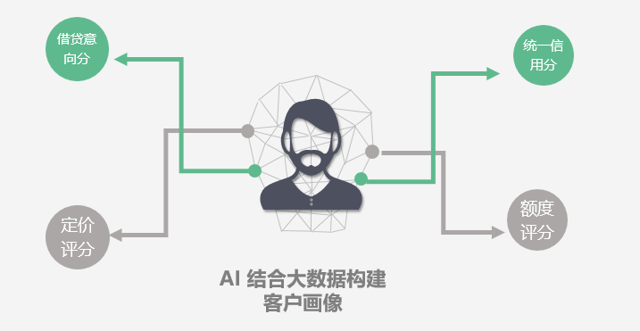 This solves the dilemma in traditional marketing where low click cost comes with high customer acquisition cost, or low customer cost comes with poor follow-up effect.
In addition to AI risk management and precision marketing, 360 Finance has also established an AI-powered system for underwriting and post-loan collections, which I will not go into details here.
[3] AI-powered risk management solves pain points in traditional finance
The earnings show that 360 Finance's 90 day+ delinquency ratio was 1.02% for the quarter as of June 30, 2019. When it comes to risk management, 360 Finance has a comparative advantage over most of its peers.
Benefit from 360 Group's 1 billion devices and 515 million monthly users, more than 30 third-party data providers, financial partners, and user behavior data, 360 Finance has accumulated rich risk management capabilities and anti-fraud practices.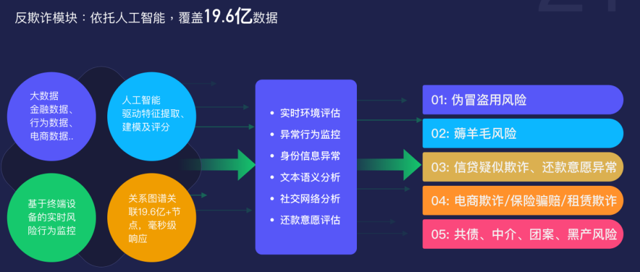 The AI-powered risk management independently developed by 360 Finance is named Argus. The name is taken from the giant eye of the Greek mythology, describing strict scrutiny in one's actions to an invasive, distressing degree.
This risk management system is based on artificial intelligence technology, including machine learning, which can automatically make decisions throughout the loan transaction process. It is definitely an evolution of risk control performed by humans under the traditional financial model.
Its main functions include fraud detection, initial credit evaluation, continuous adjustment of credit assessment and credit collection strategies. The realization of each function is based on the use of big data collected from thousands of samples, and the personalized labels generated by a score system.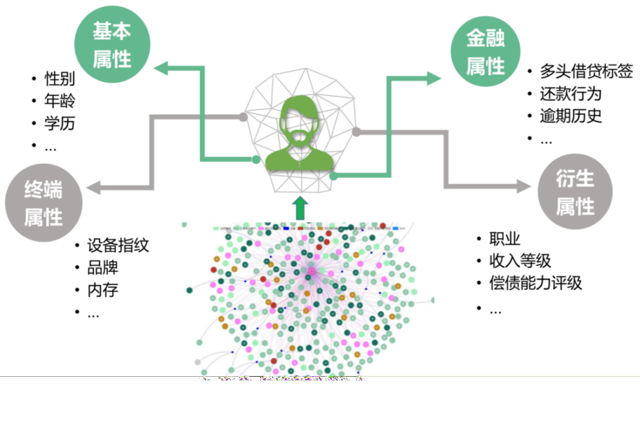 For a featured function "continuous adjustment of credit evaluation", after the first transaction is completed for three months, the Argus engine will capture and analyze the user's financing behavior, click behavior, recommendation behavior, etc., and generate a behavior score called B Score. B Score will be re-evaluated at the time of user transaction as well as at the end of each month; afterwards it will be sent to a subsequent pricing engine for evaluation whether to adjust the user's credit limit and pricing.
The AI-powered technology has substantially enhanced the risk management capacity of the traditional financial institutions where it only takes 39 seconds to make a loan decision.
02
The dual logic of fintech company valuation
As an emerging industry, the fintech sector does not have a time-tested valuation methodology. However, under different valuation systems, the discrepancy between valuations could be huge.
Even the most commonly used P/S (Price-sales ratio) method in the industry has the problem of not being able to objectively reflect the business situation of a fintech company: where the ratio only examines the company's revenue and can barely reflect the company's cost control ability. In the case of rising costs and declining profits, as long as the income remains the same, the valuation is unchanged.
In fact, for fintech firms, their profitability should be the key when it comes to valuation. At the same time, based on the premier value of their platforms, the valuation model should also include factors including business models and user scale.
From the business model perspective, the major categories of current fintech firms including financing firms, asset management firms, payment processors, technology service providers, and platforms.
For example, 360 Finance is a typical platform-type fintech company. 360 Finance has subdivided the scenarios for big data application, and developed a variety of scenarios by working with Di Da, Future Market, Pulse, E-bag Washing, and Haro bicycle, where it has empowered multiple industries.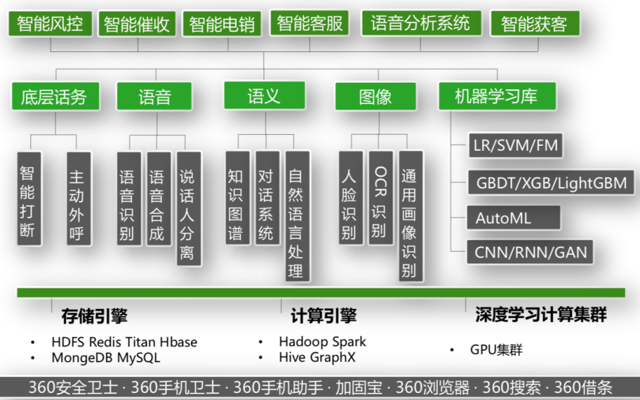 To be fair, we could adopt the the Sum-of-the-Parts valuation model (SOTP) together with its valuation premium. The specific models are as follows:
(1) Sum-of-the-Parts valuation
Payment segment: market value / transaction size, reference interval of 0.05-0.2X; price-earnings ratio of 25X-30X
Financing business: market value / loan scale, reference interval of 0.2X-0.4X
Asset management business: market value / AUM (asset management scale), reference interval of 0.02X-0.18X
(2) Valuation premium
Customer premium: customer-scenario-product-profit
Technology premium: technology - product - profit
Collaborative premium: customer-cross product-profit
Using Sum-of-the-Parts valuation method, 360 Finance generated a total of 48.378 billion RMB in the second quarter. With reference to the market value/loan generation scale of 0.2X-0.4X, the market value is between $1.4 billion to $2.7 billion.
Under the framework of this valuation, with reference to 360 Finance's current market value of $1.4 billion, it is at the lower end of the valuation range.
Using the second valuation method, for the customer premium, 360 Finance has access to the 1 billion mobile devices of 360 Group and the 515 million active monthly users.
This scale is equivalent to the number of Alibaba mobile MAU, to which Ant Financial has access.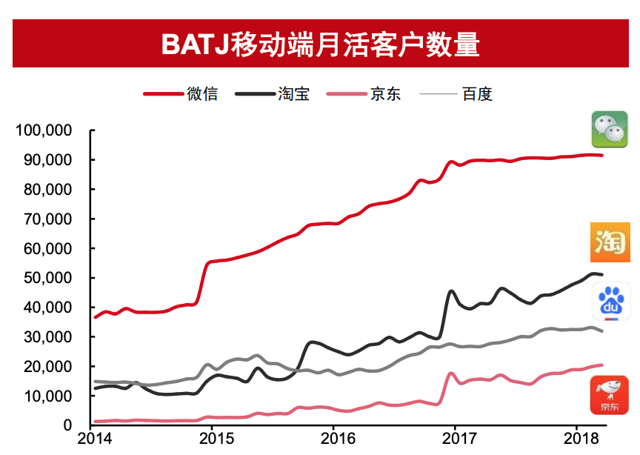 In terms of technology premium, Ant Financial and 360 Finance both introduced artificial intelligence as a major technology tool, which enables the provision of AI-powered risk management, customer service, underwriting and post-loan management and collections.
In terms of collaborative premium, similar to Ant Financial's most profitable products Hua Bei (spend it) and Jie Bei (borrow it), the core product of 360 Finance is 360 Jietiao, which is a institutional provided loan rather than a P2P loan. The fund mainly come from large financial institutions such as ICBC and China Everbright Bank, where the funds are guaranteed.
As of June 30, 2019, 360 Finance accumulated borrowers reached 12.54 million, an increase of 167% over the same period last year of 4.69 million. From the numbers we can tell that 12.54 million borrowers has a lot of room to grow given a pool of 109 million registered users.
So it is easy to conclude that from the three aspects of customer, technology and collaborative premium, 360 Finance and Ant Financial have a similar business logic.
This also means that despite of the differences in business segments and user values, 360 Finance is still unable to achieve the valuation of tens of billions level of Ant Financial; but from the valuation premium perspective, it has the potential to become the next billion dollars valuation unicorn.
To conclude, 360 Finance, currently only valued around $1.4 billion, has not been tapped by the market for its valuation premium. This creates a good opportunity for savvy investors.
Disclosure: I/we have no positions in any stocks mentioned, and no plans to initiate any positions within the next 72 hours.
Additional disclosure: The author is Jiabao Sun who is on the author list for Alpha Works. Please consider this piece for article publication.