After years of preparation and construction AmeriCann, Inc. (OTCQB:ACAN) has set the grand opening for late September 2019 of their highly anticipated Phase I project at their giant Massachusetts Cannabis Center (NYSE:MCC) cannabis campus development, perfectly situated in the middle of the red-hot Massachusetts market. First cannabis crop and sales are planned for the October 2019 harvest, with first revenues generated in November 2019.
The project is designed to become upon total build out, the largest, most technological advanced and energy efficient cannabis production facility in the nation. It is capable of growing and processing a significant portion of the cannabis produced in Massachusetts for many years.
The company has exponential multi-year growth potential with expansion into numerous additional states with the technology developed in MCC.
ENVIRONMENTAL AWARENESS AND CONTRIBUTION TO THE LOCAL COMMUNITY
The AmeriCann business model is to partner with local licensees, such as the business structure they set up with the JV partnership with BASK, Inc., and work in concert with local business owners, instead of competing with them. This way, ACAN is helping the local cannabis businesses grow to an unprecedented scale and assisting with the equity and democratization of the Massachusetts cannabis industry.
The company has outstanding environmental and community awareness, as ACAN is the only public cannabis company that has achieved the coveted B Corp certification – given only to companies that demonstrate good business practices and environmental responsibility.
The first phase of the MCC project is a 15-year JV Partnership with Bask, Inc., an existing Massachusetts licensed vertically-integrated cannabis operator, which will occupy 100% of MCC's Building 1 as of October 2019, to operate the 30,000-square-foot greenhouse facility. As such, AmeriCann will receive Revenue Participation Fee of 15% of gross revenue on all products produced and sold from Building 1 (Phase I).
ACAN is poised to become one of the few revenue-producing and profitable cannabis companies, coupled with an exceptionally exciting business plan and exponential multiyear growth potential.
FINANCIAL ANALYSIS OF MCC PHASE I AND POSITIVE IMPACT OF ACAN
PHASE I ASSUMPTIONS:
The existing JV terms are signed by Bask, Inc. (operator/partner)
Phase One cost $6.5 million to build
There will be 7,500 lbs./year and sold by Bask, Inc.
The current whole sale prices in Massachusetts remains at $4,000/pound
There will be 30 million outstanding shares (assuming dilution to build Phase II)
PHASE I RESULTS:
Bask, Inc. would achieve an annual revenue of $30,000,000.
With a 15% ACAN revenue share, ACAN would achieve an annual revenue of $4,500,000, which is net ETIDBA to the company as all expenses are reported to be paid by the operator. This is $375,000 projected net cash payments per month with the first payments before year end 2019.
ACAN would achieve a net EBITDA of $0.18 per share for the 12 months starting with November. This is from only 5% of the entire project that ACAN plans to develop at MCC.
Phase II at the MCC project is in the planning stages and is expected to be under construction by late 2019. Phase II is almost 6x larger than Phase I and will generate first revenue and EBITDA in early 2020.
ACAN will be the owner/operator of Phase II, which will include almost 120,000 SF of cultivation and a 40,000 SF cannabis processing laboratory.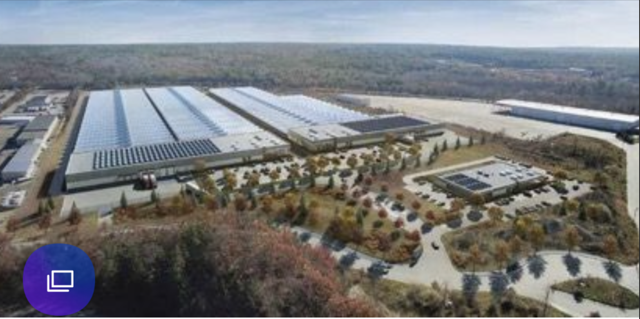 Massachusetts Cannabis Center (MCC) Freetown, Massachusetts. Approved for one million SF of Cultivation and Processing Laboratory. Total Capacity at MCC of 200,000 pounds of premium cannabis annually.
HISTORY OF THE MASSACHUSETTS CANNABIS CAMPUS (MCC)
Based on their first-hand experience in their own state of Colorado, ACAN management believed Massachusetts would provide the same growth trajectory and would need millions of SF of cannabis cultivation and cannabis product manufacturing laboratory.
In late 2014, shortly after the award of a Massachusetts license, ACAN optioned, designed, and received entitlements for one million square feet of greenhouse in a cannabis business park, on the perfectly located parcel in Freetown, 46 miles south of Boston.
ACAN purchased the 52-acre site from Boston Beer (SAM-NYSE) for $4,475,000 cash in September 2016.
THE MASSACHUSETTS CANNABIS CAMPUS (MCC) – MOST VALUABLE ATTRIBUTES
ACAN has a very favorable long-term lease on land, very favorable city-host agreement
Gives ACAN a significant first-mover advantage, as the barriers to enter the Massachusetts cultivation industry are very high, capital intensive, regulatory sensitive and extremely time consuming. ACAN spent years and millions in the process.
The size and scale (1,000,000 SF) give ACAN the opportunity to achieve economies of scale, high volume/top quality production, and scale up extremely rapidly to produce a large amount of the cannabis that the fast-developing Massachusetts market will surely require over the next two to three years. They could build the entire 1 million SF in the next year.
ACAN's Phase I of the project is in partnership with Bask, Inc., of Fairhaven, one of only 22 Massachusetts cannabis licensees. Bask, Inc. (partially owned by ACAN CEO, Tim Keogh) has a 15-year lease on the first 30,000 SF Phase I at MCC.
ACAN's Phase II will allow for the building of an infused products laboratory, which can produce up to 50,000 lbs/year, this will allow ACAN to turn cannabis into products, which can raise their profit margins exponentially.
HIGHLY EXPERIENCED MANAGEMENT TEAM
The ACAN management team has extensive experience in developing both public and private companies, from inside and outside of the cannabis industry.
President and CEO Tim Keogh, a native of Massachusetts, has experience in real estate development and many years of cannabis experience in Massachusetts. He headed the company that was awarded a Massachusetts medical licenses in 2014. He has become a respected and well-known leader and advocate in the national cannabis scene and is a frequent guest on many industry forums.
Ben Barton, a founder and director of ACAN, brings extensive venture capital and capital markets experience. He co-founded the highly successful Synergy Resources (NYSE: SRCI), a Denver based oil and gas company that achieved a market valuation from startup to a current $1.6 billion and is traded on the NYSE.
US CANNABIS INDUSTRY—EXCEEDING ALL EXPECTATIONS AND JUST GETTING STARTED
The legal cannabis industry is emerging in the United States (and globally) at an extraordinarily rapid pace and presents exceptional investment opportunities. GreenWave Advisors expects the retail market to reach $25 billion by 2021 which represents a 5-year CAGR of 35%.
When full federal legalization comes to fruition, it will dramatically change the current market dynamics. The larger players in cultivation will have the ability to accommodate mass market production with higher profit margins due to economies of scale, and smaller competitors will likely need to consolidate for survival.
MASSACHUSETTS CANNABIS INDUSTRY – FROM CURRENT $200M TO $2B+ BY 2025
A ballot initiative to legalize the recreational use of marijuana in the Commonwealth of Massachusetts passed in 2016 and adult use recreational cannabis is just being implemented in the Commonwealth.
Experts project the Massachusetts cannabis market to exceed $2 billion by 2025, up from the current $200 million in 2019.
The Massachusetts cannabis market is widely considered to be one of the most attractive in the nation for a number of reasons:
First state to implement full adult use cannabis in the entire northeast — with a potential market of over $2 billion.
Full vertical integration allowed – seed to sale.
Lowest tax on cannabis in the nation -6.5% plus 3.75 % excise.
ACAN WILL BENEFIT FROM THE LONG-TERM DEMAND AND HIGHEST PRICES IN THE NATION IN THE MASSACHUSETTS CANNABIS MARKET.
Colorado has a population of 5.5 million, and reached $1.5 billion in legal marijuana sales in 2018, from producing 400,000 lbs of cannabis while using approximately 8.5m square feet of indoor + outdoor cultivation facilities.
In comparison, Massachusetts is larger, with a population of 6.7 million. If we keep numbers conservative, we can assume that Massachusetts will also have a demand of at least 400,000 lbs (possibly more). However, the Commonwealth's current aggregate cannabis production capacity is under 100,000 lbs, which leaves a very significant shortage of 300,000 lbs in the market. ACAN's Phase I operation will produce 7,500 lbs per year – which represents a drop in the bucket.
ACAN's Phase II operation is estimated to have six times the capacity of Phase I, which adds to their annual production another 45,000 lbs, for a total of 52,500 lbs per year.
Unlike Colorado, Massachusetts boasts some of the highest cannabis prices. Wholesale prices are at $4,000 per pound, while retail prices are at $7,000 per pound (Colorado's prices are at $1,500 per pound wholesale, and $3,500 per pound retail). If we stay conservative and project revenues based only on the wholesale price, ACAN's Phase I will achieve revenues of $30,000,000 per year – due to their partnership terms with Bask, Inc., ACAN will keep 15% of revenue from Phase I, amounting to $4,500,000 yearly revenue.
Beyond Phase I, ACAN will generate significantly higher revenues and EBITDA from Phase II. At its full capability, ACAN's MCC 52-acre facilities will be able to produce 23 times more than their Phase I results.
Even at full production, ACAN's MCC cannabis production will be able to barely fulfill 57.5% of Massachusetts' cannabis shortage supply.
AMERICANN HAS DEVELOPED SOLANNA – ITS OWN LINE OF CANNABIS BASED PRODUCTS TO ASSIST PATIENTS WITH SLEEP, ANXIETY AND PAIN.
ACAN is moving aggressively in the development of a bio science operation and plans to expand its scale rapidly.
AmeriCann has created "Solanna", a new comprehensive line of nutraceutical-grade cannabis infused products. The products will be produced at the MCC Phase II processing laboratory for Solanna and will be licensed by AmeriCann to regulated cannabis businesses and will initially focus on providing healthier alternatives to smoking that include: capsules, topical lotions and balms, sublingual tinctures, oral dissolving film, trans-dermal applications and oil cartridges for vaporizing.
The Company plans to expand the product line to include edible products, health drinks, and branded concentrates.
EXTREMELY POSITIVE LONG-TERM OUTLOOK FOR ACAN
The capital structure at ACAN is a major strength for shareholders. The company has only slightly over 25 million shares outstanding (30,000,000 assuming dilution), with 60% of those shares being tightly held by insiders.
Additionally, interest in the company is expected to expand dramatically based on the opening and revenue from Phase I. Based on the history of other cannabis companies that are discovered by investors ACAN volume should be expanding as interest builds.
The stock currently carries a market cap of only approximately $30 million; there are many less valuable cannabis stocks trading at much higher market caps.
AMERICANN IS NOT WITHOUT RISK
They are an early stage company in a high-risk industry with a modest balance sheet. They will need to raise more capital for their future phases, but capital is available, and they just received $4,000,000 in financing from a Colorado based private investment firm.
If an investor believes these risks are acceptable, they could be rewarded with significant increases in the ACAN stock price in both the short and long term.
By almost any measure, with the opening of their MCC project in early October and their stock discovered by serious cannabis investors, ACAN should trade at a much higher market value than the present $30 million.
With the upcoming grand opening of their Phase I, the announcement of the much larger Phase II and projected positive revenue and EBITDA by late 2019 – plus greatly increased publicity and market awareness should make ACAN a very interesting stock to watch for the balance of 2019 and beyond.
INVESTMENT POSITIVES
Great business model of becoming the national leader in the development of high-tech energy efficient cannabis production facilities.
Company has invested significantly and executed successfully in the designing and building of a large-scale cannabis production plant in Massachusetts.
The Massachusetts market has an insatiable demand for cannabis and very little supply. This market is expected to remain this strong for at least several years.
First mover advantage in the robust Massachusetts market with a large-scale marijuana cultivation and limited existing cultivation capacity in place.
Company has developed and own brand SOLANNA - an advanced line of cannabis-based products the company is bringing on market.
MMC is expected to provide ACAN with significant revenues and ETIDBA by year-end 2019, with dramatically higher revenues and ETIDBA in 2020 and beyond.
Strong management team with a proven track record and over $5 million in personal funds invested in the company.
Conservative capitalization and attractive market value with only 25 million shares leaving room for attractive financings and possible stock splits.
Average cannabis stock now trades at $320,000,000 market valuation with ACAN at a current $30 million value.
US cannabis stocks are becoming favored by investors and ACAN is emerging as one of the best.
I have followed ACAN for some time, and two years ago, there were many skeptics claiming this project would never happen. Now, with Phase I of MCC preparing for opening and commercialization in October, ACAN has proven execution on their plans, and positioned themselves to dominate the Massachusetts cannabis supply market for the foreseeable future.
I believe the ACAN stock appears to be significantly undervalued at under $2 with only about 25 million outstanding shares and $30 million market valuation.
I have no stock ownership in ACAN and have not received compensation for this post. The opinions about the company and future stock price are mine only.
More information about the Company is available at: www.americann.co.
Disclosure: I/we have no positions in any stocks mentioned, and no plans to initiate any positions within the next 72 hours.