Charter Communications (NASDAQ: CHTR) is currently the second largest cable provider in the United States, operating under its Spectrum brand. Coverage has been expanded to 41 states with the acquisition of Time Warner Cable and Bright House Networks in 2016.
Spectrum provides network-rich digital cable TV, high-speed broadband, and digital landline home phone services. This article examines the revenue streams of CHTR and whether the stock is likely to continue performing as solidly in the remaining months of 2019 and beyond into 2020.
CHTR Q2 Performance Overview
The brand has come to boast over 16 million pay TV subscribers this year. Spectrum Mobile has 518,000 customers at this time, although in Q2 2019 Spectrum did lose 141,000 TV subscribers as a continuation of an alarming trend from previous years. On the positive side, total customer relationships increased to 28.7 million in Q2 2019.
The current stock price of CHTR is sub $400. The wild fluctuation between the 52-week high and low is attributable to the massive surge in capex expenditure as a result of mergers and acquisitions executed by CHTR. Besides that CHTR was heavily leveraged. In 2019, with reduced capex expenditure, free cash flow is increasing, swelling the demand for the stock and driving up the price.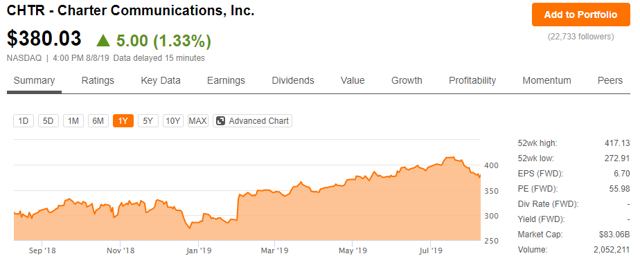 (Source: SeekingAlpha)
The Bollinger Band shows the lower and upper bands are diverging and that indicates upcoming price volatility. Day traders may be able to make small gains but right now is not the ideal time to take a long-term position on CHTR. Investors should wait to see if the bands show a W-bottom indicating a bullish trend. That hasn't happened yet. So stay put until most of the candles are above the middle band of the 20-day standard moving average.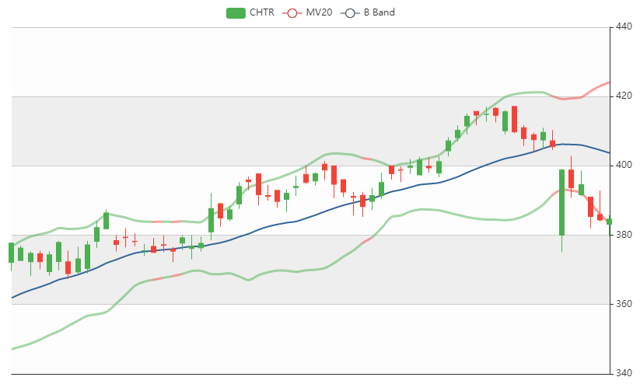 (Source: StockInvest)
Industry Analysis
Few businesses have been disrupted by technology as much as those in the mass media industry. Analysts and observers claim cable TV service is afflicted by trends which are leading towards its apparent demise. The rise in subscription to streaming services is threatening the traditional business models of cable TV service providers, leading to a "cord-cutting" revolution. Major cable TV brands have been losing hundreds of thousands of subscribers a year over the past decade.
The number of US households subscribing to paid cable TV services fell by 10% between 2010 and 2018.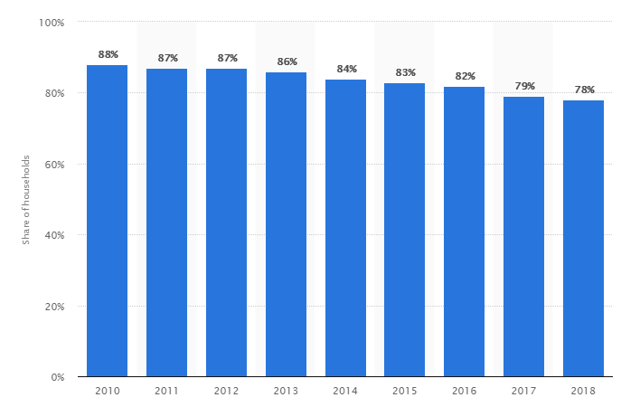 (Source: Statista)
On the other hand, subscriptions of fixed broadband cable connections have been on the up and up. Most American households now have at least a 25 Mbps download speed. The service availability gap between urban and rural areas has also narrowed in recent years.

(Source: Federal Communications Commission)
Landline voice subscriptions across the US continue to fall rapidly, with many people preferring mobile only lines.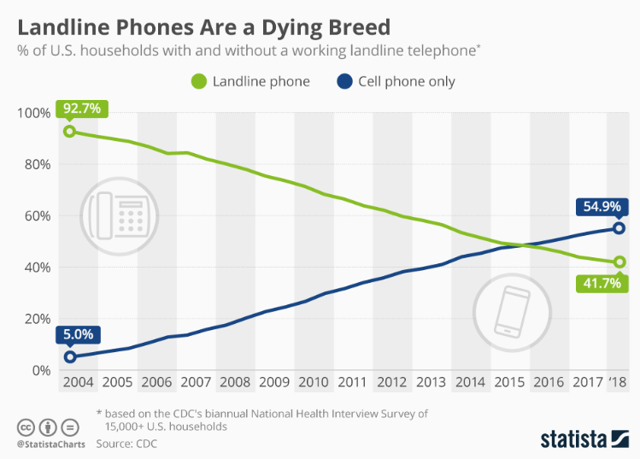 (Source: Statista)
Spectrum Business Units
The strategic business units of Spectrum and their target markets are:
Spectrum: Spectrum TV®, Spectrum Internet®, Spectrum Voice® services for mostly residential customers. The cash-cow for Spectrum is the internet service.
Spectrum Mobile™: An LTE mobile network covering 98% of the US population, along with nationwide hotspots.
Spectrum Business®: Catering to small and medium businesses, providing high bandwidth internet, business phones lines, and TV service.
Spectrum Enterprise: Highly scalable fiber-based internet, phone and TV services for Fortune 500 companies.
Spectrum Reach®: A TV advertising, planning and production service based on data insights, creative services, and multi-screen advertising.
Corporate strategies currently employed by CHTR include horizontal integration executed via acquiring competitors, market development conducted through expanding services to rural and suburban markets, and unrelated diversification carried out by increasing focus on Spectrum Mobile. These strategies are likely to bear fruit in the form of higher stock price in the remaining months of 2019 and into 2020.
CHTR 2019 Financial Performance Summary
By examining financial statements of Charter Communications we can glean some useful information about the health of CHTR in 2019 vs 2018.
CHTR 2019 Income Statement
1.4% revenues from video are almost flat, which is likely to continue in the coming years as the cord-cutting fad prevails. Only if the number of paid streaming services keeps rising and consumers feel their monthly bills are almost equal to those of cable TV packages would households consider moving back to traditional cable TV service.
The good news is that 8.7% internet growth continued to be strong in Q2 and this will remain Spectrum's cash cow in the foreseeable future. Bundling internet service with TV is still common among families, especially for watching live sports.
5.1% SME and 3.7% Enterprise revenues are growing which is encouraging. However, there is cause for concern for Spectrum Reach with -5.5% sales.
Municipal authorities, such as in New York, have obligated Spectrum to expand coverage to under-served areas which has resulted in regulatory and connectivity costs to go up by 5.9% in 2019 vs 2018.
The Adjusted EBITDA Margin declined only slightly to 36.5% from 36.9% last year which shows when you take out the one-time revenues and non-recurring expenses, the operating profits are on solid foundation. Once the connectivity infrastructure expansion is complete, expect this figure to improve significantly.
The EPS of $2.54 in 2019 is an improvement over 2018.
(Source: CHTR)
CHTR 2019 Balance Sheet
Cash is up significantly since the year started, but property and equipment assets are down slightly. The main point of concern on the balance sheet is the long-term debt of $71.7 billion. The debt-to-equity ratio is at 1.67 currently, which is the highest it has been since 2016. The CHTR debt issue has been a concern for a while.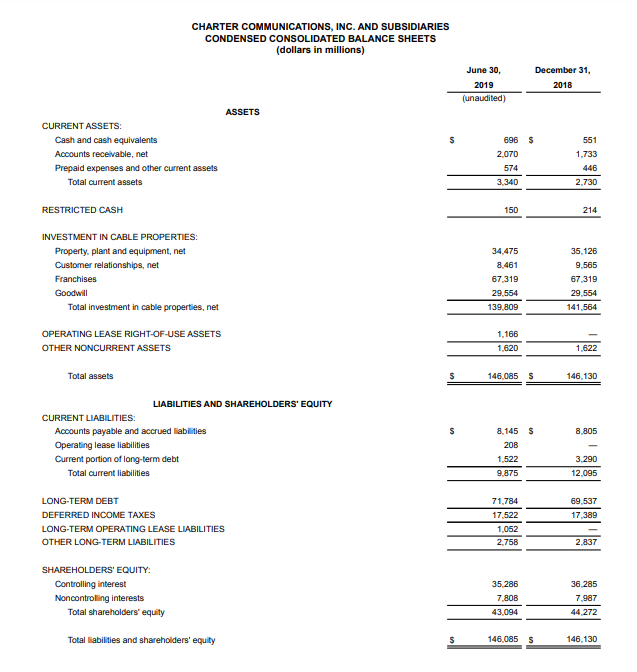 (Source: CHTR)
CHTR 2019 Statement of Cash Flows
A look at the statement of cash flows reveals net income is up significantly this year but the net cash flows from operating activities are down. Accounts receivable is -$337 million compared to $16 million last year, which shows that Charter has reduced credit for customers.
Accounts payable is also -$240 million compared to -$69 million which again is good for CHTR's cash flow. The investor however may be slightly wary of such tactics employed by a business to increase cash flow because it can be kept up for only so long.
Overall, a net increase of $81 million in cash flow has been recorded in the first six months of 2019.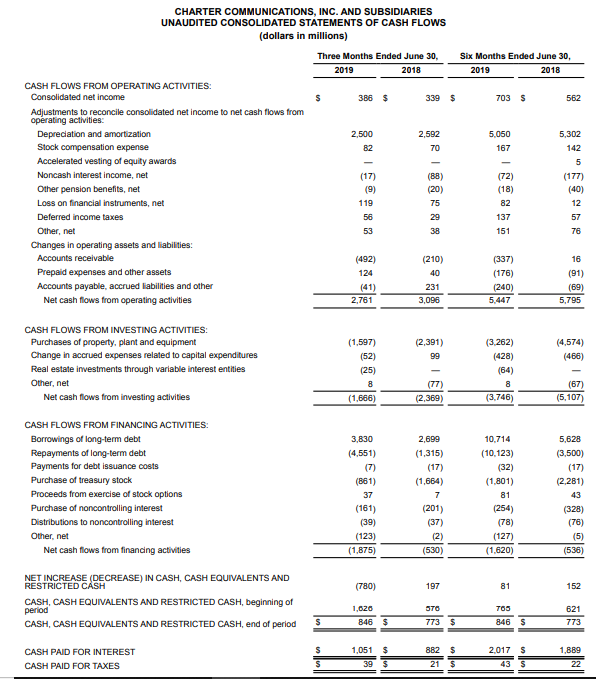 (Source: CHTR)
Final Word
At the moment CHTR is a sell. Only when the lower support line and upper resistance line on the envelope channels of the Bollinger chart begin to narrow should you adopt a long position on CHTR. Overall, it is expected to rebound back above $400 once the benefits of infrastructure costs begin to kick in the new markets.
Long-term, revenues from video are expected to continue to decline. This is due to the consumer perception that cable TV is simply too pricey, and streaming services offer better content for cheaper. However, CHTR is one of the leading companies providing the internet connections for people to consume the streaming content. Charter's focus on its other business units besides Spectrum is going to bring capital gains for investors into 2020.
Disclosure: I/we have no positions in any stocks mentioned, and no plans to initiate any positions within the next 72 hours.