(ARTICLE WRITTEN IN FEBRUARY 2015, Keep that in mind. I am reposting it after taking it down previously. I just felt it lacked in detail and was planning on re-writing it. However, I never did get around to doing that. I just felt like reposting, since the logic is still there to this day)
Company Overview
American Capital Mortgage (NASDAQ:MTGE) is a mortgage REIT that invests in agency, non-agency, and MSRs (Mortgage Servicing Rights). They are a relatively new, publicly traded company that has sprung up from the old American Capital (NASDAQ:ACAS) team which is known for impressive growth that ends in huge busts. I'd like to give you some examples, such as $ACAS and American Capital Agency (NASDAQ:AGNC). I welcome you to check out their long term stock price history.
Link to ACAS stock price history: Here
Link to AGNC stock price history: Here
American Capital Mortgage has failed to regain the ground it lost in book value from the 2013 spike in mortgage rates:
Book value was well over $25 at the end of 2012 and has since fallen to $21.93. During this time frame, 10 year bond rates went from 1.6% to 3% and then back down to 1.6% before ending today near 2.1%.
Book value and taxable income have continued to decline since 2012. The company acquired "RCS" last year, which is a mortgage servicer. This has caused even further damage to MTGEs taxable earnings. Gary Kain has been questioned about this on past conference calls, as to why he is not working harder to turn RCS into a profitable machine. He has never given a satisfying response. Lately, he is claiming that MSR assets have not cheapened up enough to make new purchases worthwhile. This is just nonsense. MSR has cheapened up and it will probably get more expensive again as the 10-year continues to move back up, which I suspect will happen as the fed hikes interest rates. Therefore, I see Gary Kain missing the boat, yet again.
(Source: Company website and presentations)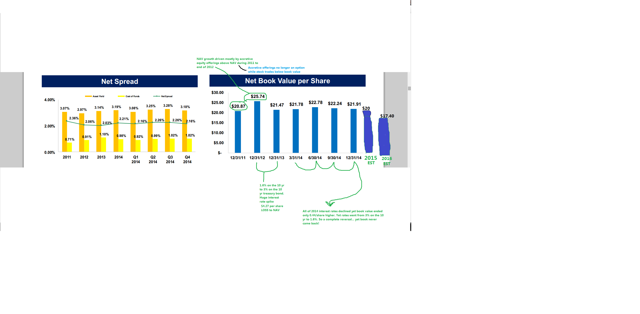 (Source: Company Presentations. Additional Color added by Author)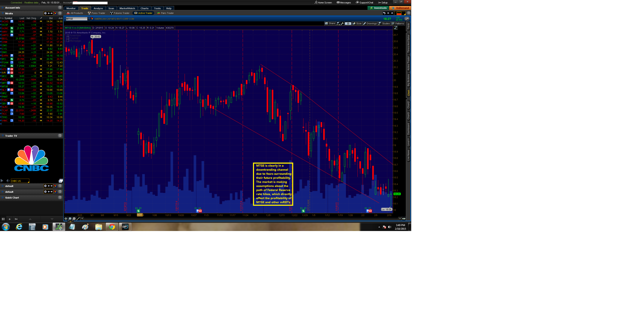 My projection for MTGE over the next 12 months:
I suspect that MTGE will trade down to $14.00 over the next 12 months. In addition, I see the book value declining to $20 from $21.93 by the end of 2015. This would put MTGE at 70 cents on the dollar with an estimated dividend yield of 11.4%, according to my price target. This projection means that I suspect the dividend will be cut to 0.40 from the current 0.65, due to a reduction in net interest margin on agency securities, less leverage on agency securities, a higher allocation to 15 yr agency securities vs 30 year agency securities and a higher allocation to prime non-agency securities. Therefore, I rate MTGE as a sell with strong downside risk and recommend investors consider selling their shares and moving the funds to other places such as the beaten down BDC sector which can benefit from rising interest rates.