Buying long is something that I think is best when planning for retirement. Putting your funds in the stock market is a gamble; the question is how much to you want to gamble and how long are you willing to withstand your choices. For me, I look for long-term investments for two reasons. Short-term investments if making profits results in more income taxes if I sell, and I would rather sell stock over the long term, make some money and have my gains taxed as capital gains tax than ordinary income. However, I am not afraid to risk small portions of my portfolio in something aggressive for the long term. It is a matter of how much.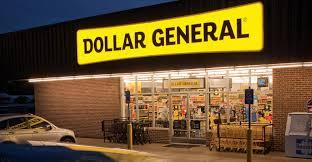 Dollar General ramps up perishables rollout
I have always been interested in biotech stocks, utilities and consumer cyclical. In considering retail consumers will always shop; it is a matter of how much and how often. With the boost in the economy, how can you argue the numbers? For 2019, we have seen an increase in consumer spending, especially with holiday shopping around the corner.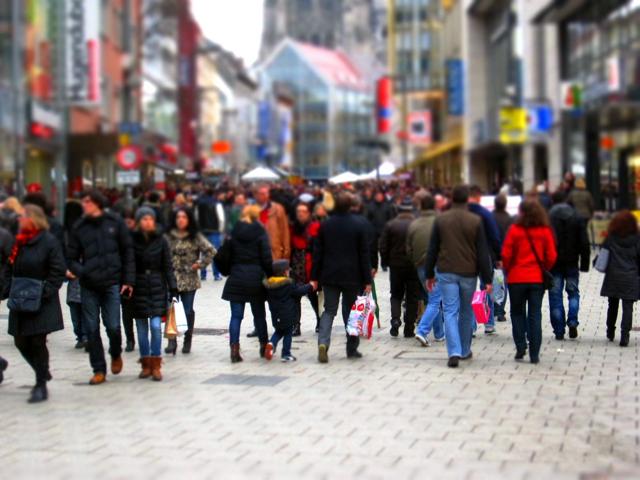 Free Image on Pixabay - Shopping, Shopping Street, Fray
Dollar General for the long term
So which companies are best to invest your hard-earned money? There is much talk about Target, which I agree; Target is an excellent company to invest in that pays dividends. Recently, Dollar General has been making the news, and this company is worth considering, especially if it were to come down between them and Target. What about Dollar General? Target over the short term this year has outperformed Dollar General; however, over the long term of a year or longer, Dollar General outperforms Target. There is plenty to help Target out with consumer seasonal shopping habits. The increase in revenue for the company in August could be attributed to school shopping.

Rural markets are where it is at
Dollar General is that place people go to (including myself) when you need that one item and you don't feel like driving to that big store to get one thing. Selling everything from household goods, clothes, makeup, food, and even shipping items, it is easy to see why they are the go-to when someone needs a few things on a smaller scale. Considering there is still ample population in the rural markets, Dollar General is the primary go-to for rural shoppers that do not have quick access to a Wal-Mart, for example, and a Target.
The chart shows how Target doesn't outperform the market. If I had to choose between the two, especially in the long term, I would go with Dollar General. Despite they are cyclical and consumer goods/shopping, they aren't as sensitive to the seasons compared to Target. Also, they are expanding their stores. Where retailers like Wal-Mart have failed and Target doesn't operate in rural areas, Dollar General prevails and does so in an e-commerce driven economy. With over 80% of the population living in rural areas, with some that do not have a Wal-Mart, it only makes sense that Dollar General will increase market share in these areas soon.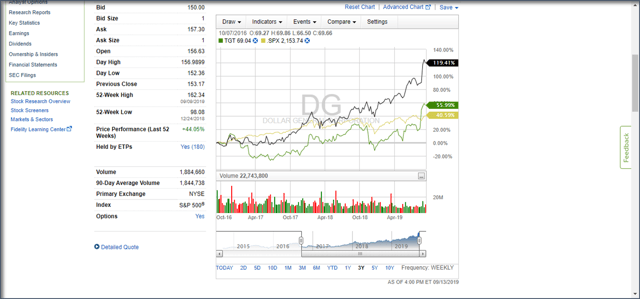 Times are changing
With their plans to up their national presence to 46%, they are moving into Wyoming and Washington with plans to open in early Q2 2020. This progressive move forward, they may become a force to be reckoned with in the retail world. Now offering deli items makes a trip to Dollar General even more worth the while for those few items we may often forget on larger store runs.
As far as company plans go, they have seen some executive changes. I used to work for Wal-Mart corporate offices years ago, and I don't know how they operate today, however, for a person to become a buyer, they were required to work at the store level as a manager. Here Dollar General has made a similar move. Jeffery Owen is a Dollar General Veteran and has been with the company for over 25 years. In 2015 he was Executive Vice President of operations where the company saw a growth of over 3500 stores and a 35% increase in sales. They announced an 8.4% growth in Q2.
Dollar General private-label branding
CEO, Todd Vasos said that Dollar General's private label 'Good & Smart' is a part of their 2018 launched 'Better for You' campaign that offers healthy alternative choices in food selection.
According to storebrands.com, "Our Good & Smart brand is especially popular with our customers and remains an important part of our offering," Vasos said. "This product line provides customers with a variety of better-for-your options at low prices and is now available in approximately 3,900 stores with plans for further expansion as we move forward."
This campaign may pave the road for other considerations. This store has been on my watch list for some time, and overall doesn't disappoint. This stock with its growth and dividend payouts would be a great one to put inside a Roth IRA for the long term, to reap the tax benefits of a Roth and the growth potential of Dollar General. With the growth in numbers, a private label campaign and expansion makes this stock an attractive one.
Disclosure: I/we have no positions in any stocks mentioned, and no plans to initiate any positions within the next 72 hours.