Traders can anticipate some much-needed volatility today as The Bank of Canada (BoC) will emerge from a nearly two-month slumber. During this time the Fed put out dozens of communications to ink papers on what it presently thinks. Canadian markets need fresh guidance from the BoC. Things have changed quite a bit since the last communications on July 10th.
Statement Only
The BoC will be a statement-only affair on Wednesday at 10amET. It will be followed by an Economic Progress Report to be delivered by Deputy Governor Larry Schembri on Thursday. Schembri's remarks will be available at 11:45amET followed by a press conference. Most market watchers don't expect the policy rate to change at this meeting. Forecasts point out to a potential rate cut on October 30th.
Bank of Canada's Dovish Nod
A dovish nod to markets will be if the BoC alters reference in the final paragraph to how "the degree of accommodation being provided by the current policy interest rate remains appropriate". Depends if it hints that it views the policy rate as having become somewhat restrictive or strikes it out entirely. Retaining the absent reference alteration of any sort could be taken as a touch hawkish relative to what markets have priced in for the BoC which is a full rate cut by year-end and another one next year. Explicit forward guidance is unlikely and generally loathed by Governor Poloz in any event. However, they have altered this bias language multiple times this year.
Now or October
The Bank of Canada could postpone such a potential language adjustment to the October MPR's full forecast reassessment. By that time, the BoC may be further informed about the durability of growth in the Canadian economy with two more full batches of monthly readings. It may also have considerably more information on external risks such as a hard Brexit with the EU deadline the day after the BoC's October 30th decision. By then, whether the US remains committed to imposing higher tariffs on China, whether China gives up recent hope that the US could walk them back in favour of further retaliation against the US may be more evident.
Macro Matters
In the interim period, the Bank of Canada may walk the line between downside risks to the outlook while flagging recent strengths. The case against easing entails pointing at on-target core inflation, escalating wage growth in the context of strong second-quarter economic growth, and the impact easing could have upon reigniting imbalances in the housing market.
The case in favour of easing entails referencing persistent slack and added downside risks to growth. As a result, it could lead to slack persisting for longer than the BoC previously anticipated. That could call into question the durability of the return to the inflation target, thus requiring a policy nudge. Furthermore, the Q2 GDP gain wasn't impressive 'under the hood.'
Uncertainty
Market watchers believe the central bank will recognize that today is an even more uncertain environment. A reckless US administration is blatantly protectionist and jeopardizing business plans to invest, hire and expand in a much more uncertain policy framework. The case for taking out insurance against such more considerable uncertainties by emphasizing a risk management approach that Poloz always references is stronger than it was in 2015.
Technical Take Away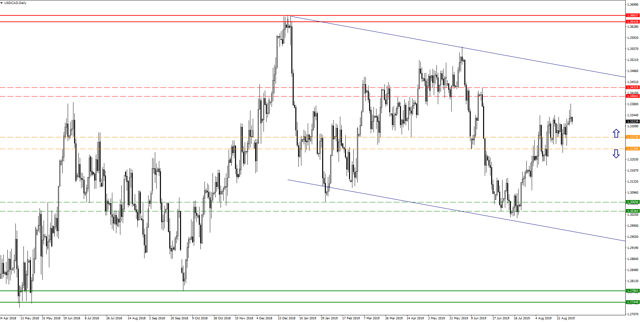 The absence of central bank input throughout the summer has seen the Canadian Dollar form a tight range consolidating predominantly between 1.32 and 1.33. Yesterday saw a pop to the topside to test offers above 1.3350 that were quickly reversed with broader USD weakness driving a move which saw a sharp retracement back into the summer range. Traders are less keen to take on significant risk ahead of the BoC statement. As 1.3360 caps upside it is likely price rotates lower to test the range pivot at 1.3270, a failure below 1.3230 would be a bearish development exposing bids below 1.32. A close above 1.3360 would reignite bullish impetuous and open a sterner test of offers above 1.34.