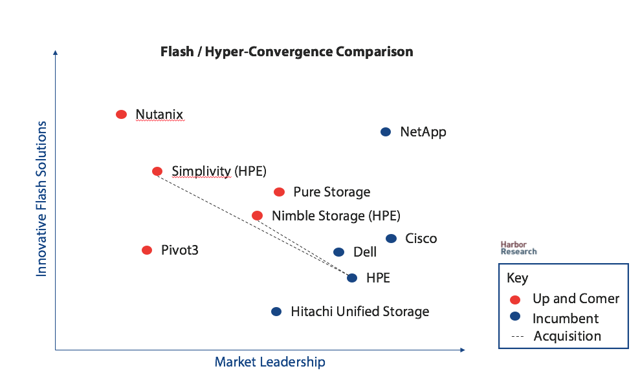 (Source: Harbor Research)
What you need to know: Earlier this week, Hewlett Packard Enterprises (NYSE: HPE) announced a cash offer for Nimble Storage (NYSE: NMBL) or $1B, a 45% upside to the company's market cap. This is an aggressive strategy by HPE to offer more flash offerings for the growing need of data transmission as connected devices and analytics demand increases across enterprises. We believe Pure Storage is the next, but on a valuation basis, the shares represent a more attractive short opportunity.
Our Take:
Hewlett Packard Enterprises announced earnings two weeks ago, and they reported storage revenue down 13% year over year to $730mm. Management cited poor sales execution and slowing of legacy portfolio products for the revenue decline, but analysts didn't beat around the bush when mentioning the likelihood of cloud players eating their server business at an accelerating rate; A hypothesis justified by NetApp's 5% storage growth over the same period.
Not coincidentally, and only a month after acquiring Simplivity for $650mm, HPE announced their intent to purchase Nimble Storage for $1B, continuing their effort to revive their storage business with cloud infrastructure and services.
What is Nimble Storage?
Nimble offers converged flash storage arrays (systems) with predictive analytics for small to medium size businesses.
The value of their predictive analytics product, InfoSight is its ability to help enterprises predict their storage needs and use these forecasts to maintain data velocity performance through high demand cycles.
How Expensive was it?
Nimble Storage had an average a quarterly burn rate of $40mm, inclusive of employee stock options, so it looks quite expensive at a takeout multiple of 3x trailing twelve month sales given their deeply negative cash flow from operations and EBITDA.
The company has established an impressive 65% revenue CAGR since going public in 2013, but this sales growth has been offset by expanding losses, as illustrated below.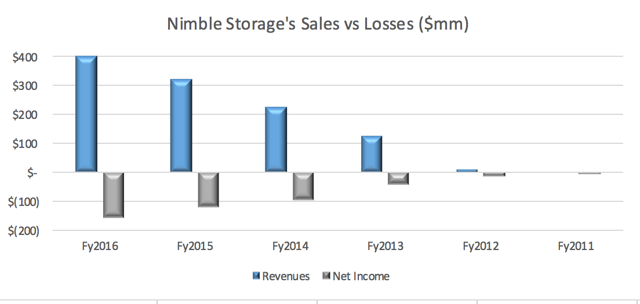 (Source: Harbor Research, SEC.gov)
Nimble's closest competitor, Pure Storage (NYSE: PSTG) traded at 1.7x before the acquisition announcement (now at 2.75x), but PSTG is also growing a +100% CAGR. Their revenue growth has also stemmed an increase in losses, albeit at a quicker pace.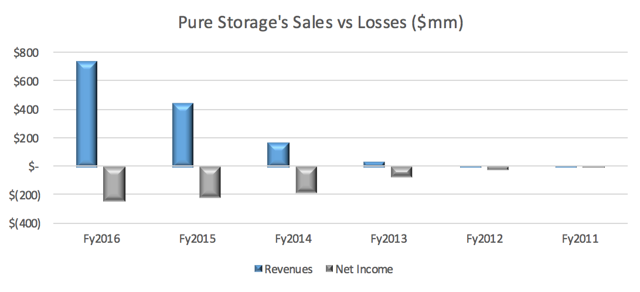 (Source: Harbor Research, SEC.gov)
Golden Lifebuoy?
Anyone invested in Nimble Storage since they IPO'd in late 2013 has likely experienced meaningful losses. This is in-part due to the heavy cash burn and growing competition around the mid-range flash array solutions.
Hewlett Packard Enterprise's 45% premium bid for Nimble bailed out both the investors who are underwater on their position, as well as the company. Despite Nimble's $184mm cash balance, their growth model has increased their burn rate without proving any type of path to profitability.
Things could have gotten much worse for Nimble had HPE decided to purchase one of their competitors.

(Source: Morningstar)
What's this mean for the two companies?
HPE already holds a position in both the high end and affordable market for flash products with their 3PAR Solutions and MSA products, respectively. Nimble will fit in their currently gapped midrange solutions, but we expect that InfoSight will be adapted for the high-end, 3PAR offerings as well.
Nimble, on the other hand, will see the benefits of HPE's cross-selling to their large customer base, as well as back-office synergies; Undoubtedly stemming some of the cash losses while hopefully increasing sales at a quicker pace.
Who's next?
Both HPE and Cisco are vying for next generation data center technology, and Pure Storage's is likely on Cisco's radar, especially with their Preferred Solution Provider Status. Further, PSTG released a product to directly compete with Nimble's, Infosight last year, called m10. We believe there's a good chance Pure Storage could capitalize on this the HPE integration of Nimble and take market share of mid-range flash storage, but we struggle with the current valuation.
Valuation
Given Pure Storage's higher growth and equally as troubling losses, we expect they'll be able to justify a multiple closer to 3.5x trailing twelve month revenues, versus Nimble's 3x.
Upside: At 3.5x, the stock would be worth $13.09, which presents a 29% premium to the current price.
Downside: Pure Storage was trading at 1.7x when Nimble received the takeout offer, but for conservatism, we expect a base multiple is around 1.5x. This would imply a stock price of $5.61, or a downside of 45%.

Conclusion: We follow a 3:1 upside / downside ratio, and this implies that the shares are much closer to being an attractive short position. At an 11% increase of the share price to $11.22, there is a 3:1 downside return ratio; Whereas, we'd need to see a 26% decline of the shares, to $7.47, before establishing a 3:1 upside ratio.