Culp: Taking The Textiles Industry Into The Future
Please Note: Blog posts are not selected, edited or screened by Seeking Alpha editors.
Summary
Culp is one of the most innovative companies in textiles and home furnishings with its innovations and smart investing practices leading to robust revenue growth throughout 2021.
The company is also showing great efficiency in both of their operating segments in their first quarter 2022 summary.
I believe more support from the ESG community is on the way.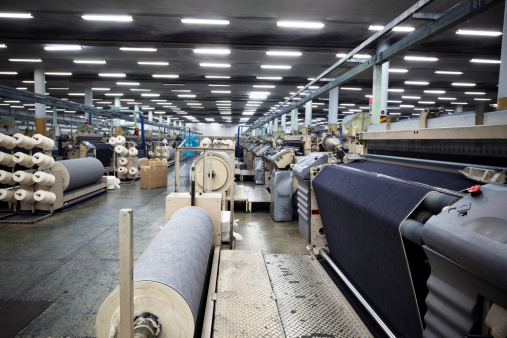 Culp's focus on an environmentally friendly future in the textile industry, solid financial health and competitive advantage has the company poised for a breakout in 2022. Thus far, Culp (CULP) has been following up on their promises, returning over $70 million to it's shareholders via share repurchases, quarterly and special dividends since 2012. Culp is one of the most innovative companies in textiles and home furnishings, with its innovations and smart investing practices leading to robust revenue growth throughout 2021.
Meta Analysis
The Culp family has built a lasting legacy in the textile industry. Through the company's history of contributions to the growth and development of the home furnishings industry in America, the Culp's have seen their previous two successors inducted into the Home Furnishings Hall Of Fame.
Culp credits their competitive advantages to their diversified manufacturing, sourcing capabilities and the stability of their supply chain. In their fourth quarter 2021 financial summary, they reported $79 million in sales (up 66.9% year over year) and $83 million in sales in their first quarter fiscal 2022 financial summary (up 28.8% year over year). They also note their digital design and marketing as one of the reasons they have seen such growth in sales and profitability.
The company is also showing great efficiency in both of their operating segments in their first quarter 2022 summary. Mattress fabric sales are up 19.3% and upholstery fabric sales are up 41% year over year. Income from operations was $3.3 million, up 76.2% compared to $1.9 million from the same period in 2021.
Uses of Free Cash Flow
Culp's capital allocation strategy is focused on the essentials. The company lists investing in the business, paying down debt (which they currently have none of) and their quarterly dividend as their main areas of focus. Given the fact that they have very few competitors in the space and their business is not capital intensive, funds dedicated to these areas should generate reasonable returns at very little risk to investors.
Culp bought back a total of 142,496 shares in 2020 and was later authorized to buy back another $5 million in shares. The use of their free cash flows focuses on acquisitions, share repurchases and dividends. With an intent to increase the dividend each year.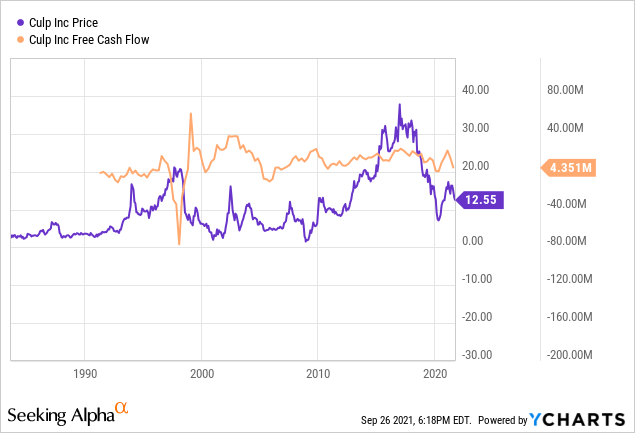 [object HTMLElement]
Culp is also doing a lot of investing both locally and globally. In February 2021, it was reported that Culp purchased the remaining 50% of their 80,000 square foot Haiti cut-and-sew factory, a joint they began in 2018. Shortly after, they added on another 40,000 square feet to increase capacity, produce and distribute sewn mattress covers.
Culp is also continuously investing in research to push out new products, and has partnered with fellow textile product manufacturer Unifi (UFI) to make revolutionary Chillsense cooling mattress fabrics with REPREVE. The partnership is very beneficial to Culp as the products are exclusively available through the Culp brand.
The company is also dedicating some of its free cash to the building of their Innovation Center at the Congdon Yards Campus. The center is designed to be a permanent place for about 10 designers. Another 20 designers and salespeople will flex in and out of the space while working on different projects. This seems to be another strategic move on Culp's part to allow them to increase capacity and scale at a faster pace.
Environmental Responsibility
Culp's focus on the future of textiles is something that should generate growth for the company and increase sentiment in the ESG community. Global sustainability fund assets hit a record $2.3 trillion in the second quarter and Culp is just getting its foot in the door, being added to the Wisdom Tree U.S. ESG ETF (RESP).
I believe more support from the ESG community is on the way. Since the introduction of its LiveSmart Evolve fabric line in 2019, Culp has helped divert over 63 million plastic bottles out of waste streams. The company incorporates recycled fibers into it's upholstery and mattress fabrics. Their dedication to environmental responsibility has yielded strong interest across its LiveSmart portfolio.
Culp is getting used to being the first of its peers to break barriers. They just became the first publicly traded company to join the Sustainable Furnishings Council, which is an organization that promotes sustainability practices in the home furnishings industry.
The Fundamentals
Minus the headwinds related to their material costs, Culp seems to have all things in order on the financial statements. I reviewed the statements with profitability and efficiency in mind, looking for any weaknesses in the company's operations.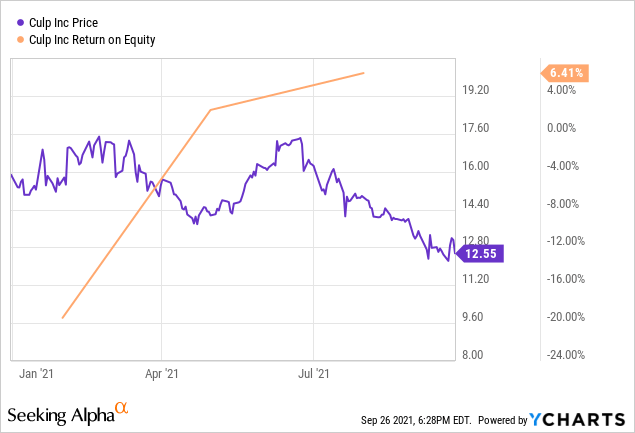 [object HTMLElement]
I also ran a simple discounted cash flow model on the company. Taking the most recent 4 quarters of free cash flow and deducted 34.58% as a margin of safety, which includes the current 5.4% rate of inflation. I calculated that the present value of future cash flows using a discount rate of 9.82% would be $369.57 million. That's 141.32% above Culp's current market cap of $153.15 million. When we divide our future market cap by the number of shares outstanding, we get a true value of $30.29 per share.
Culp's net profit is also up 51.52% quarter over quarter, while operating expenses have been reduced by nearly 7%. The cash generating capabilities of their operations could use a pick me up, but the company still converts 1 of every 5 sales sales dollars into to cash, sporting a cash flow margin of 21.18%. 
Liquidity wise, the company has 44% of their current liabilities covered in cash and a current ratio of a 2.3. Current liabilities only make up about 27.78% of the balance sheet.
The company also sports some low valuations, with a price to earnings of 18.67 ttm and a price to sales of 0.48, supporting my thesis that the company is undervalued and primed for a breakout.
Culp is also proving to be very efficient, with a return on equity of 6.32% and a free cash flow to equity ratio of 40.47%. Their dividend also has great coverage as Culp retains about 40% of their earnings with a reasonable payout ratio. This level of efficiency really stands out and should allow the company to continue to grow at a reasonable pace.
Risks Related to Culp
Despite being an environmentally friendly company, their employees have reported having little opportunities for career advancement.
There has also been nothing but reported outflows from institutional investors since the beginning of 2021. The outflows only total a small amount, but I felt it was worth mentioning. Institutions still own over 72% of the company.
Over the past 12 months insiders have sold over $123K in company stock including CEO Robert Culp IV. However, the company still owns over 4.6% of the shares outstanding and Robert Culp IV still owns over 240K shares himself.
The greatest risk to the company is that their factories are located in nations that are prone to natural disasters and civil unrest. The company managed to survive the 7.0 earthquake in Haiti with no interruptions to its operations, but given the number of disasters that hit the nations of India and Haiti, there is no telling when the company's luck will run out.
The Bottom Line
I'm very bullish on Culp after reviewing their business operations and financial statements. I believe the market has them priced wrong and soon will realize this error. Investors should covet a small-cap company with the capabilities to operate without debt given the current headwinds in the economy.
Culp's focus on environmental issues is also going to prove itself useful in the future, as the world shifts more towards ESG friendly companies. Money managers continue to push for the inclusion of more ESG related equity in retirement funds and this company will be a beneficiary. Culp's revenue growth throughout 2021 is not just a one off. I believe this growth is sustainable and that their focus on generating returns for shareholders will give this company a boost in the years to come.
Analyst's Disclosure: I/we have no stock, option or similar derivative position in any of the companies mentioned, and no plans to initiate any such positions within the next 72 hours.
I wrote this article myself, and it expresses my own opinions. I am not receiving compensation for it (other than from Seeking Alpha). I have no business relationship with any company whose stock is mentioned in this article.
Seeking Alpha's Disclosure: Past performance is no guarantee of future results. No recommendation or advice is being given as to whether any investment is suitable for a particular investor. Any views or opinions expressed above may not reflect those of Seeking Alpha as a whole. Seeking Alpha is not a licensed securities dealer, broker or US investment adviser or investment bank. Our analysts are third party authors that include both professional investors and individual investors who may not be licensed or certified by any institute or regulatory body.