Anyone paying attention to this tech stock knows that GLU Mobile (NASDAQ:GLUU) had one heck of a roller coaster ride last week. On October 9, 2012 GLUU went from a high of $4.14 to a low of $3.12 on volume exceeding 19 million; the largest amount of volume in one day since this stock went public back in March 2007. I'm sure many investors and traders who took a pinch at $4.00 a share felt "a little" pain as this stock got hammered. Fortunately "Whipsaw Wednesday" came around on the second largest daily volume in GLUU's history (over 16 million) which formed a beautiful reversal candle; taking GLUU from a low of $2.72 to a high of $3.15, closing for the day at $3.07. For other traders and investors that took a pinch on this play with an entry ranging from $2.75- $3.00; congratulations, I hope you took some money off the table because this roller coaster ride may not be over just yet. Lets take a look at both the daily and weekly charts to see what's in the mix on GLUU for the trading week ahead.
Before I get in to what I like or dislike about this (and any) chart; please understand that it's "you" that measures your own risk / reward take on this (or any) trade. I'm not recommending anything; I'm just a guy that reads charts and studies market fundamentals. The purpose of this technical analysis is to gain a better perspective based on percentage of who is in control; the bulls or the bears. Because batting in the markets is based on percentages there is always a chance that price action and movement can go the other way. In other words; anything I mention is "NOT" 100% guaranteed.
GLUU Daily Chart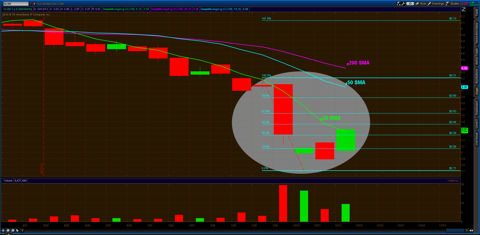 The five trading days of last weeks action are highlighted in the circle.
The Bull Case:
GLUU traded on super heavy volume, mainly due to inside buying.
I suggest you read: seekingalpha.com/article/920681-glu-mobi...
GLUU made a nice reversal candle (hammer) on October 10th.
GLUU closed the week above the 20 simple moving day average.
StochRSI and StochasticSlow indicators displayed GLUU in over sold territory and are currently pointing upward suggesting possible higher pricing to come.
The Bear Case:
A Fibonacci retracement placed on Monday's (October 8th) high to Wednesday's (October 10th) low shows that GLUU retreated at 50% retracement indicating resistance around $3.50.
Although GLUU's stock price made a higher high and a higher low on October 11th; GLUU closed lower ($2.89) than the previous day's reversal candle.
GLUU is currently trading under the 50 and 200 simple moving day average and clearly in a down trend.
GLUU Weekly Chart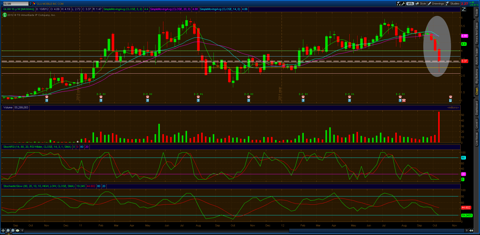 Highlighted on this chart are the weekly candles from September 17th to October 8th. Each candle represents 1 week (4-5 days) of trading.
I'm not going to emphasis a Bull case on GLUU's weekly chart because I don't see one. Although GLUU made an impressive turn around from the $2.72 low and closed above $3.35 during the week of October 8th; this chart is telling me more downside is to come. Here's why:
The pattern of the weekly candles (highlighted) show a clear and classic downtrend containing a shooting star (September 17th) and a 3 bar surge down.
GLUU is trading below all (20, 50, & 200) simple moving averages.
StochRSI is at 0; the Fullk and FullD line indicators have mended and will most likely embed. This means there is still sell pressure for the trading week to come.
StochasticSlow indicator(s) is pointing down. SlowK line is at 19.2453 and is barely in oversold territory. The SlowD line is pointing down and is distancing from the SlowK line confirming the down side pressure seen on the StochRSI.
Although there was huge volume due to inside buying; the sell volume exceeded the buy volume. This means the bears technically won the battle over the bulls.
"Wait theres more!" - The NASDAQ daily chart is currently under the 20 SMA, and hovering underneath the 50 SMA. Yet on the weekly chart; the NASDAQ is above all moving averages with the StochasticSlow and StochRSI pointing down. We are also seeing the big tech stocks like google (goog) in overbought conditions and in need of a pull back as well.
Conclusion:
The good news is that most of the selling on GLUU is out of the way. It would not be far fetched to see GLUU test resistance around $3.60 - $3.65 before going lower to test her recent area of support which is currently around $2.98. Keep in mind with the mixed signals through out the markets and the issues pressing the global economy; GLUU can also open lower, test support first before moving higher to test resistance. The key area the charts are telling me to look for is $3.65. If GLUU can get above $3.65 and confirm a close above that price on a daily basis and close above $3.65 on weekly; then +$4.00 is the next stop. If GLUU closes below $2.98 (or $3.00) on a daily or weekly basis; then there "may" be a 2nd opportunity to buy GLUU at an even cheaper price around $2.60. If prices continue to go south of $2.52; then GLUU under $2.00 becomes a reality and probably a life time buy.
If you're a day trader then you should have gotten out of GLUU last Friday and hopefully enjoyed lots of free sake and sushi that evening.
If you're a swing trader; take some cash off the table and put a tight stop or trail your stops.
If you're an investor that got in around or below $3.00 and wants to hold until 2013 with risk on the table; then a confirmed daily or a weekly close at $2.52 should be the line in the sand.
Overall in the long term I believe everyone who took this trade from 2.75 - 3.15 will do well as long as this company stays on track. 2013 is going to be the year for the long term buy and hold investors since it is very likely that GLUU will probably be trading above $7.00. Personally I believe GLUU may surprise and go higher due to the company's foot hold in the gaming sectors of the market(s). Only time will tell.