Despite BABA's impressive Q2 performance, investors are steering clear of BABA as long as the trade war is still in play. This is clearly represented by the significant drop in trade volume as compared to a year ago. 
Be Fearful When Others Are Greedy and Greedy When Others Are Fearful

-Warren Buffet
Here are some reasons why BABA is still a solid pick:
1) Alibaba's revenue is growing at a staggering pace.
BABA's revenue was RMB114,924 million (US$16,741 million), an increase of 42% year-over-year. To put things in perspective, Amazon revenue for the quarter ending June 30, 2019 was only a 19.89% increase year-over-year.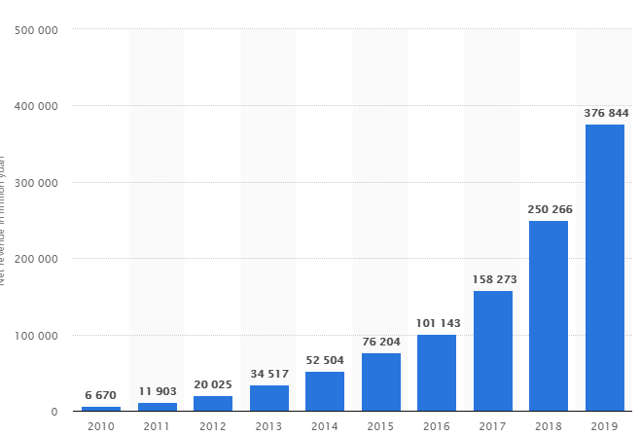 Taken from Statista, Alibaba's revenue 2010-2019
Their customer base shows no sign of plateauing too - a 241% increase to 674 million since the last 5 years. Do note that these are active Alibaba online buyers, which is all the more impressive since supply always follow demand.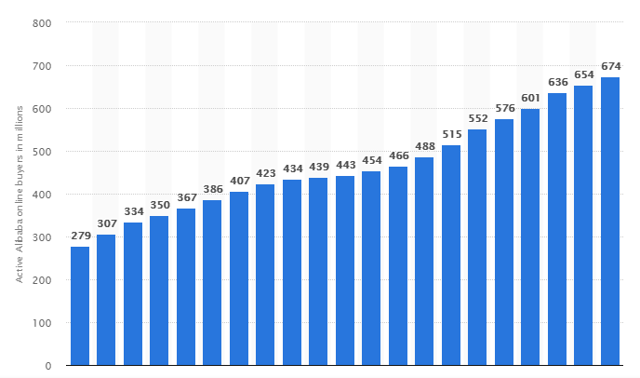 Taken from Statista, Alibaba: cumulative active online buyers Q2 2014-Q2 2019
2) Diversified across many industries
A table with many legs is hard to break

-anonymous
BABA is not just a Chinese e-commerce stock anymore. To date, Alibaba has made over 28 acquisitions, with subsidiaries ranging from the financial sector to the, until recently, hospitality industry.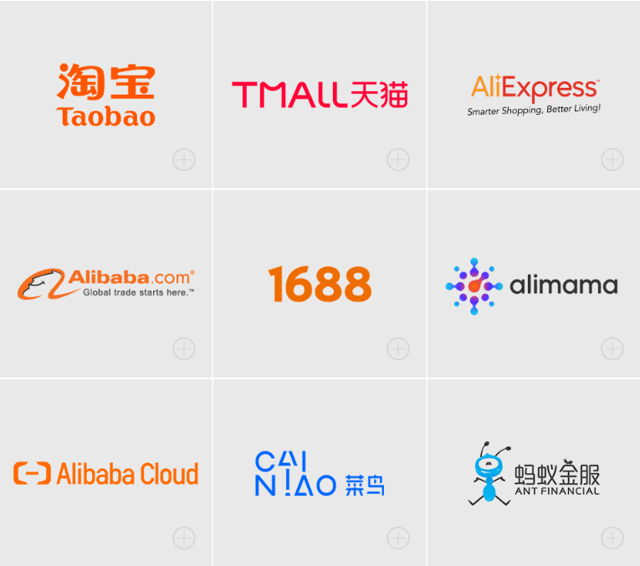 Taken from Alibaba corporate website
From a business standpoint, this wide diversification provides a moat, protecting the Chinese giant against any new entrants. 
3) The space Alibaba has a foothold on is still growing rapidly
From just Southeast Asia alone, the digital economy market is forecasted to triple in size by 2025. Some of Alibaba's subsidiaries are in SEA, namely Lazada (e-commerce company with Alibaba as its major shareholder), which achieved over 100% year-over-year order growth for the past three consecutive quarter.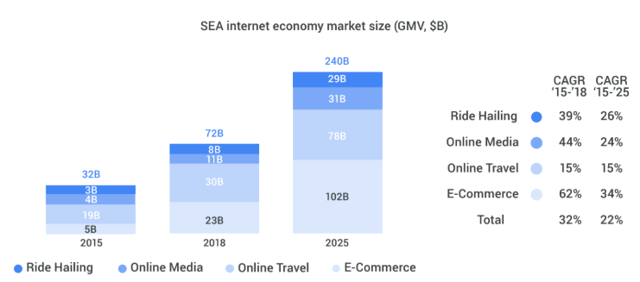 4) Current political climate is holding back the bulls
It is often frowned upon to bring politics into any financial discussion. However, because of BABA's sensitive nature to tussle between the two nations, we have to bring up the relevance here.
When the news surrounding the trade war is negative, BABA gets dumped. However, this is only temporary - POTUS is exerting pressure on China for 'good results' to secure the election. China could hold out until after the U.S. election in 2020 to negotiate with a different U.S. president. Even if Donald Trump wins the re-election, there will be no need to continue the pressure anymore.
In any case, both nations know that a trade war is mutually damaging.
Current status
BABA currently trades at $170.34, price movement in an ascending channel between $161-$184.
For short term traders:
Recommended entry level: ~$164.90
Exit at: ~$182.69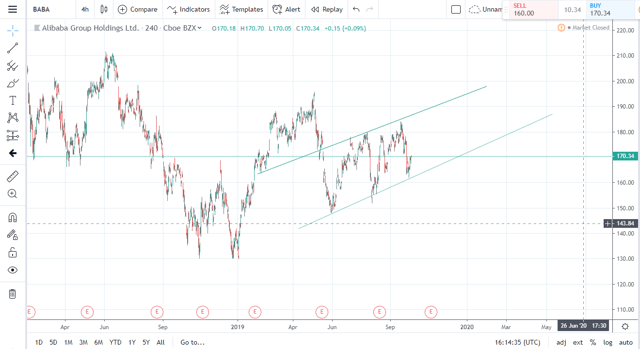 Taken from TradingView, 4 hourly chart of ticker symbol "BABA"
With the next quarterly report arriving on the 28th of October, investors with higher risk tolerance may choose to enter at ~$164.90.
Another significant date worth noting is the 11th of November, or the "Singles Day". So far, BABA has managed to smash sales records at every Singles Day.  Historically, BABA's price has risen gradually after each Singles day.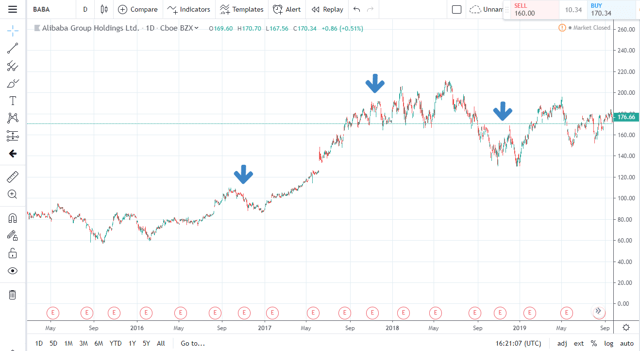 Arguably more critical than the sales, is the amount of attention and buzz generated during this period.

Taken from Google Trends, Interest over time for search term "alibaba"
When there is an increased in attention on a publicly traded company like BABA, price is bound to spike due to increase in volume.
Long term buy
For risk averse investors, your best bet would be to purchase BABA in smaller quantities over the next couple of years. 
Buckle up, because we believe BABA is about to wake up.
Disclosure: I/we have no positions in any stocks mentioned, but may initiate a long position in BABA over the next 72 hours.
I wrote this article myself, and it expresses my own opinions. I am not receiving compensation for it (other than from Seeking Alpha). I have no business relationship with any company whose stock is mentioned in this article.