There has been a lot discussion on why oil and gasoline prices continue to increase in what appears to some as beyond normal market forces.  Meaning, those evil speculators are driving up the price of oil and gasoline in accordance with those profiteering oil companies.
However, when you analyze the overall cost of the annual consumption of oil and gasoline to monetary easing and government spending, it becomes clear energy prices for oil and gasoline still could have a lot more room to run.
See the following schedule: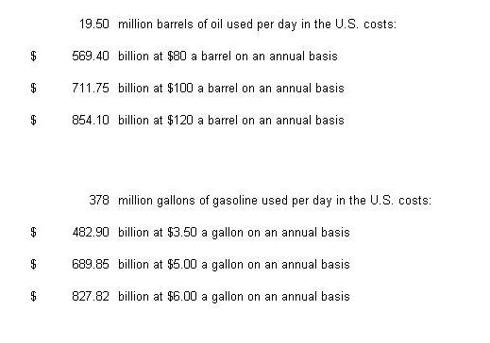 The U.S. economy runs about $14 trillion, and with the Federal government running trillion dollar deficits and the Fed pumping in trillions of dollars of liquidity, spending $800 billion or so on oil or gasoline doesn't seem unreasonable on an annual basis. 
Evil speculators and profiteering oil companies may have cornered the market on oil and gasoline prices, but the enormous expansion of the monetary supply only adds more fuel to the fire for further price dislocations, if they are there, in the sector.