Raid De Hotel – The `Phoren` Hand  - Distresed Foreign fund acquiring stake ( open offer at 110) in Indian Hotel co. SAYAJI HOTELS Ltd (SHL)
Event – Foreign distress fund CLEARWATER CAPITAL Partner (Cyprus) Ltd. (CCPL) open offer to acquire SAYAJI Hotels at 110. ( already holding 8% stake and also holding FCCB at conversion price of 75) . This could be first instance of foreign fund acquiring an listed Indian hotel.
·         Offer Price – 110. To buy 35 lac shares ( 20%).
·         Open offer period from 20th May 2010.
Technicals -Cmp 118 ( +5% upper ckt. No sellers. Redundant info but 100% delivery) on volumes of just 4k shares ( vs 2 week avg of 28k). pending order of 50k.
·         In past one month SHL is up 64% from its low of 73. New 1 yr high
·         200 DMA of 62. 50 DMA of 80.
SAYAJI HOTELS – chart since 2002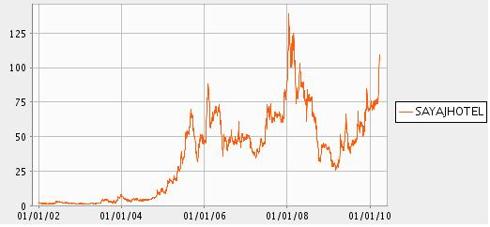 Whats hot about Sayaji –
Operates 3 Hotels in Pune, Indore & Baroda – total rooms of 535 ( Sales of Rs. 83 crs last year. 24 crs in Dec`09 qtr)
Also has separate restaurant business -Barbeque Nation. 18

 

BBQ Nations operational. (Sales of Rs. 8 crs last year.)
Not just a hotel room occupancy business but also a food play as Food & beverage (F&B) revenue to Rooms Revenue ratio at 1.4 vs 0.7 industry avg.

Sayaji Hotels
 
 
Sayaji Baroda
73 Rooms
 
Sayaji Pune
252 Rooms
 
Sayaji Indore
210 Rooms
 
Total Rooms Excl Baroda
535
 
No of Shares
1.75
 
cmp
110
 
Mkt cap
192.5
Rs. Crs
Mkt cap per Room
0.36
Cr per room
Debt
176
Rs. Crs
EV

 

368.5
Rs. Crs
EV per room -unadjusted
0.69
Cr per room
BBQ Nation Valutn
40.0
Rs. Crs
EV per room -adjusted for BBQ Nation
0.61
Cr per room
Well in generally I would avoid these kind of companies that have issues like Sayaji (SHL)
1.       High debt – debt to equity > 2.5 with Interest Coverage ratio < 2.0
2.       Prompters pledged 90% of its 50% holding in the co.
3.       Has secured FCCB ( Convertible debt) with conversion price at 75 of 47 lac shares. ( Clearwater is holding that and has already converted some into shares) As market price is higher than the conversion price, risk of dumping shares into open market is a big risk apart from equity dilution by exercising conversion of debt into equity shares.
4.       Latest results are not great – in losses . still recovering from recession.
Points 1 & 2 can lead to bankruptcy and share price falling to zero. So plain simple avoid these kind of companies will save lots of nightmares. But for SHL things are suddenly turned different because of
1.       FCCB holder ( Clearwater) wants to convert all shares and thereby his shareholding will go up from 8% to ~ 32% and promoter stake going down from 51% to 38%.
2.       At first glance, the situation this seems to be a hostile takeover but with the promoter also saying they are comfortable and there will be joint ownership.
3.       This seems to be win-win as the new partner (CCPL) will be willing to put in more money, if required for any debt repayment or further growth of business.
Some questions
1.       Some individuals with surnames similar to the promoter ( Dhanani) have raised their holding in last 2 years to around 6%, even though promoter stake gone up by 3% from 49% to 51% in last 2 years.
2.       CCPL also has reduced its stake from 13% to 8% in last 2 years. Why do they want to raise their stake now ? Is it that now they believe in the prospects of the company more than earlier ?
3.       Worse case situation – this could be pump & dump facilitation exit by CCPL and other shareholders to raise up the price so as to dump the shares and exit - citing reason like could not offer high offer price.
4.       CCPL is holding FCCB – how many of 47 lac shares has it converted ? and if it converts more debt into equity , what will  be the maximum dilution ?
Now let us evaluate if this open offer bid of Rs. 110 per share by Clearwater Capital Partners Ltd (CCPL) for Sayaji Hotels Ltd ( SHL) is good enough or not.
·         On past earnings – Cash PAT was 10 crs for last years or trailing PE of 19. PSR  - Price to sales of 2.3x and EV/ EBIDTA of 17x. This seems a fair value .
·         Cost vs Replacement value method - EV – Enterprise Value or Cost of acquisition per Room comes to Rs 0.70 Crores per room. ( incl. Market cap of 193 crs + Debt of 176 crs  = total EV of ~ 330 crores) This seems a fair value.  But This compares with the avg.  cost of building a hotel room ( incl. land cost at historic value ) of ~ 60 to 80 lacs. But keeping in mind all existing 535 hotel rooms of SHL are already operational across Pune,Indore & Baroda and track record , there seems to be a lack of adequate premium in the price. A 30% to 40% premium would be nicer ( implying open offer price of  ~140)
·         Market proxy method -But another way to look at is to compare with the recent sale of some transactions. The most recent sale was Unitech`s sale of Marriot Budget hotel in Gurgaon for 231 crs for 200 rooms or market price of 1.15 cr per room. Add debt this would easily cross 1.8 crs per room. ( also keep in mind this hotel was just completed with no running track record). This comparison would mean Open offer price should be hiked by 70-80% to Rs 180 per share.
·         Valuing Food Business of SHL separately–  Two factors to take into consideration  
1.       Given that SHL Food & Beverage Revenue to Rooms Revenue is at ~1.4 ( double the industry average).
2.       And also it holds 18 operational restaurants Barbeque Nation all over India with last year Revenue of Rs. 8 Crores. A ball park Conservative Value of such business would be a multiple of 3 to 5 times sales or 30 to 40 crs.In Feb 2008,Management expected Barbeque Nation Valuation of 250 Crores.
3.       Taking the above two factors the stripped down EV per room value comes down to 30 to 40 lacs per room from EV of 70 lacs per room ( at offer price of 110). This again implies an fair value of at least 2x  higher or offer price of Rs 200 per share
·         Embedded value – since it had plans to building hotels in other cities, it could be owning land at historical cost but I do not have any clue of those.
So all in all , CCPL offer of 110 per share seems to be a decent value but a 180-200 per share offer would be ideal value for the SHL .
Technicals -Sayaji all time high was 130-140 in Jan 2008. And in context of that also , open offer seems less.
How likely will the open offer price of 110 be hiked to say 140 ?  
Difficult to say. As CCPL can also sell its share –holding of over 1 Mn. In case the open offer is not successful. Also dificult to get entry into SHL.
A related play would be Kamat Hotels that is held by Clearwater also. see
this post,
Disclosure:
None