Mayo Clinic Report shows 90% of patients generating T-cells that recognized naturally processed antigens, a clear improvement over previous vaccines with more limited utility of patients in Phase I.
Researchers believe the drugs could prevent disease recurrence
A potent new treatment for breast cancer gets closer to reality
Immunology is TapImmune's core therapy, highly effective in early clinical trials
Risks involve early-stage clinical results translating to later stage
Government money lends credence to TapImmune's science
Technology is ready to prove cancer can be managed as a chronic disease. The science of immunotherapy would make this possible, and one particular company stands out - TapImmune, Inc. (NASDAQ:TPIV), whose Phase I data in breast and ovarian cancer proving its drugs both safe and effective were done at the world-renowned Mayo Clinic, not accepting just anyone with an idea and a dream.
Lead drug TPIV 100/TPIV 110 is indicated for breast cancer, a highly dangerous disease that strikes women at almost any age. Doctors are quick to cut out offending tissue, leaving patients depressed, feeling that vital parts of womanhood have been taken away. With TapImmune's medical solutions, hope can bloom for those left with only the choice of chemotherapy and invasive surgery.
Importantly, TapImmune's therapy is not autologous, where a patient's own cells must be withdrawn and processed before reentering the body, making for a more efficient treatment that need not be done in the intensive care unit (ICU) of the hospital. Many competitors in cancer immunotherapy must deliver their drugs in the ICU setting, increasing time and expense. Also, TapImmune's drugs can be used with other treatment methods, including checkpoint inhibitors, or as a stand-alone therapy.
TPIV 100/TPIV 110 is based on a unique blend of peptides (short chains of amino acids, the building blocks of proteins) and gene-based immunotherapies, also known as DNA vaccines; these compounds encode proteins from disease-making body infiltrators, including tumors, and can be used prophylactically and therapeutically - before disease occurs or after. TapImmune's drugs upregulate T-cells CD4 and CD8; T-cells are a type of white blood cell vital to human immune response. CD4 and CD8 are a combination of proteins and carbohydrates found on T-cells and 'help' trigger response to what the body views as a foreign substance, like cancer, and make 'killer' cells that produce antibodies to ward off disease.
TapImmune's technology revolves around a vaccine to address HER2/neu, an enzyme with an 'on' and 'off' switch to regulate cellular functions via epidermal growth factor receptors involved in normal cell growth, and intimately involved in immune response. Phase I trials in breast cancer revealed an abundant generation of T-cells, armed to arrest tumor development. TapImmune's folate receptor alpha (NYSE:FRA) vaccine, addressing a protein found on the surface of malignant breast cancer cells, also showed good efficacy in Phase I. These results have been supported by other studies, upholding proof TapImmune's solutions work.
Recently, TapImmune displayed new data authored by Mayo Clinic researchers, supporting strong generation of T-cell immunity at higher levels than seen with other drugs for breast cancer and prompting initiation of a Phase II clinical study at Mayo for TPIV 100/TPIV 110. An astonishing 90% of patients in Phase I led to belief the drugs could prevent disease recurrence, control metastases, and, possibly, regress tumors which would allow TPIV 100/TPIV 110 to manage breast cancer as a chronic disease. If later studies show similar results, TapImmune's therapy would outpace competitors in the cancer immunotherapy arena and create a new age for breast cancer survivors.
TapImmune has shown breast cancer data at the American Society of Clinical Oncology (OTC:ASCO), proving its drugs motivate human immune cells to biologically stimulate other cells to effectively treat disease. Their vaccines are clearly creating a robust T-cell response. Use of TapImmune's technology in combination with checkpoint inhibitors and antibodies creates a multi-billion market opportunity. Partners like Mayo, unsurpassed in clinical talent and, recently, the Vaccine & Gene Therapy Institute of Florida, a nonprofit research institution committed to the study of the human immune system, will be valuable to TapImmune's future goals.
In September 2015, TapImmune released good news from Phase I studies in triple negative breast cancer (TNBC) that led to the Department of Defense's (NYSEARCA:DOD) $13.3 million grant to fund a 280 patient Phase II to be done at Mayo. TNBC occurs in 20% of all breast cancers that lack important hormones found in breast ducts that would otherwise thwart abnormal cell growth. Fatality is high - a 53% risk of death if chemotherapy is not undertaken very soon after diagnosis.
When told the of the grant, I expressed disbelief but was corrected by Glynn Wilson, Ph.D., chairman and CEO, that DOD is very active in this particular disease. End to breast cancer is its goal, with efforts to facilitate research and innovative therapies. TapImmune's solution, as a targeted therapy, fits perfectly.
Another Phase II trial using TPIV 200, a vaccine with similar characteristics to its other drugs, should commence shortly for TNBC, this one to be done by the company, with the potential to move along faster than the Mayo trial. TapImmune is planning a Phase II with TPIV 200 in ovarian cancer who's Phase I done at Mayo had statistically significant results showing strong efficacy compared to placebo; these results were displayed at ASCO. A pharmaceutical partner with a checkpoint inhibitor will be sought for the second phase; my understanding is talks are ongoing. TPIV 200 has been granted coveted Orphan Drug designation by the FDA with tax credits and seven-year exclusivity from competition on approval.
Drugs under preclinicals include Polystart, an antigen for HER2/neu breast cancer; FRA antigens for TNBC and ovarian cancer; and a study with FRA combined with PD-1 checkpoint inhibitors for testing against ovarian cancer.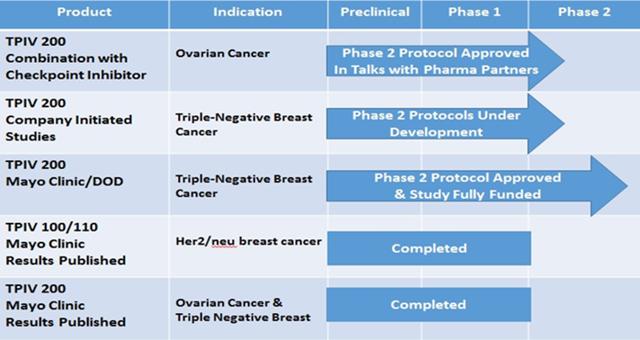 Breast cancer dramatically alters a woman's life; TPIV 100/TPIV 110 has the capacity to change this. The large base of HER2+ breast cancer patients could benefit immensely from TapImmune's HER2/neu antigens whose vaccines pump up T-cell immunity and, in early results, show 'memory' immunity, allowing longer term effects, something not seen with current immunotherapy treatments.
An astounding 12% of women in the US contracts breast cancer each year; death rates hover around 3%, not as fatal as other malignancies, but the psychological impact can be immense. Costs to treat breast cancer are huge - estimates are upwards of $100,000 per year, including mastectomy. Treatment for ovarian cancer is larger - $200,000 with hospital, pharmacy and physician charges taken into account.
Most popular among therapies for breast cancer is Herceptin, approved long ago for metastatic, and more recently, early stage disease. Problem - Herceptin use may result in cardiac failure, lung toxicity, and death. Women who desire to become pregnant are warned that Herceptin could cause low amniotic fluid, vital to a developing fetus, in addition to skeletal abnormalities in utero, and fetal death. Still, chemotherapy and radiation are not ideal alternatives. TapImmune's breast cancer drugs provide a much better answer, proving safe and effective in Phase I, with a strong immune response.
It's interesting to note in August, a little-known clinical stage cancer immunotherapy firm, Sweden-based Alligator Bioscience AB, struck a deal with Johnson & Johnson (NYSE:JNJ) to the tune of $700 million for its monoclonal antibody targeting certain cancers, using immune-response cell receptor CD40 to effect a big increase in T-cells to attack tumors. Alligator found in its Phase I trial establishment of a tumor-specific memory leading to lengthier times to cancer reoccurrence. Its clinical efficacy and trial progress mirrors TapImmune's, who may be slightly ahead, yet TapImmune's market capitalization at $41.3 million is severely undervalued considering its potential.
In its latest quarter ended September 30, 2015, TapImmune swung to net profit, but due only to changes in fair value of derivative liabilities. Operating costs grew, not surprising as research and development ramps up, although general and administrative expense dropped as the company conservatively manages its cash.
The usual risks, common to any emerging biotechnology firm, apply to TapImmune as well: late stage clinical trials may not show efficacy; larger numbers of patients may exhibit adverse effects not seen in smaller groups; drug dosages may need to be adjusted, leading to more, expensive studies. Despite a recent money raise of over $4.9 million, funds may not meet the runway needed to bring clinical trials to completion; however, Mayo Clinic financing should shore up any capital deficits.
Investors have not yet grasped the value of TapImmune's vaccine technology. Trials show an overwhelming biological response in humans: activation of T-cells inside the body using an easily-administered vaccine that stimulates immune response cells to attack cancer. Past data is conclusive for efficacy and upcoming results from larger trials could prove TapImmune's therapy for breast cancer works, giving women a better and gentler medical solution in the future.
Disclosure: I am/we are long TPIV.