Australia has stalled, at least in the non-resource sector.

Building approvals have a falling 12 month SMA and there is virtually no growth in employment. The only saving grace is that most of the excess building approved after the GFC was not housing, but school buildings.

Banks and some retail are expected to reduce staffing now that Christmas is out of the way and the store sales are almost.

The question is whether cuts in interest rates and a higher earnings yield for stocks compared to bonds will hold the stock market steady.

And of course for investors in EWA a judgement must be made about the currency impacts of the AUD/USD exchange rate.

Given Australia has a 1 in 100 year terms of trade at present there are clear downside risks, even assuming the residential property bears are wrong. The World Bank forecast for abnormally low global growth and European recession could impact commodity prices, stock markets and the AUD, but then again they may be so far behind markets in publicly recognising these issues that they are effectively marking the bottom.

Building Approvals
(As goes building, so goes much of the non-resource economy)

The fall in building approvals is only seen during periods of significant reduction in economic activity, many if not most of which periods are recessions.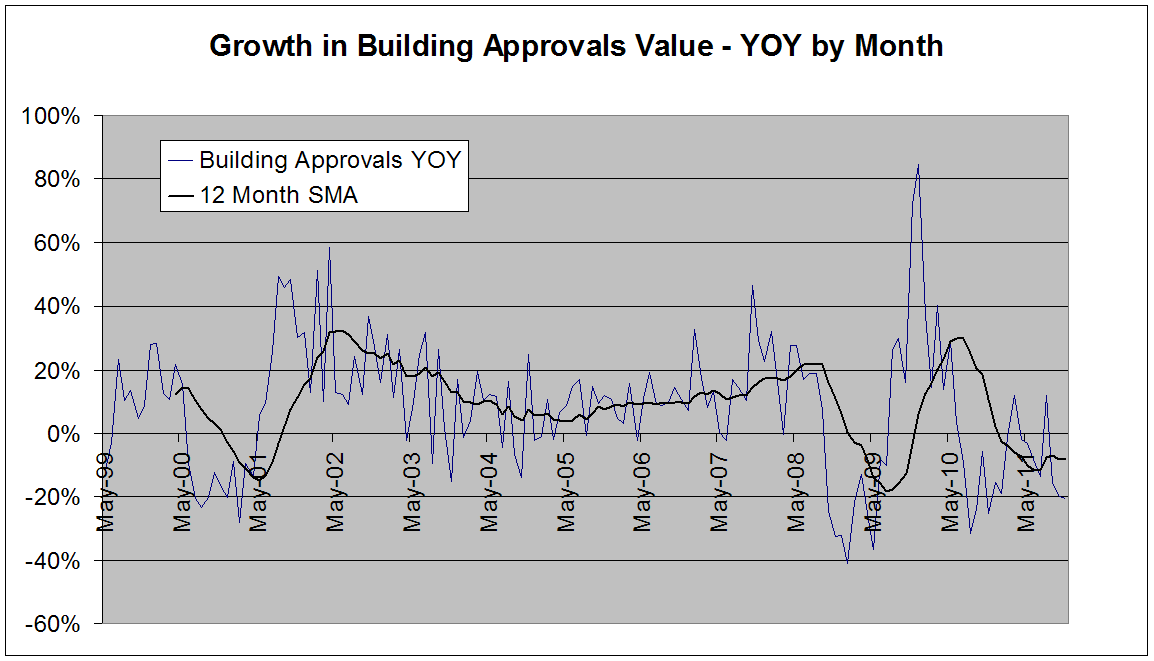 Full Time Employment
(Falling building approvals flows to commencements and employment).

Given the falling building approvals I expect growth in employment to decline further.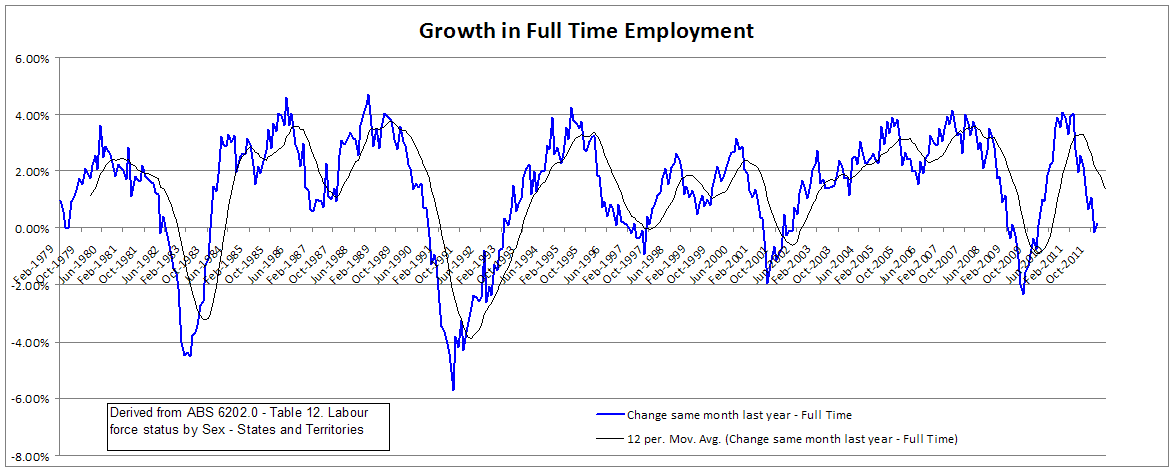 Conclusion

Australia is highly dependent on foreign funds as debt and equity (direct and indirect). While the Reserve Bank may continue to cut interest rates, Australian private sector dependence on international funding at a time of European austerity and need for recapitalisation of banks means that retail interest rates for bank customers may not fall anywhere near as fast as the official cash rate. Australia is highly dependent on foreign funds as debt and equity (direct and indirect).

Australia also faces continuing fiscal austerity as the Federal government strives to return to surplus.

In the face of these headwinds Australian households, which are in aggregate very highly geared on a household debt to GDP ratio may well continue to save at currently high rates of disposable income against the uncertainty of reduced household income through lost employment.